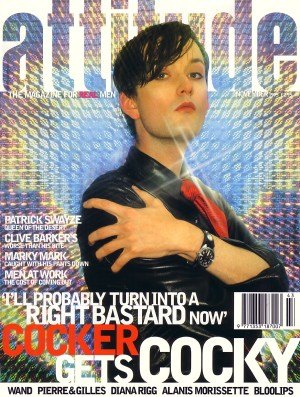 Cocker Gets Cocky
Words: Martin Aston, Photographer: Masoud Golsorkhi
Taken from Attitude #19, November 1995

"Mis-shapes, mistakes, misfits... oh we don't look the same as you / We don't do the things you do / But we live round here too..."

The hoardings outside the Wimbledon Theatre promise a veritable smorgasbord of forthcoming 'talent'. There's the imminent return of Noddy And Friends for starters, and a night of warbling from a now sexily silver haired crooner Gene Pitney, supported by the sexless Bobby 'Opportunity Knocks' Crush. Rest assured no-one will be putting any of this lot forward for any Mercury Music prize this or any other millennium.

But this afternoon, it's rehearsal time for tonight's filming of the Jack Dee Show. On stage, it's Pulp, near winners of 1994's Mercury award, confidently striding and swaggering through their new single, Disco 2000. Look out for its playful, childlike (if not Noddy-like) charm, Jarvis' swooping vocal, the cheesy keyboard tinkling and the skilful assimilation of past glories. Disco 2000 is Seventies à go-go: the stamp of Elton John's Saturday Night's Alright For Fighting, Marc Bolan's glittery guitar, Abba's sweeping gait and a huge swipe from Laura Brannigan's Hi-NRG epic Gloria. Yet the track is totally Pulp, and nobody else sounds remotely like them. Dix points.

Equally impressive is the fact that this is just a rehearsal but Pulp's performance is palpably real. Cocker may be in his street clothes but his hand movement - the ones that give Shirley Bassey a run for her money - are all intact. He ends the run through crouched on the floor, his lanky legs folded underneath him like a deckchair. Pop music stardom, Pulp seem to be saying, is too serious a commodity to be trifled with, to be merely impersonated - not after you've spent countless years dreaming of it and driven by the inability to live without it.

After thirteen years in waiting - that's 46,840 days of painfully prolonged apprenticeship - Pulp have witnessed a sudden, manic upsurge in popularity. 1994 was a good year for them, but this year it's two huge singles (Common People and Mis-Shapes), a huge album (Different Class) and Cocker's huge triumph as media celeb. Not only did he trounce all comers on Pop Quiz, his presenting stint on Top Of The Pops was made all the more sublime with a flash of his "I hate Wet Wet Wet" T-shirt and his description of Diana Ross as "a source of inspiration to many, including Michael Jackson's plastic surgeon". Haven't you always dreamed of saying such a thing in Pop's corridor of power?

In contrast to Pulp's evident self-belief is their physical presence. They're a gangly, mis-shapen lot, with slightly mad airs and graces, which makes them the unlikeliest success story to rise in Pop 1995. But more bizarrely still, Cocker has become the unlikeliest sex symbol of the day, too. Damon Albarn, yes, but Jarvis Cocker? Who's next? Noddy, or Bobby Crush? Never mind the Jack Dee Show, next year we could be watching The Jarvis Cocker Show. The anthemically thrilling Mis-Shapes could be the theme song: "We're making a move, we're making it now, we're coming out of the sidelines... / We'll use the one thing we've got more of - that's our minds", sentiments that every outsider, underdog, freak and marginalised minority around us can gleefully identify with. At last, here's a hetero pop star who can cater to the broadest of our homo needs: disco queens who like a bit of glamour on the side, committed indie queers, more mature types who appreciate wit with their camp and style with their content, and dedicated curators of kitsch - we can all appreciate Jarvis. Forget Donna Summer's I Feel Love; Mis-Shapes is an anthem you can escape in but stay personally or politically involved. All together now: "Brother and sister, can't you see? / The future belongs to you and me..."

Once upon a time, the future seemed to belong to near enough everyone else. "Things always took us a while, for no apparent reason," the visibly over-worked Cocker recalls over a plate of lasagne. "That's just the way my life was meant to go, at a snail's pace, with time to reflect on the horror of life in between. Now, of course, I don't have a second off." He takes off his specs and rubs his eye. We'd first met ten years earlier, when I was writing a 'Future Of Brit-Pop' special, and in love with Pulp's plush, torrid torchsongs, Cocker's mahogany-tonsilled tones. At the time it seemed I was alone: Pulp were universally treated more with suspicion than outright adoration. Dressed in ubiquitous black, the singer sat in my kitchen: "You hear all that crap about music being in your blood, but that's how it is with me. When you believe something for a long time, then you tend to carry on believing it without really knowing why."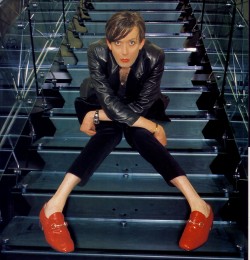 He admits today that if he'd known it would take another decade to walk up stardom road, he might not have bothered. Having eschewed university for the pop dream - "I wanted to do something for myself rather than just do what other people had done" - Pulp had sunk beneath the weight of New Romanticism's glitzy pop and equally self-absorbed, preening stars. Only the Smiths broke through by being genre-definingly dour and Northern, and only because Morrisey's miserablism was gilded with razorish wit and euphoric pop melidies, while Pulp were dark and ponderous, although bordering on goth. If someone had asked about his chances of being a sex symbol then, Cocker would probably have said, "Sex itself would be a good start."
Only one record company, London-based Fire, believed in them and granted the group £600 to record an album. Cocker called the record Freaks, "because I felt we were being marginalised. All these people who'd gone on the dole after school, to make a go of being in a band or whatever, were all considered to be freaks and excluded from lots of things - in the way that the Eighties generally were a kind of 'I'm alright' decade. So everybody had to dig themselves into the fall-out shelter and wait until the Eighties were over, and we're only getting over that now."
Cocker's road to Damascus began in 1988 when he came to London to study film at St. Martin's and ruminate on life after culthood's end in Sheffield. He was trying to overcome the feeling of "slow spiritual death" and assess whether Pulp's fifteen minutes were but a dream. In fact, the group recorded the Separations album in 1989, a more sprightly affair with a winning disco beat, only to endure more nightmare negotiations which delayed the album's release by over two years, by which time their art-disco was showing alarmingly good glam-pop tendencies.


London life was a revelation on a personal level too; Cocker admits he never believed the class system existed until he moved down. "Most people in Sheffield are kind of in the same boat. But here, I met people from different backgrounds. My course basically had a Noah's Ark of every persuasion possible - there were two gays, two blacks, a couple of Germans, a Chinese - me and this kid from Liverpool were the token Northerners. The next year, we got a disabled person in because they probably thought something was missing. It was because of some daft Guardian-reader reason but it was the best thing they could have done because it was so interesting."
It was at St. Martin's that Cocker met a Greek girl, a clash that turned into a song, Common People, a rich tale of a rich girl wanting to slum it, tourist-style, among the shambling classes. In the song, he refers to her wanting to sleep with, "common people like me", though he maintains the concept of 'common people' only exists in such sadly naive minds. Though the new album is called Different Class (a Sheffield expression, meaning 'top class', and a summary of Cocker's London sojourn), his pithy tales of 'More Sex Please, We're British' dimensions cut blazingly across such upper / middle / lower-class divisions. Where you can generally locate Cocker is in his annals of suburbia, a particular fascination for Brett Anderson and Damon Albarn, too. But while Anderson writes about valiumed housewives and Albarn depicts dull routine lives, and people taking trains home from work to 'leafy nowhere', Cocker actually figures inside his own songs, and celebrates what he endures.
"Damon's a more detached observer of these things whereas our songs tend to spring from personal experience, and I get worked up," says Cocker, getting worked up. "If you drive through suburban areas, you might think, 'oh look, all the houses are the same', and they do look the same, but if you live there, you realise there are a lot of differences. Where I lived, there was a bloke just down the road who dressed as a man on the top half and a woman on the bottom half, wearing pleated skirts, women's walking brogues and American tan tights. And there was my uncle Ralph who lived across the road, who used to sit in his window with a German helmet on, listening to the Russian radio, playing his accordion, and more. Maybe because it is quite a bland and uninspiring place to live, people invent little lives for themselves. It's insulting to treat people as a mass, what that Greek girl - I never knew her name, actually - saw as a demographic lump. Everyone's an individual and reacts in different ways."
The problem with being an individual in Eighties Sheffield, though, was manifold. 'The genius lingers in the semi-detached houses' David Leavitt wrote in While England Sleeps. But the geniuses must, at some time, emerge from suburban folds. Cocker must still bear the scars because, roughly 46,000 days later, those days have inspired him to pen Mis-Shapes. "It was quite dangerous to go into the centre of town on a weekend night, as everyone socialised there," he remembers all too well. "You'd get these packs of blokes, all dressed the same in the white short-sleeved shirt, black trousers and loafers, and they'd call you a queer or want to smack you 'cos they didn't like your jacket. The thing is, those people hunt in packs, whereas the misfits or mis-shapes, because of the fact that they're more individualistic, are easier targets. So the idea of Mis-Shapes is the fancy that the misfits would form some kind of an alliance or army, and take over."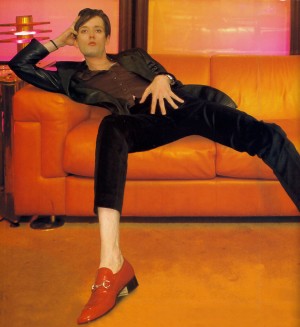 Like in punk's formative days, the post-punk misfits took solace and shelter in gay clubs. In Sheffield's case, it was a haven by the name of Penny's, "one of only about two places where it was safe to go. It was a bit of a New Romantic club, with a good mixture of people and some good sights to be seen, though I was pretty conservative compared to most. I started wearing my dad's old clothes but they were four sizes too big for me. I started collecting some stuff from jumble sales but I wasn't very outrageous." Over time, Cocker exchanged shades of grey for a more versatile sartorial elegance (today, he sports a tweedy wool jacket, white shirt and black chords, like a seventies accountant's casual attire). Long-standing band member Russell Senior says, "Jarvis was always finding shades of mustard that others never knew existed."
He is unquestionably his own man, borne of many a charity shop rumble. The total effect has been described as 'the stage presence of peak-period Alvin Stardust and the withering deadpan wit of Alan Bennett, in the body of Kenneth Williams' (albeit Williams stretched on a rack.) It is way beyond kitsch, though the result is clearly within the realms of the fey and the camp. One writer even called Cocker a 'faux-poof', as if he stood comparison with Brett Anderson of Suede. "But I couldn't really act a different way, in a macho way," he counters. "I'm not really built for it so it would be stupid if I started going on stage with a Freddy Mercury outfit on. I always used to try and leave the gender of people out of songs 'cos I didn't think it was important. A love affair is the same between whoever in the way it affects people."
That's not quite so, as Cocker has always made clear the objects of his desire, from early Pulp beauties like Little Girl (With Blue Eyes) - whose chorus goes, "There's a hole in your heart and one between your legs / You never had to wonder which one he's going to fill" - to the libidinously drenched sagas of Nineties hits like Babies (the narrator hides in his sister's wardrobe and watches her make out) up to Disco 2000's tale of childhood pal Deborah who moves onwards and upwards while the narrator stays put. Alongside Yorkshire towns and furniture, girls' names and boy-girl details consistently pop up. "But I like little details," he says in defence, an affection he says he picked up not from the likes of Alan Bennett but via Tom Wolfe's school of New Journalism.
"The other thing I've noticed," he continues, "is that I write a lot of songs from a woman's perspective, and a lot of songs are addressed to women as well. I think it's something to do with me being brought up by women, as there were no blokes around at all, except me grandad who was 60-odd and didn't really count." Mum was an ex-beatnik who'd surrendered her freedom when getting pregnant with Jarvis, "and Dad left when I was seven, to Australia, to escape paying maintenance, so he wasn't around, or even in touch. What I learnt about sex was from eavesdropping on my mother's friends having conversations in the kitchen, in the afternoon after I'd come home from school. So all snippets of information were of the female view. My mother had to teach me how to shave, which was funny because she'd never done it before."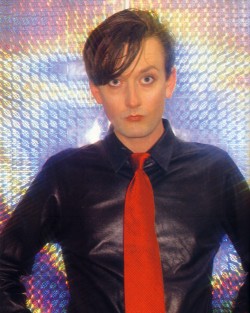 At least he was free to be himself, and not ape models of machismo. "That's right. But I never knew any different anyway. Though I don't feel I was missing out on anything." Yet he had 'troubles' with women, which he attributes to the fact he'd always got on well with the opposite sex, and didn't realise the extent of the sex wars until he entered his first, and eventually untenable, relationship. There was also the hang-up of self-image to contend with. Myopic since suffering a bad attack of meningitis at the age of five, his National Health specs only added to the embarrassment of being sent to school in lederhosen (a gift from his uncle's German wife) and of being the tallest in class. To be considered a sex symbol in later life is every ugly duckling's dream, though Cocker admits he is as baffled as he is enamoured by the attention. He says he isn't sure why, but Pulp's success has a lot to do with the coinciding fashion: "He's skinny and knows what he wants," says one enthusiastic observer. "I love him for that."
Cocker recently said in an interview that male models "have always got this wide, thick-set, pit bull look to them, with cropped hair and stuff. To me, that's not a good way for a man to look." Why so, I wondered? "Being skinny is neater and tidier, and it's not got bulges all over," he elaborates. "If women were all thin, and men were all muscly, it would be like two different species, like a horse having it off with a tiger." What would a therapist make of that comparison? "Oh, I'm far too middle-class to have therapy," he replies, though I can't work out if he's being ironic. "I just want to be able to tell the differences." In times of turmoil, had he ever thought of turning to a man? "Not really. I feel I haven't explored the female angle enough yet! You can't rule it out but I haven't had the desire. Then again, maybe I just haven't met the right person" - but this time he is definitely being ironic.
The rest of Pulp assure me Jarvis was always Jarvis, vain and show-offy, and so hasn't changed in this respect. "I always wanted to look presentable, though I must admit that I think people who think that they're sexy have got problems," Cocker reckons. "I can't say I feel more sexually confident but I am more confident as a person, and less anxious, because it feels like I've been given the seal of approval, that it's official. If you spend ten years doing something that nobody else agrees is good, then on dark nights you feel you're rubbish. Of course, I'll probably turn into a right bastard now."
Ironic, isn't it, that the outsider's true inclination is to want to fit in? "If I aspire to anything," he concludes, "I'd say that, from the days of wearing lederhosen at school, I've always wanted to become part of the mainstream, and be accepted, but without changing." Pulp's success is made sweeter still because he's managed it. As Mis-Shapes says, "They think they've got us beat but revenge is going to be so sweet." A different class, mate, different class.