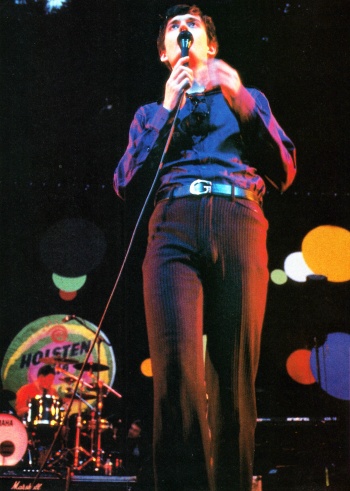 High Island, Hard Spain
Words Lisa Verrico & Pauline Haldane. Photographs: Express / All-Action / Seori Burnett.
Taken from Blah Blah Blah, Issue 7, October 1996



Last month, before their curtain-closing triumph at Chelmsford, Pulp popped up at the Edinburgh Film Festival and rocked out in Shetland. Then, two weeks later, the finally wound down the year-long Different Class mega-schlep with a fiesta in Barcelona. Suckers for punishment, we tagged along.

Jarvis Cocker is standing centre-stage, staring sternly at a sea of screaming, hysterical teenagers and holding aloft an unwrapped, unused tampon. "Own up," he shouts, "which one of you is on the rag?" For the first time in an hour-and-a-half, the packed hall falls silent. "Come on," he demands, "who is it?" Still no reply. "It's dirty," he continues, now swinging the tampon by its string. "Really dirty." The singer keeps up his act, fooling the audience into thinking he is actually upset. "At school in Sheffield," he says, "girls used to give these to their boyfriends. It was to prove they were grown up."

Jarvis steps forward and peers into the startled eyes before him. "But when you start using these," he snarls, flinging the tampon into their faces, "You can have some of these..."

Immediately, Pulp launch into 'Babies', the final song of their encore. As the crowd scream hysterically, a 15-year-old boy sneaks on stage and emerges triumphantly behind the band. At a regular gig, of course, he wouldn't have got near his heroes. Tonight's show, however is taking place in the games hall of a sports centre on the island of Shetland, where the swimming instructors standing in as concert security aren't used to stage invasions.

For the next few minutes, the boy runs inanely backwards and forwards. As soon as he stops, he looks embarrassed. Hundreds of people are watching and he can't think of anything to do. Jarvis continues to sing, refusing even to acknowledge his presence. Finally the boy saunters offstage, glum at not having made more of an impact. At once, 1,500 Pulp fans twig why Jarvis shook his bum at the camera during Michael Jackson's Brits performance: even for a seasoned entertainer there simply wasn't anything else to do.

During a drunken night out in Edinburgh earlier this year when Pulp were midway through their first ever arena tour, keyboard player Candida Doyle suggested that the band play a gig in Shetland, where her family are from and where several of her relatives still live. The others loved the idea. Their road-crew were probably less enamoured, given that all the band's equipment would have to be driven to the north of Scotland, then ferried for 14 hours over to the island. The sports centre in Lerwick, Shetland's only proper town (population: 7,000) is the island's sole concert venue. Daniel O'Donnell played there last week, and tickets are currently being sold for Barbara Dixon next month. Hip bands hardly ever come here.

"Pulp are the biggest pop band to play Shetland since Showaddywaddy," a middle-aged taxi driver reckons on the way into town from the airport. "Or maybe Mud. The concert is the talk of the town. It's the most exciting thing to happen to Lerwick for years."

Even so, talk of the island's population tripling overnight and of £15 tickets changing hands for £300 are grossly exaggerated. Nevertheless, the locals are determined to give the band a superstar reception. Outside The Samaritans' shop, across the road from The Queen's Hotel where Pulp are staying, a group of fans have been waiting to catch a glimpse of Jarvis. In fact, the singer and bassist Steve Mackey are still en route from the Edinburgh Film Festival, where last night they joined the band's video director, Pedro Romhanyi, for a discussion on creativity in pop promos as part of the Mirrorball pop-video splurge. After 90 minutes of serious film-buffery and even-more-serious chain-smoking, Jarvis had prised himself away from the attentions of fans and cineastes alike and found a safe haven in the city's Honeycomb club - where he admits, he got so drunk he could hardly stand.

And so, earlier today, the Pulp party arrived late at Edinburgh airport. Slumped in the back seat of a plane the size of a mini-bus, Jarvis spent the flight over to Shetland no only nursing his hangover, but also fending off an incredibly camp, over-attentive air steward. To make matters worse, the singer was greeted at the island's Sumburgh Airport by a group of Scottish tabloid journalists and photographers, all firing questions about his love life and Michael Jackson. Bravely, Jarvis marched past them, only to get stuck seconds later in the revolving doors of the terminal exit.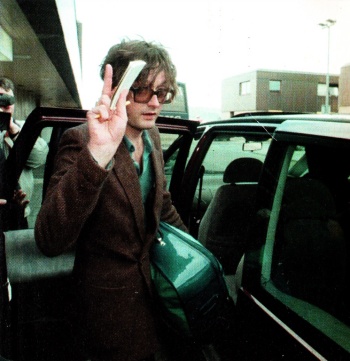 Two hours on, sick of being shadowed by local papers, he calls an impromptu press conference in the tacky, neon-lit Q Bar of The Queen's Hotel to answer questions about the concert. "It's good for bands to play in unusual locations," he begins, settling down on a red velour sofa. "Besides, the further north you go, the better the gigs get. People up here really know how to enjoy themselves. Shetland looks to us like lceland - it has the same scenery and no trees - where we played one of our best shows ever last month."
Five minutes and several polite questions later, one journalist asks Jarvis if he currently has a girlfriend. "Yes," he says abruptly, "but I'm not here to talk about her."
The journalist continues regardless. "So what are the chances," she probes, "for a local girl thinking of throwing herself at you tonight?"
"Very slim," spits the singer. "Anyway, the beds in this hotel are far too narrow for any of that."
The question session is over and Jarvis disappears to his room. Surprisingly, Candida Doyle won't be seen all day. Her mother, London-based actress Sandra Voe, has arrived on the island, while her younger brother Danny is busy practising with his rap band, Chin, who will be tonight's support act.
Queues for the concert, billed to begin at 8pm, start to form in front of Lerwick's seaside sports centre in the late afternoon. The crowd range from 10 to 40-year-olds and almost all are with several members of their family. The venue looks like a high-ceilinged school gym. Cheap carpet has been taped over the floor, basketball nets folded into the brick walls, and a makeshift stage set up behind a curtain. By the time Chin come on to play their short set, all of the 1,500-strong audience have arrived.
Chin are a competent, four-piece rap band, who unfortunately think they live in The Bronx. Almost an hour after they finish, there is still no sign of Pulp and at least six young girls have already fainted from the excitement of anticipation. Yet the wait proves to be worthwhile. The band have brought their entire stage and light show with them, which looks incredible in so intimate a venue. Jarvis shimmies on in dark trousers and a dark striped shirt - the most conservative clothes he has worn in days - and proceeds to throw a series of familiar theatrical shapes. Throughout the first song, 'Mis-Shapes', he constantly flicks his floppy fringe out of his eyes, appearing ever-more like Brett Anderson in Suede's early days. He relaxes a little during 'Do You Remember The Time?', then stops to chat to the audience.
"Hands up everyone out there who is related to Candida," he demands. "Are you all going to buy her a drink afterwards? Are you going to erect a statue of her in hallway?"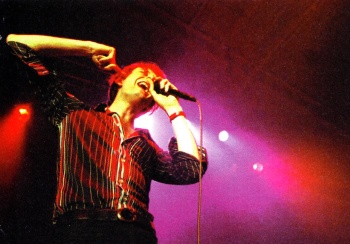 Halfway through the set, he starts to act all coy.
"This is the part of the evening," he whispers, "where I get scared. It's because we're going to try to play a song called 'Help The Aged' and this is the first time it's ever been heard in the whole wide world."
The track is a classic Pulp mix of tense fragile verses and big, dramatic chorus, for which Jarvis puts on a strangely high pitched voice.
"I went out to a nightclub in Edinburgh last night," he says after the song, "and got very, very drunk. When I got back to my hotel, I fell asleep immediately in all my clothes. Then I woke up at 5am in a panic. I realised I hadn't written any words to that song. It'll probably never sound like that again."
Pulp finish the set with a superb 'Common People', before returning to the stage for 'Disco 2000' and, finally, 'Babies'. By now, even the middle-aged mothers are dancing and almost everyone has decided to put on their newly-purchased Pulp T-shirts.
Jarvis' original plan to hold a club in the hall after the gig - in order to avoid Shetland's strict night curfew - has been scuppered by the authorities, who refused to grant the sports centre's bar a late licence. Undeterred, the singer has vowed to get just as drunk tonight as he was in Edinburgh last night.
"I'd love to tour round the islands for the next few days," he says afterwards, "but I've got to be back home tomorrow. Shetland's definitely dear to me, though. It brings back memories of all those itchy jumpers my mother used to make me wear to school. That reminds me - I must buy a tank-top before we leave."
Just under two weeks later, there is no need for tank-tops. It's early evening, but still 29 degrees and everyone is milling around Parc Grec, beautiful herb-filled private gardens overlooking Barcelona. Pulp are here to entertain the 1,000 Brits who have been flown here courtesy of Holsten Pils for a bonser weekend.
Unlikely as it may seem, £1m has been spent on this media blowout to relaunch the beer (PR speak calls it "more sessionable", but the general consensus is, it doesn't taste any different), and Pulp are the weekend's star attraction. Leftfield will play later, but it's almost exclusively the cognoscenti and media bunnies who are interested. The 500 "real" people here are competition winners from all over Britain, and they're here to see Pulp, the band who stole tabloid headlines and captured the nation's hearts overnight. This is Brits on the piss, and the irony of Pulp's lyrics and gentle mockery of working class life seems to be passing them by.
The Holsten, however, is not. There are 24 bottles per person, per day to be necked. Most guests managed at least half that at the nightclub last night, and were straight on the hair of the dog by 11am. It is now five o'clock and most are looking a bit worse for the wear, and the aroma coming from the huge vats of paella dotted around the park isn't helping.
This is home away from home - gelled-haired lads copping off with girls and laughing at the Spaniards' English; girly trips in pairs to the chemical toilets, short skirts and cellulite - this is puking in foreign bushes.
By 8.15 everyone is filtering into the roman amphitheatre playing host to tonight's one-off concert. There are Holsten Pils mats to rest drunken bums on instead of the stone seats, and Spanish waiters and waitresses ferry around small plastic cups of beer in case anyone needs more. Most don't. lnside the impressive hole in the ground, the talk is of one of two things: which celebrities are here, and how amazing the setting is. We are facing a forest of savagely manicured trees, specially prepared just to have the life blasted out of them by a sound system marginally louder than a jumbo jet. The celeb list isn't quite so impressive. All were invited, but few came. Danniella Westbrook, Kathy Lloyd, Tamara Beckwith, Dannii Minogue and Zowie Ball do not a good lig-list make.

Pulp don't care which A- or B-list celebs are there. They've come to play for the punters (not to mention the pesetas), have a good laugh in the sun at the expense of Holsten, and, most importantly, to entertain their families: Jarvis's mum, stepsister, stepdad and wheelchair-bound gran are here. It's a top family outing: it is Eldorado.
Everyone forgets the beer when Jarvis takes the stage, blasting into 'Disco 2000', and heads towards the edge of the pit separating us from the stage. Jarvis wants them, and it only takes him half the song to say, "Are you scared or sumthin?', come on down here," while pointing down into the pit. Like lemmings, they dutifully oblige, dropping seven feet into the pit - and into the angry clutches of very irate Spanish security guards. Everyone but the officials is dancing, and Jarvis' body language is saying 'it's cool, stay where you are'.
By the time 'Mis-Shapes' is being pumped into the yellowing night sky, the aggro is all forgotten, and Jarvis still has the crowd in the palm of his hand. He crawls his long limbs out to the front of the stage, then out onto the speakers and suddenly he is within touching distance of the most Pulphardy fans. Another surge, and he has hands all over him, touching his Terylene, stroking his viscose: the tables are turned.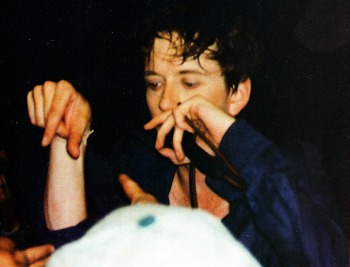 "Get off me shoes, you twat," he spits in mock disgust, but only after he has built the hands into a feeding frenzy below him, and everyone cheers again. He's off into 'Babies' and everyone's hands are aloft.
"'Ere we go, 'ere we go, 'ere we go," he sings solemnly, adding, "isn't it great to be here in sunny España?" after covering a song everyone knew, but didn't realise it until the chorus. It's been a long time since anyone heard that old "classic", Thin Lizzy's 'Whiskey In The Jar'.
"That was dedicated to a dear departed genius, Phil Lynott, everybody," he says over the last few chords. The crud cheer, but don't seem too sure, while the Holsten organisers breathe yet another sight of relief that their beloved beer hasn't been the butt of Jarvis' famous, savage wit.
Consequently, there is a sharp intake of breath when, just before lurching into the final crowd-pleaser, 'Common People', Jarvis turns his attention to the brew.
"In the olden days," he says teasingly, "the Romans used to send people to the lions down in this pit." He paces around the stage, the crowd hanging on his every long pause and smack of his lips, waiting for him to say, "They would ask the audience if they would give them the thumbs up or the thumbs down." He pauses again, glaring out into the crowd, "...Are you going to give tonight the thumbs up or the thumbs down?'