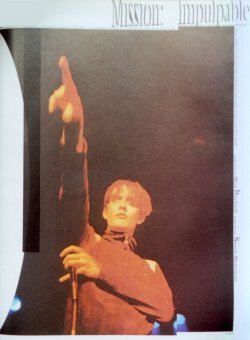 Mission: Impulpable
Pulp Faction: Mark Blackwell, Pulp Action: Shawn Mortensen
Taken from Blah Blah Blah, Issue 4, July 1996



When Blur "stormed" America with Pulp, the Britpop double-act were so popular they sold eight tickets in Dallas. This time around there is more interest in the guy that jerked-off Jacko. But is Jarvis too ill to thrill?

Hollywood is buzzing. Outside the legendary Chinese Theatre swarms of Tom Cruise fans are jostling over the cement footsteps and handprints of assorted movie s*t*a*r*s, congregating to hear questionable spy dialogue and watch things blow up. It's the second day of the release of Mission: Impossible, the hi-tech homage to Cruise's fine way with a smart-ass smirk. A few hundred yards west of the theatre, on the corner of Hollywood Boulevard and LaBrea, another crowd is gathering for an alternative ace-face celebrity. Tonight Jarvis Cocker comes to town.

The rather seedy Hollywood Grand, is the site of Pulp's second stand in a three-week boomtime American tour - their biggest and most crucial tour of the US yet. Britain has roled over, Europe has bowed down, Pulp have blown up. Now, will America play puppy, lie back and be tickled by the stoutly "English" sensibilities of the fourth and final segment of the Britpop pie [after Oasis, Blur and Elastica]? Will - can - Pulp's fanfares for the Common People survive the fight across the Atlantic? Will shock-jock DJs and rabid talkshow hosts vilify Jarvis as gangs of irate acolytes of the King Of Pop picket Pulp shows with placards saying 'Ban This Sick C@*t'? Will anyone care enough about songs about rich-kid art-students and bed-hopping surburbanites and childhood romance and dingy towerblocks and standing in a field with 20,000 other mashed-up ravers? Or is this all Mission: Impulpable? [This rant will self-destruct in ten seconds.]

Well, so far things aren't looking bad for Cocker and crew. This time around there appears to be at least a vague awareness that there is a band called Pulp which is performing here in the States [hey, they have played television's ratings-busting David Letterman Show]. Tickets for the 13 North American gigs, which are taking place in venues with capacities from 800 to 1200, have been selling apace. Pulp now hold the honourable distinction of having sold out the 800-seat Toronto Opera House in record speed [three minutes and 20 seconds, to be specific, which amounts to four tickets sold per second, to be even more specific]. If ticket sales equate with good vibes, this "mesmerising high energy pop show, which induces mad hip-shaking, head-bobbing frenzies," as the press puff from Pulp's record company puts it, is set to receive a warm welcome.

The only potential impediments so far have been two natural disasters. The first of these has cropped up somewhere in the depths of the stick-thin frame of Jarvis Cocker. It seems that while the singer was on a pre-American-tour vacation in Hawaii he contracted a strange illness - an unidentified bug that stiffened up Jarvis' limbs and throat and was misdiagnosed by two American doctors as "flu" and then "serious flu". "It was some sort of tropical bacteria," Cocker will explain five days later, conserving his energy in his hotel room. It is the morning after the gig before, after a show in St Louis in Missouri in the Midwest. He's on the road to recuperation, and his lean wit, gilded as ever with bone-dry irony, is back in full flow. "It was some kind of germ that I must have come into contact with while in Hawaii. Perhaps it came from unprotected hula dancing."

The other natural disaster came from the depths of the earth - a li'l ol' four-point-something-or-other earthquake on the day of Pulp's kick off gig in San Francisco. "Yeah, we made quite an impact there, didn't we?" deadpans Jarvis in the wake of his debut 'quake. "I did feel it. I was in bed ill all the time and I thought I was just entering some kind of delirium. I know it didn't make buildings crumble, but you could really feel the earth move." Once again, Jarvis Cocker remembers his first time.

Rewind and retread back to Los Angeles and, as Pulp haven't played yet, everything is relatively chilled. Three hours before showtime, the as-yet-unseen Cocker is by all accounts gallantly fighting off the rude advances of the infection. Outside the Hollywood Grand about 100 fans are lurking and gossiping, hoping to catch a glimpse of their British underdog heroes. The 1,200 tickets have been snapped-up fast and the doors are well-secured against the eager-beaver likes of Nesh Vulovich. A 21-year old college student, Vulovich has driven almost three hours up from San Diego to catch the show. Now he is closely monitoring the side entrance for any Pulp related activity. "I first heard of Pulp in a British magazine article back in January," foams Nesh, "but their album wasn't released here until February 27th. I picked it up the day it came out. Most people don't know about them here 'cause they're not on MTV and they're not played on any commercial radio stations. But when I found out they sounded a lot like Bowie and Roxy Music, I was definitely into them."

And what about that so-called "British invasion"? I'd really love it if Pulp and Blur and The Stone Roses and all these guys would get big here," he says, "'cause I'm really sick and tired of American grunge. I hate alternative. I hate grunge. I love classic rock. Genesis is my favourite band [who is this guy?]. I like bands from the '60s, early '70s, progressive rock [get him off!]. These Pulp guys have a real sound. They know what's up. I really hope they succeed big. Personally, I think that..." ...and then the venue doors open and we are saved from the further ramblings and dubious tastes of Nesh Vulovich. Cor blimey. As Jarvis might not say.

Inside the Hollywood grand the main room is being prepared for the show. PULP COMES TO AMERICA posters, featuring the six band members superimposed in front of bursting fireworks and a towering Statue of Liberty [are they making fun of US?], line the walls, alongside numerous signs stressing that CROWD SURFERS WILL BE EJECTED FROM TONIGHT'S PERFORMANCE. Gee-whizz. As an American might not say. As metal protective barricades are erected along the front of the stage, a guy perched in the rafters adjusts the machines which will project '70s film loops on the walls above the crowd. On one side John Travolta, in finest Saturday Night Fever regalia, repeatedly combs his hair in front of the mirror. On the other, a stripper endlessly rubs her naked breasts. Waiting around amongst the preparations, it's easy to spot the people who are not members of Pulp or of the blooming Pulp fanclub. The long-haired guy in the Bob Seger 'Rock & Roll Never Forgets' t-shirt - that's a roadie. The big seven-foot-tall black guy with a grim demeanour - that's a bouncer. The shifty balding guy in the cheesy black sportscoat, half unbuttoned white shirt, and gold chain around the neck - that's a drug-dealer [probably]. The leggy blonde girl with the skimpy leather halter top and short skirt - oh, er, sorry, that's actually a guy.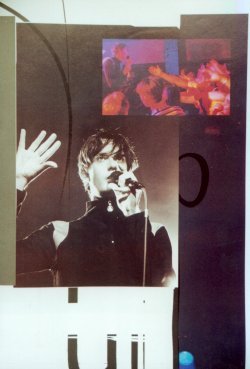 But ah, yes, there he is, the main attraction, propped up by the merchandise stall. Jarvis Cocker, in all his cardboard cut-out glory. Even when he's made out of paper, Jarvis stands out in a crowd. That haircut, all angular and flicked. The graceful hands, cutting a smooth swathe through the hustle of the stage-gear load-in. The classy black outfit, shining right through the dim. Jarvis Cocker - or the 2D likeness thereof - has entered the building. "ENTER TO WIN! LIFE SIZED JARVIS COCKER STAND-UP POSTER!" reads the sign. I fill out an entry form. [Ten days later: still no sign of my cardboard Cocker. Boo.]
"KEEP TO THE STRIP AND OFF THE SIDE STREETS. THIS IS A LATIN AREA AND CAN BE A LITTLE BAD." So reads the scribbled warning posted on the message board in the front of Pulp's tour bus, which is parked in the alley behind the Grand. Showtime minus two [hours]. The growing queue for the gig is snaking around behind the club and alongside the bus. What with all those craaazy Latinos, bad LA gang members and Nesh Vulovich-types [common people are all well and good - in their place], guitarist Mark Webber and keyboardist Candida Doyle are probably safest in here, within the confines of the vehicle.
So those American fans? Scary Anglophile stalkers who've been waiting years to see Pulp do it large in America or what? "There much the same as in Britain really," counters Doyle. "Maybe they're a bit more daring here. I just went for some food in a cafe tonight and a girl right came up and sat at the table with us. She kind of introduced herself and said, 'Hi! I thought I recognised you guys! My name's Veronica!' She might have followed us I suppose..."
"When we were here about 18 months ago," Webber says, "we went virtually unnoticed. We were supporting Blur, and like, even the record company didn't really... I mean they knew we were here, but..."
"It did seem that in the end we came over more for Blur's sake than for ours," reflects Doyle. "I loved touring with them but it didn't get us anywhere, really."
Perhaps it's a matter of time, place and show-building exposure; or maybe it's a result of the fact that most of the recent Oasis centred "The British Are Coming" articles in the American press included at least a little Pulp; or then again, it could be that there are sufficient people who hate Michael Jackson enough to be at least a little curious about the infamous English pop star who - with a well aimed buttock or two - pointed up the absurdity of Wacko's Jesus Christ pose. Whatever: the tide has turned in Pulp's favour.
Doyle: "I'm very optimistic. It's exciting coming to America. I think we'll do well on the east coast and the west coast, Boston, Chicago... but I don't think Middle America is gonna be as good. We were going to play in Dallas and there were only eight tickets sold, so we were not doing that!"
Webber: "That wasn't this time!"
Doyle: "I thought it was..."
Webber: "No, it was last time. It was Blur's concert, nothing to do with us! Anyway, we never expected to come this far in America, really. However, since we've become so successful in England it's kind of changed the game a bit."
Doyle: "And it's nice to play smaller venues now as well. After our big arena tour in Britain, I like it. I was miles back on the stage from the audience then. It's nice to be close again."
Pulp's situation is basically opposite that of Bush, the grungy band from Britain who play small clubs in their homeland, but who have already been handled the freedom of multi-thousand-capacity stadia across the States.
"The Cranberries as well," nods Doyle. "They do well here but they took a long time to do anything in Britain. And they're not doing that well in Britain now." She laughs. "The new record's been really slagged off in Britain. I've not heard it. And I don't want to."
"Bush are crap as well," adds Webber. "That's why they're not popular in Britain."
"The reason Bush is popular here..." starts Doyle.
"...is 'cause Kurt's dead," finishes Webber.
"It's so sad though," says the keyboard player. "The impression that I got is Kurt killed himself to kinda stop people from doing this grunge music. And yet, God, it's worse, isn't it?"
"Come back!" shouts Webber, "Kurt, please come back!" So might there be more Brit bands coming over soon to save us from his disease? "Don't hold your breath," laughs Mark Webber.
It's almost showtime and a Cocker-clone is casually leaning against the back wall of a very crowded club. "My room-mate turned me on to Pulp a couple of years ago and their new album is just great." Says the mild-mannered but sadly-obsessed Myrl From Arkansas. "The melodies are just great. And there's this really strong sexual undertone that Jarvis adds. A lot of performers just don't have that." The lights dim and a warm hum begins to emanate from the stage. Finally, the real Jarvis Cocker will stand up. The frontman purrs and poses, making all the right hand gestures at all the right moments, stage-strutting with a strangely graceful awkwardness.
So begins the show which will be reviewed under the headline 'Unconvincing Presentation Beats Down England's Pulp' in the next morning's Los Angeles Times. According to the article, "this emphasis on attitude adds up to no attitude, leaving the songs a touch anonymous". C'mon, give the guy a break! He's an Englishman full of friggin' Hawaiian bacteria! Whatever, most paying members seem engrossed in the spectacle throughout. The Hollywood celebrity hit-list, though, is a bit sad: Paul Cook and Glen Matlock of the Sex Pistols are the only "stars" spotted in the audience, plus maybe some guy from The Damned and a girl with a passing resemblance to Speed's Sandra Bullock. Oh yeah, there's a rumour that one of the roadies is actually the sister of Heather Locklear.
Pulp forge ahead gracefully, yet Cocker begins to visibly fade toward the end of the hour-long set, apologising at the close for cutting the encore down to one quick song. He's ill, see. After the performance, as guitarist Russell Senior, bassist Steve Mackey and drummer Nick Banks oblige the upstairs VIP crowd with smiles and handshakes and grin-and-bear-it poses with record company proles, Cocker sends his regards and further apologises, opting to lay low and get some rest. Next up, it's all aboard the bus for the long trek up and over to Denver, Colorado - where the show will eventually be cancelled as a result of Cocker's poor health.
Fast forward and march on a few days. "I'm feeling much better now, thank you." Jarvis Cocker is on the phone from Missouri, farm country, known as "the Show Me state". See, they're a sceptical bunch, these Midwesterners, but Jarvis senses a change in their disposition, at least as far as Pulp are concerned. "I don't know if I'm imagining it," he says, "but it seems as if there is a different kind of atmosphere about America this time. We seem just a bit more relevant. That's the main thing I went away with last time - the feeling that, without having anything against America, I just didn't think that what we were doing was relevant here. It seems much better this time. People seem to be looking at things differently, they're more open to experimentation... And that's good for us." So they were joining in with the descants?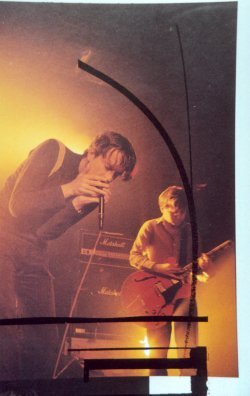 "Oh yes, we've had a lot of singing along. Like a Sunday going to church, communal singing..."
You jest... So we'll soon be able to see the Union Jack fluttering over America once again?
"That's silly, that attitude," he sighs. "It's just not a case of bands coming to take over. It's just music, isn't it? We're not hard enough to invade anywhere. We're not tough enough. As I've said before, our technique is to attempt to seduce rather than to invade. We come over and try to sweet talk America into falling in love with us."
But isn't subtlety something that is notoriously a bit too, er, subtle for winning over American audiences on a large scale?
"Well, if I say something like that, I'll end up getting lynch-mobbed!" Jarvis chuckles. "I wouldn't dare say that. You can say it because you're an American. Erm... I don't know. The things that tend to succeed here are kind of simplified in a way, a bit like the fast food kind of mentality. 'I'll just give you something instantly', and it doesn't matter about the depth, or the fantastic flavour, or whatever. It's just bold and bright and easy to assimilate. We're never gonna be like that. But for the gourmet... It's like these malls you go to here, you see signs that say: 'Try our gourmet candy or 'Try our gourmet jellybeans', et cetera. It seems that this gourmet concept is coming up in America, so..."
Jarvis Cocker gives a not-at-all-poorly laugh.
"...I don't know. Maybe that's where we'll fit in!"
The long distance phone-connection is suddenly filled with pops, crackles and snaps. Is the technology failing us, or is Jarvis Cocker coughing his guts up? As for Jarvis taking over Jackson's crown as America's King Of Pop - Mission: Implausible? Who knows? Communication: Impossible? Most definitely. America waits and wonders...
Thanks to Lisa for letting me borrow this article