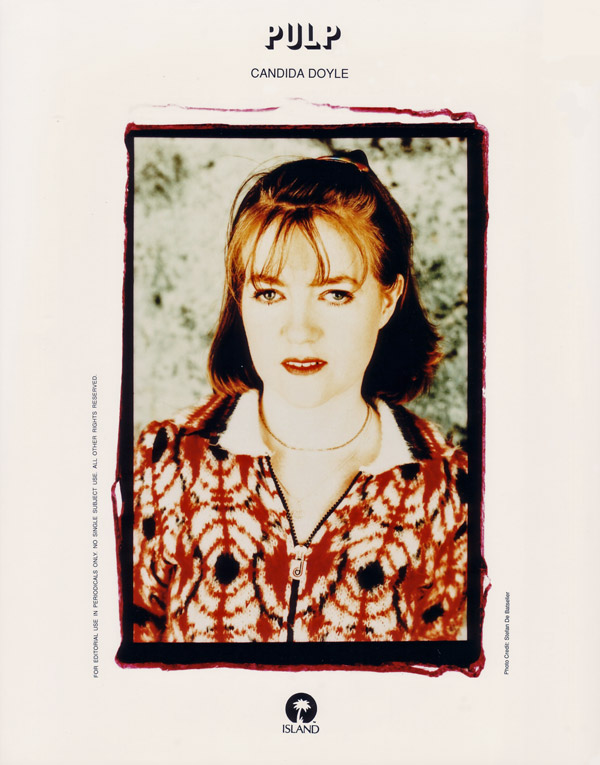 Candida Doyle Interview
Interview by Zoe Miller, London, March 1997
Originally appeared on the official Pulp website



Pulp were demoing new songs at their studio when I interviewed Candida. We talked about her joining Pulp in 1984, being a girl in the music industry, what the group are up to right now and how she felt about Russell Senior leaving earlier this year...

Did you ever have any plans to join a band?

Well, me and my friends used to pretend. It was only me who could play but we'd all plan what we were going to play and make up names for ourselves but we never did anything ever. I had been playing the piano since I was about six, there was always one in the house. My brother [Magnus] had been in Pulp, the line-up before Russell joined, and that had disbanded. Then he got back together with Jarvis and Russell and Pete joined, then Tim left so Mag and Pete said I could play piano. I went along for a practise with Jarvis and Russell and seemed to do okay!

Did you know much about Pulp?

Yeah, I'd seen them in the very original line-up with Jarvis' school mates. I had a kind of a boyfriend that was into them and we went to see them at a pub in Sheffield. He was still living with someone at the time and he was there with his girlfriend so I couldn't sit with him. He'd said Pulp were really brilliant, I went along and they were. I'd liked them for a few years before I joined.

Was it exciting to be joining a band?

I never really thought about it that much, I just did it. I never really told anyone because it was a bit embarrassing. I've only been able to admit that I am in Pulp for the last five years! Before that people would say "who?"

Were you working at the time?

I probably had some part time job in a shop but it didn't matter because we only played once a week and we didn't really practise, we'd always turn up late and then drink tea for an hour. It was horrible being in Pulp in those days, compared to what it is now. It was quite difficult and I can't believe I stayed. Russell and Jarvis were really keen on it and me, Mag and Pete were more laid back - except those two were naughty and got pissed a lot! I was kind of in the middle and some of the atmospheres were terrible.

Why do you think you stayed?

I don't know. I had often thought of leaving but then I thought there was nothing else that I particularly wanted to do. Also, at the time there weren't many girls in groups... reasons like that.

Were you going out with Pete at the time?

I started going out with Pete halfway through both of us being in the group.

When Magnus and Pete left, was that difficult?

It was, yeah, although I was friends with Nick and Steven Havenhand [their replacements] so it wasn't funny with them. It was just a bit weird really, we'd sometimes do old songs that Mag and Pete used to play on and I didn't like that - it felt odd. It started getting funny when we started doing well and when we were touring Pete found it a bit hard but Magnus wasn't ever particularly bothered.

What music were you into when you were younger?

I used to fancy Donny Osmond very, very much and I used to like all their songs. My brother used to tease me by singing Marie Osmond, because she had a lisp. He used to sing "Paper Roses" with a lisp and I'd really get mad.

Did you imagine being in a band would be anything like The Osmonds?

No, I always thought if we got famous I'd leave and if we ever had to fly to America I said I'm not going! Russell was always saying we can go and play in America so I'd leave notes around the dressing rooms saying 'I'm not going!'

Why on earth did you want to leave when you got famous?

I thought I couldn't handle it because I've always been shy, I don't like much attention being drawn to me.

Was there ever a point when you realised that there were a lot of people turning up to the concerts and that things were changing?

Not really, no. I never really believed that we would get famous. At one point we had this female manager, Suzannne Catty, and she used to be quite encouraging. I know that she didn't do us many favours in a way, but she used to encourage me. I used to think "Oh, nothing's ever going to happen." Sometimes it was hard being the only girl in the group but she was all for it and she cleared a few things up in my mind.

Did you ever admire girls in groups and aspire to be one?

No, not really, although I did like The Au Pairs, Girls At Their Best and Helen And The Horns and they all had girls.

Do you think you inspire people?

I'm told I do, I get letters saying that I do and that is a very nice feeling.

Is it ever an issue being the only girl in Pulp?

Sometimes; one of our road crew once said "Oh, Candida got all of these exceptions because she's the only girl" and when I see him I'm going to bloody tell him! I probably did, but I should do! Touring with forty men, I should have some exceptions. Some fans are a bit unsure of me. I mean girl fans will do anything for boys in bands but when there is a girl in the band I think it becomes a bit weird. What I mean is that boys are not the same, they are a bit more cool towards a girl in a band.

Are the others in the band quite protective towards you?

A bit maybe, but I don't mind that up to a point. If it gets bad then I say something.

Do you ever miss the lifestyle you had before?

Yes, but I still never want to tour anymore!

Nobody wants to hear that!

I know but I can't help it...

But is there anything that you can't do anymore that you miss?

Enjoy touring! No, I did enjoy touring, it was quite nice being on the tour bus and I'd enjoy going to bed because it was all cosy but then it got to the stage when I looked into the future and all I could see was Pulp and touring. I couldn't imagine anything else. Now I can see other things in my life that aren't Pulp. We did have two, almost three full on years of Pulp and it was very tiring. Probably when it actually comes down to it I'll be ready to tour again and I'll enjoy it.

The last time I saw you, you were exhausted. How do you feel now?

Really good, it's great writing songs again. It's what being in a group should be all about. I didn't miss writing and I didn't even know if we'd still be able to, but we've written twelve songs and we're sounding okay. Also, doing things for yourself and it's only being the five of us together and not having a hundred other people doing things for you is good. Just now you have to turn up by yourself to practise and you go home to cook, just doing normal things like that must be difficult to understand unless you've been on tour for two years - it probably sounds really spoilt.

How did you feel when Russell left the group?

Quite sad really because Russell is a good mate and a lot of things I didn't enjoy about Pulp, he didn't like either. Me and Russell would usually agree about things that annoyed us. I wasn't that surprised really, there's been a few times that he thought about leaving and he didn't so I suppose we were lucky that he stayed so long. He's really happy, I've spoken to him a few times and he's happy with the situation. I think a lot of people will be really gutted but there was no persuading him. I can see why he left and at least we're all friends, that's important.

What are the best bits about being in Pulp?

One good thing is that I still fancy people in pop groups and I get excited when I meet or get to see the people that I fancy. That is exciting but I couldn't tell you who they are in case I get to meet them one day. Also, there are not many girls in groups. Out of Blur, Pulp and Oasis it is only me! I used to really love all of the make up and getting my hair done but I'm a bit off it just now because I'm really enjoying having a normal life.

What is the most fun you've ever had with Pulp?

The Q Awards and the Roskilde Festival were a lot of fun. I got to meet Black Grape and Underworld, they were really nice. There's been a lot of good and exciting times, it's great seeing things and meeting people and playing concerts.

Who is the most famous person you've seen?

I've got a list of them! I've got a list of famous people I've seen, met and spoken to - I'd forget them otherwise!! I don't know who is the most famous person... Tina Turner, David Bowie, Mick Jagger? Irvine Welsh was brilliant, but I didn't speak to him. Once we stood on stage when David Bowie was playing, me and Mark managed to stay while everyone else was kicked off. There was a bottle of water onstage and someone was saying "You can't have that, it's David's water," that was so funny. We were shouting "Dave!". There's been a lot of good times, especially on tour where all the best things happen.

Do you get recognised in the street?

I don't know; apparently I do but if someone sees you then they don't come up to you and I don't ever notice. People that I'm with say that I do, but I don't think that it happens much. People never come up to me in the street and I'm quite glad because it would seem unnatural if someone knows you and you don't know them.

Do you enjoy London?

It's handy and it's like a means to an end at the moment. I wouldn't mind moving but we can't figure out whether to move to a bigger house in London or whether we should get right out of it. I fancy the country but we can't make our minds up so we're staying where we are.

What was the last concert you went to?

The Longpigs at the Astoria and my brother's group who are called Chin, they're really good. They've got a girl who plays bass and sings a bit.

What do you listen to at home?

Sometimes I just listen to classical music, especially if I know that I'm going to play pop music, I don't really want to listen to it. Or I just put the radio on to Radio 1 or Melody Radio. I listen to all sorts, everything except jazz or heavy rock or rap.

What have you to look forward to now?

I'm going on holiday to France, we've got some friends there with a bed and breakfast on a farm in the middle of the countryside, near Toulouse. I'm going tomorrow. And I'm kind of looking forward to recording, which is unusual. Actually that's what gets me in the mood for touring, you get so bored with recording that you can't wait to tour! I really like a lot of the songs we've done.