Disco 2000
The Video
This is a great article about the production of the video with Pedro Romhanyi, it's joint creator...
Pedro Romhanyi's fifth straight video with Pulp manages to dovetail perfectly with Pulp 'product' - both the single and the critically acclaimed album. It's a marketing man's dream, but not surprising to learn that the tie-in of promo and product, the crossover of design and references to Pulp's place in pop culture, was the idea of the band and director, and is delivered with their now-trademark style and sense of irony. It is all quintessential Pulp, and Romhanyi suggests, a final hurrah before Jarvis Cocker and band assume a lower profile for a while. The story is ultimate Cocker territory - the anticipation before a night out, the Saturday night disco, where boy and girl 'get off' with one another. It's a photo love story come to life, and so involving that if it is your first exposure to the song, you will probably be unaware that the lyrics are a quite different tale of unrequited teen love. "Initially we were going to do something much closer to the song's lyrics. We were also experimenting with a new technical idea, and then the artwork for the single appeared."
Following the theme of the album sleeve, photographer Donald Milne shot a photo love story, that spans over the two-CD single release package. It was such a well executed idea they adapted it for the clip. "So, in the video we duplicate the photo shoot, changing the order in a couple of cases, and of course add a lot of new stuff - the track is over five minutes long." Romhanyi says, "Donald Milne's work for the album and single is like an artificial version of the real world, where all its mundane features have been removed. So this is what we had to recreate - the Pulp world - without Pulp being in it." The band are in the video as life-size-cut-outs and Jarvis appears occasionally on a TV set. "The idea for the cutouts came from an old copy of Nova owned by [bassist] Steve Mackey," says Romhanyi, and of course the typography used on the sleeve artwork, and the video's subtitles, is the same as the Sixties magazines. It points to the input and influence of the band - particularly Cocker and Mackey, both film school grads - on their visual representation. "Jarvis and Steve like things quite crafted and with a sense of structure. A lot of work and a lot of talk that goes on before a frame is shot."
Romhanyi has a reputation for being able to relate to musicians and their music, hence his long relationship with prickly Paul Weller. In Pulp's case, Romhanyi says, "They will set up a brief and I'll come up with ideas. Often they say no, and different videos have different levels of input from them, but they are never passive." Good though it is, Disco 2000 is largely an addendum to the defining video of Britpop in '95, Common People. "That is perhaps the most complete video I've done so far, although at the time, after coming out of 70 hours of post production, it didn't feel like it," says Romhanyi. Common People was one of those rare occasions when a video creates a cultural stir. And after thirteen years in the wilderness, it turned Jarvis Cocker into an overnight sensation. It also actually addressed the content of the song, which Romhanyi considers a good policy in promo-making. For Romhanyi it has been a very fruitful collaboration. "Although I'm quite a commercial promo maker, it's possible to be experimental with Pulp, such as using the 1:1 ratio in Disco 2000," he says. "You can do something leftfield and commercial simultaneously.
---
The Artwork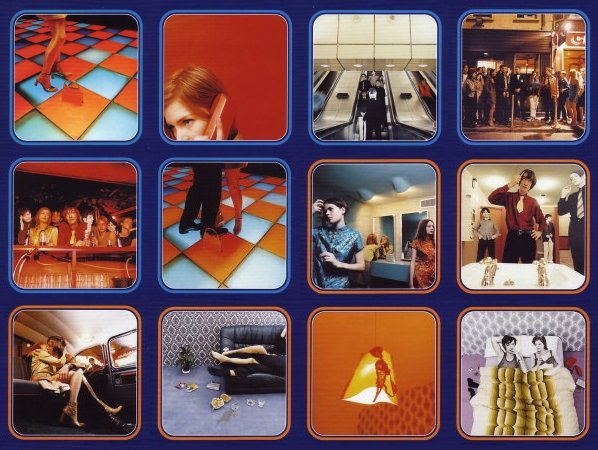 ---