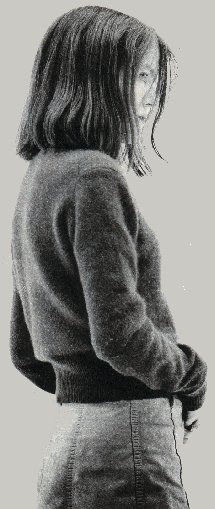 Candida Doyle Interview
Taken from The Sunday Telegraph Magazine, 18 April 1999



35, born Belfast. Keyboard player with Pulp since 1984. Going out with musician Pete Mansell for 14 years.

My parents made me have piano lessons and told me I'd be glad of it one day, though if my brother and best friend hadn't been in Pulp, I would have been too shy to join. Before going on stage, I would have a milk of magnesia tablet rather than a line of cocaine. Sometimes I'd wear sunglasses because I couldn't bear the reality of it.

Women don't crave the limelight as much as men. We show off more subtly. On the whole I'm quite happy all the attention is directed at Jarvis [Cocker]. Three years ago, at the peak of our fame, I thought it would all drive me mad. Touring, promoting and recording was so non-stop that my personal life was getting messed up.

On tour, you don't really have to think for yourself, so coming off tour is a shock. Just taking a bus to the video shop would freak me out. One of the reasons I haven't left is to encourage other girls to do it. There are so few in this position and I feel like I'm helping to carry the flame. We have a crew of about 30, with two women cooks. I've really tried getting girls on the crew but it's hard. One used to set up my keyboards but she ended up with Crowded House probably because they bought her a car to thank her. I wouldn't like to be stuck on a bus with the crew, often unwashed and perpetually stoned. Plus it's so strenuous.

Years ago, we would tour with two other bands, with one van full of about 15 men and me, the other full of equipment. It was horrendously laddish. There are still just as many jokes about knobs - I mean loads - but I think if I left they'd ask another girl to join so it wouldn't get too unbalanced and unreal. If I was in a group with five girls it would drive me just as mad. You just can't be with one sex all the time. I find men amusing and easy and I definitely swear and drink more on tour. I used to be mad about champagne, but it started rotting my teeth. I don't think a lot of my girlfriends would last.

I like it when their girlfriends come along because you can have a good old heart to heart. Men and women both talk rubbish, of course, but it's such different rubbish. It's a relief playing festivals because there are other female musicians about. I hate it when fans bare their breasts and I can't stand the tarty girls who hang around backstage. I wish I'd warned the boys about some of them.

Sometimes I get girlfriends to come on tour, which the boys love and which is when I get into most trouble. One of them, who has two kids, told me she found it more tiring than motherhood, which really helped. Amazingly, I never thought I'd have a child because I was so committed to Pulp. If I had got pregnant I wouldn't have been able to tell them. Now that we've been so famous and really pushed ourselves, I wouldn't feel so guilty.

There have been times when I needed to cry but locking myself in the toilet would have been too sad, so I'd go into my bunk and shut the curtain. I enjoyed last year's tours much more because we gave ourselves time off in between. It gave me a chance to look back, listen to our stuff and realise I couldn't give it all up and that they're the best bunch of people. I get my own dressing room at Top of the Pops, but I always end up going in with the boys.