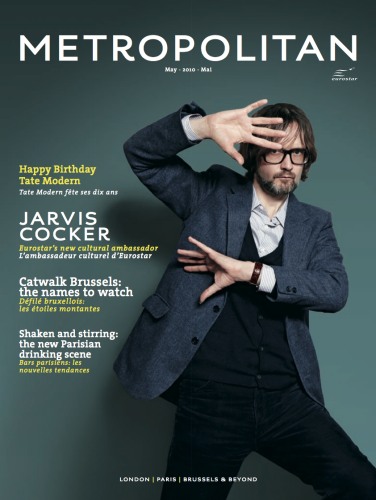 Jarvis fait l'aller-retour
Words: Andrew Humphreys, Photographer: Roberto Frankenberg
Taken from Metropolitan, May 2010

We're mapping out the course of Cocker's relationship with Paris. If Sheffield is his mother-town and London his great love, then Paris is the long-standing mistress, a dalliance that he's been carrying on in one form or another for nearly 30 years.

The untruth provoking him is a claim that he and the band he once fronted – Pulp, though you'd be forgiven if you'd forgotten – set up camp in Paris while writing their breakthrough 1994 album, His 'n' Hers. The confusion, he reckons, comes from the fact that around that time they shot a video for one of their songs in Pigalle, a part of Paris that fascinated Cocker through its winning combination of shiny lights, seediness and naked women. The band had wanted to shoot at the Moulin Rouge revue club, but on the day were turned away at the door: "I don't know what it was," says Cocker, "whether they just looked at us and thought, 'We're not having them losers in here.'" They ended up relocating to a nearby hotel. "Somebody said to us that Jacques Brel used to stay there but then they always say things like that if somewhere's a bit seedy – you know, 'Jacques Brel slept with those cockroaches as well'."

We're sitting in the documentary room of the Jeu de Paume, Paris's national centre for photography, housed in a former real-tennis hall in the northwest corner of the Tuilerie Gardens. Cocker is now 46, and a resident (more or less) of Paris since 2003 when he married a French girl and followed her there; the two split last year but have a seven-year-old son Albert. The former Pulp singer's angular features are partially disguised by a scruffage of facial hair, tinged by highlights of silver, but he is otherwise little changed. He is a delightful interviewee: relaxed, garrulous and very quotable. What is a surprise is how hard he works at this, pausing and thinking before settling on some story or bit of trivia that he thinks might please.

Cocker is present in his newly appointed role as cultural ambassador for Eurostar's Culture Connect programme, an initiative promoting the best the three cities' museums have to offer. "It's a brilliant idea," he says, warming to his theme. "TV, films and the internet are all very well, but they're no substitute for seeing things for yourself. Some of the world's greatest treasures are housed in museums and galleries in Paris, London and Brussels and I want to encourage people to hop on Eurostar on both sides of the Channel and explore these rich collections from 15 different art institutions."

His suitability for the job is obvious from the off; the first thing he does when he arrives is to zero in on someone in charge and demand to know where the museum's black and white photo booth has disappeared to. "It was the oldest working one in Paris," he says. And how about these lyrics? 'I met her in the museum of palaeontology/And I make no bones about it' go the words of his bittersweet song Leftovers. "I was in the Museum of Palaeontology in the Jardin des Plantes looking at this dinosaur skeleton and there was an attractive woman in there," he offers, shrugging, as if to say, well, don't all trips to museums lead to thoughts of thrilling liaisons?

He recalls his first time in Paris. Aged 14, or perhaps 15, he'd been on a French camping holiday with his mother and sister, and passed through on the way home. "I wanted to go to the Pompidou Centre because I was a big fan of The Stranglers and their bass player, Jean-Jacques Burnel had released quite a poor solo album, but on the cover he was stood outside the Pompidou. I wanted to go there and stand in the same pose."

It was his childhood dream to be a pop star. "It was on a level of wanting to be a fireman or a spaceman. You choose these roles when you're about seven then you grow out of them and become a chartered accountant or something. But I actually did what I wanted to do."

Except after a handful of glory years – a number one album with 1995's Different Class; four top 10 singles; headlining Glastonbury; waggling his bum onstage at the Brit Awards in protest at Michael Jackson's overblown Jesus complex – the allure of fame wore out in considerably less time than the dozen years it had taken to achieve. Pulp performed together for the last time in 2002 and Cocker looked for a way out. That happened to be Paris. "I wasn't really running away because I wasn't traumatised or anything. I was just trying it out, living somewhere where nobody really knew who I was so I could just get on with living."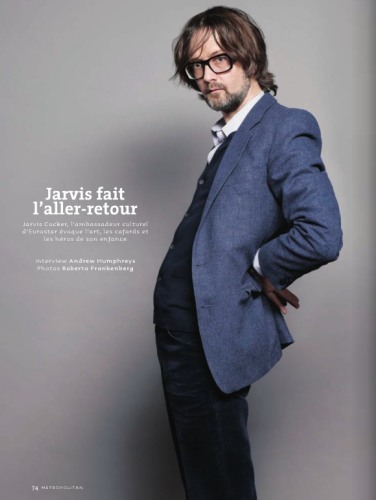 Since the break up of his marriage, Cocker has a new London-based girlfriend, but he commutes between the two cities to spend as much time as possible with Albert, who attends school in Paris. He spends a "ridiculous amount of time" on Eurostar shuttling between his Shoreditch home and his Paris apartment, just down the road from La Cigale, where Pulp made its Paris debut (October 1991, Les Inrockuptibles Festival, sharing the bill with fellow up-and-comers, Blur and Lush: "A festival of English bands with four-letter names," says Cocker).
"Without wanting to cast aspersions on London, Paris is a much more beautiful city. When I take my son to school in the morning, I go through some of the covered arcades near the Museé Grévin and it's such a nice place to walk through. Sometimes I wonder whether doing so well at preserving its past has stifled new things. And you could argue the reason London is a bit more vibrant is because it is ugly, and so you have to make something nice to counteract that. But vive la différence! That's what I say."
Residence in Paris has led to collaborations with actor Charlotte Gainsbourg (daughter of early Cocker idol, Serge Gainsbourg), contributing lyrics to her debut album 5:55, and with French electronica group Air with whom he will be performing next month at Cité de la Musique, part of Culture Connect. More improbably, it led to him picking up the banjo in praise of talking foxes thanks to a friendship with fellow transplant Parisian, New York film director Wes Anderson. "I met Wes – it sounds terribly glamorous this – at the wrap party for the Sofia Coppola film Marie Antoinette. They had a party at Versailles and they asked me to DJ. But it was awful because it was in this really, really long room and it sounded like shit. I was nervous and so I got really drunk and I think I got chucked off the decks after about 20 minutes because no one was dancing. So I was kind of standing there rather crestfallen and somebody introduced me to Wes."
When Anderson wrote his movie Fantastic Mr Fox, an animated children's story, he created the character of Petey, a banjo-toting sidekick to one of a trio of disagreeable human farmers, which he based on Cocker, who wrote the music to existing lyrics that he then got to sing. There was even a small speaking part: "At the end of the song Farmer Bean comes up and asks, 'What's that Petey?' and I say, 'Er, I'm just making it up as I go along.' That's it. That's my line." Albert pronounced himself happy with the film but objected to a bit in which Farmer Bean flicks a cigarette at Petey. "That was sweet that even though it was a puppet getting abused he was sticking up for his dad."
In recent times, Cocker has also guest edited the Today programme on BBC Radio 4, served as a panellist on BBC's Question Time, performed a cameo role in Harry Potter and the Goblet of Fire, curated London South Bank's Meltdown music festival and sailed on a fact-finding mission to the Arctic Circle. In 2008, he also undertook a mini tour – part lecture, part show, part disco – to celebrate 30 years of Rough Trade, the record label through whom Cocker, although few people seemed to notice at the time, released his first solo album, Jarvis, in 2006, followed last year by Further Complications.
Earlier this year, he began hosting a two-hour Sunday show for BBC Radio 6 in which he champions the idiosyncratic end of the music spectrum. It's a job he describes as a great opportunity. "What I've come to realise over the last few years is what I am interested in, in songs, is communication. Music works even when you don't understand the lyrics, so the linguistic part isn't essential, but that non-essential bit is what I'm really interested in. It's language, so it's important for me to not just play records but to do interviews and to play short stories and poems and stuff like that."
If songwriting appears to have taken a backseat, Cocker is quick to assert that music remains at the core of what he does. "It's always going to be central. The DJ thing I'm doing, I'm playing records, they're just not mine. When I made that decision to do the radio show I said right, I'm going to take a break from my own music for six months and I'm going to concentrate on this and see where we are after that. Having said that, I did stay up until two o'clock this morning because I had an idea for a song, but I was like a retard, I was trying to get these chords and I just couldn't do it. Probably because it's the first time I've picked up a guitar in about two months."
He does have some new songs on the soundtrack to the forthcoming film Get Him to the Greek, a spin-off from 2008's Forgetting Sarah Marshall, starring Russell Brand. "I haven't seen the film yet, but the songs are funny." He looks pensive. "Well, I hope they're funny."
---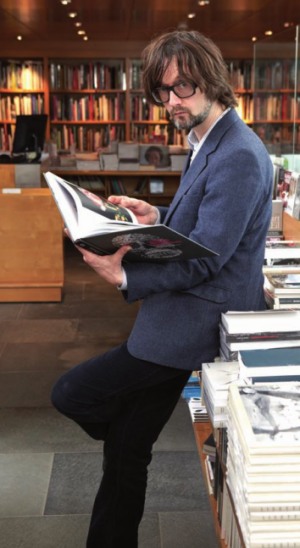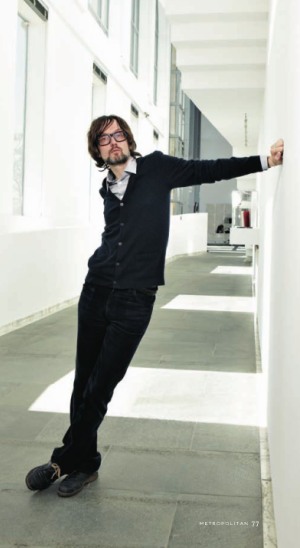 Nous faisons le point sur la relation amoureuse qui lie Jarvis Cocker à Paris. Ses racines sont à Sheffield et Londres est sa ville d'attache affective. Pourtant, Paris reste pour lui une sorte de maîtresse au long cours : il file depuis 30 ans une romance discrète avec cette capitale.
Ce qui provoque sa colère, c'est l'affirmation rabâchée que Pulp, le groupe dont il était le chanteur, s'est installé à Paris en 1994 lors de la préparation de l'album His 'n' Hers, leur premier grand succès. D'après Jarvis, la légende est née du fait que le groupe s'est effectivement rendu à Paris pour filmer le clip d'une chanson, le tournage ayant lieu à Pigalle. Ce quartier a toujours fasciné Jarvis, avec son mélange de néons, de femmes dénudées et son côté un peu sordide. Le groupe souhaite au départ tourner au Moulin Rouge, mais le jour dit, on leur refuse l'entrée. « Je ne sais pas pourquoi, avance Jarvis. À mon avis, quand ils nous ont vus, ils se sont dit qu'ils n'allaient pas accueillir une bande de loosers de notre acabit. » La petite troupe se rabat alors sur un hôtel du coin. « On nous a dit que Jacques Brel avait l'habitude de dormir là ; mais ils disent toujours des choses comme cela dans les endroits louches: « Jacques Brel, aussi, a dormi avec ces cafards !».
Nous nous sommes donné rendez-vous à la galerie nationale du Jeu de Paume, espace dédié à la photographie à l'angle nord-ouest du Jardin des Tuileries. Jarvis Cocker a aujourd'hui 46 ans et depuis son mariage avec une Française, en 2003, il vit en pointillés à Paris. Le couple s'est séparé l'année dernière, mais Jarvis réside en France pour rester en contact avec Albert son fils de 7 ans. Les traits anguleux de l'ancien leader de Pulp sont en partie dissimulés par sa longue chevelure et une barbe grisonnante par endroits, mais il n'a pas changé d'un iota. L'interview se déroule à merveille : Jarvis est à l'aise, loquace et il réfléchit souvent avant de formuler une phrase bien sentie ou une anecdote croustillante. Le rêve pour un journaliste.
Il fait grand cas de sa nouvelle mission en tant qu'ambassadeur d'Eurostar Culture Connect, un programme qui cherche à mettre en valeur les patrimoines culturels de Paris, Londres et Bruxelles. Jarvis Cocker est visiblement taillé sur mesure pour ce rôle : dès son arrivé au Jeu de Paume, il demande à un responsable où est passé la cabine photographique noir et blanc qui était là. « C'était la plus vielle cabine en noir et blanc de Paris », expliquet-il. Et que penser des paroles douces-amères : « Je l'ai rencontrée au musée de paléontologie/nous n'avons pas fait de vieux os » de sa chanson Leftovers ? « J'admirais un squelette de dinosaure au Jardin des Plantes et une très belle femme est apparue », m'explique Jarvis. Comme s'il était tout naturel qu'une visite au musée se solde forcément par une liaison excitante.
Il se rappelle fort bien de son premier séjour à Paris. À l'âge de 14 ou 15 ans, il passe ses vacances dans un camping en France, avec sa mère et sa soeur : sur le chemin du retour, ils traversent Paris. « Je voulais absolument voir le centre Pompidou : j'étais fou des Stranglers et Jean-Jacques Burnel, leur bassiste, venait tout juste de sortir un album solo. L'album n'était pas génial, mais sur la pochette, il posait devant le centre. Je voulais y aller pour refaire la photo ! »
Jarvis a toujours rêvé d'être une star de la pop. « Ça vaut bien pompier ou astronaute ! Quand on a sept ans, on s'imagine faire ce style de métier. Et puis on devient comptable ou un truc du même genre, parce que c'est la vie. Mais j'ai eu la chance de réaliser mon rêve. »
Jarvis a connu les années de gloire : son album Different Class s'impose en tête des ventes en 1995, suivi par quatre titres dans le top ten. Durant la cérémonie des Brit Awards, il s'offre même le luxe d'envahir le plateau durant une chanson de Michael Jackson et agite les fesses en signe de protestation contre la mégalomanie galopante du chanteur. Mais Pulp sort assez vite hors des feux de l'actualité: le groupe joue en public pour la dernière fois en 2002. Jarvis cherche alors une porte de sortie : ce fut Paris. « Ce n'était pas une fuite en avant et je n'ai absolument pas vécu ça comme un traumatisme. J'avais juste envie de vivre dans un endroit où j'étais moins connu, pour mener une existence plus normale. »
Depuis sa séparation d'avec sa femme, Jarvis Cocker a rencontré une londonienne et il fait donc sans arrêt des allerretours entre les deux capitales, car il veut rester près de son fils Albert, qui est scolarisé à Paris. Il passe donc un temps fou dans le train à faire la navette entre son appartement du quartier de Shoreditch, dans l'Est de Londres, et son domicile parisien. Ce dernier se trouve à deux pas de la Cigale, la salle où Pulp s'est produit pour la première fois en France (lors du Festival des Inrockuptibles d'octobre 91, où ils partageaient l'affiche avec Blur et Lush – « une kyrielle de groupes anglais au nom en quatre lettres », note-t-il).
« Sans chercher à dénigrer Londres, Paris est une bien plus belle ville. Quand j'amène mon fi ls à l'école à pied, le matin, nous passons par les arcades couvertes près du musée Grévin. C'est magnifi que de vivre dans un cadre pareil. Au point où je me demande même si cet attachement aux vieilles pierres n'a pas freiné l'éclosion des idées nouvelles. En fait, on pourrait aussi avancer que Londres est plus animée justement parce que la ville est laide : on cherche à contrecarrer la laideur par la créativité. Mais vive la différence ! »
Son séjour à Paris a conduit à une collaboration avec Charlotte Gainsbourg (Serge était un fan de Jarvis de la première heure). Jarvis compose une partie des paroles de 5:55, son premier album. Il collabore également avec le groupe électro français Air. Plus surprenant, c'est une rencontre avec un autre expatrié parisien, Wes Anderson, qui l'amène à décrocher un banjo pour créer la musique du film d'animation Fantastic Mr Fox. « J'ai rencontré Wes durant la fête de fin de tournage du film de Sofia Coppola, Marie-Antoinette. C'était très glamour : j'étais invité à faire le DJ lors de cette soirée à Versailles, mais manque de chance, la salle était toute en longueur et le son était pourri. J'étais très nerveux et j'ai commencé à me saouler. Si je me souviens bien, on m'a viré des platines au bout de vingt minutes parce que personne ne dansait. J'étais là, à ma morfondre sur mon sort, quand quelqu'un m'a présenté Wes. »
Lorsque Wes Anderson écrit le scénario de Fantastic Mr Fox, son film d'animation pour enfants, il crée alors le personnage de Petey, l'un des trois fermiers peu aimables du film. Petey, qui est calqué sur Jarvis Cocker, joue du banjo. Jarvis a donc chanté lui-même les paroles des chansons. « À la fin de la chanson, Bean le fermier me demande "Qu'est-ce que tu chantes, Petey ?", et je lui réponds : "Euh rien, j'invente au fur et à mesure." Cette phrase, c'est ma grande contribution au film. »
Plus récemment, Jarvis Cocker a fait une apparition dans le film Harry Potter et la Coupe de Feu, choisi la programmation du festival de musique Meltdown du London South Bank et participé à une expédition scientifi que en mer autour du cercle polaire arctique. En 2008, il a effectué une mini tournée à mi-chemin entre la conférence, le spectacle et la fête dans le cadre du trentième anniversaire de Rough Trade, le label qui produit les Smiths et Cocker lui-même. En 2006, il a sorti son premier album solo, Jarvis, qui reste assez confidentiel, suivi l'année dernière par Further Complications.
Début 2010, Jarvis prend le micro et assure la programmation de la grande émission musicale de la station BBC Radio 6, le dimanche soir. Il y défend des titres et des artistes inclassables. Cette station étant menacée de fermeture par la BBC pour raisons budgétaires, Jarvis prend désormais sa défense. « Ces dernières années, j'ai finalement compris ce qui me passionnait dans la chanson. C'est la communication, dont les voies sont parfois impénétrables – elle se produit même si on ne comprend pas la langue de l'artiste. L'aspect linguistique n'est donc pas vital, mais c'est celui qui m'intéresse. La langue, c'est la base de tout, pas seulement dans les chansons, mais aussi dans les histoires, les poèmes... et même les interviews. »
Il serait faux de croire que l'écriture et la composition ne sont plus au centre de ses préoccupations. « La musique sera toujours quelque chose d'essentiel pour moi. Je programme des titres qui ne sont pas les miens. Quand j'ai accepté ce boulot, je me suis dit que c'était une occasion de faire un break pendant six mois et de m'intéresser de plus près au travail des autres. Après, on verrait... Cela étant, j'étais encore debout à deux heures du matin cette nuit parce que j'ai eu une idée de chanson. Mais je suis un abruti, je n'ai pas réussi à restituer les accords que j'avais en tête. C'est peut-être parce que je n'ai plus touché une guitare depuis deux mois. »
Jarvis a néanmoins quelques nouvelles chansons en préparation, notamment pour le film Get Him to the Greek, la suite de Sans Sarah, rien ne va, dans lequel Russel Brand joue une rock star. « Je n'ai pas encore vu le film, mais les chansons sont marrantes, avance-t-il, pensif. Enfin, je crois. »