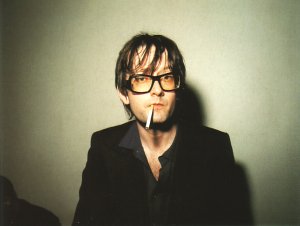 Jarvis's Desperate Diary
Words: Jarvis Cocker, Photographer: Gemma Booth
Taken from Face Magazine, July 2002

Two nights out, four DJs, four band members. Jarvis Cocker's Desperate club night gets an outing in Iceland. We get the diary of their lost weekend...

After a turbulent flight, we disembark and discover that one of White Trash's synths has gone missing and a bottle of red wine has exploded in [journalist] Steven Wells's bag. Hmmm, here we go. On the drive into Reykjavik, Barry [singer in White Trash] commandeers the bus intercom and treats us to his best tour guide impression - this guy really loves rockin' the mic.

When we arrive at the venue (it's called Gaukur ā Stöng - English translation: 'cuckoo on a stick') we discover our records have been left at the airport, and I think I discern the first glint of fear in the promoter's eyes: 'What the fuck have I booked here?' They've advertised the event with a poster featuring a four-year-old picture of yours truly that's been nicked from an old FACE cover (this poster also informs people that they will be seeing a band called White 'Thrash'. Ho hum - well, at least it didn't say 'White Thrush').

When we get to the club the DJ appears to be playing hard trance over the house system - fuck that. I climb onto the stage and 'drop' Willow's song from the soundtrack to The Wicker Man. Let's get pagan! The hen party in the corner look vaguely bemused. Later, Steve takes the stage and things improve some more, with The Rapture's 'House of Jealous Lovers' and Akufen's 'Deck The House'. Anything goes in this place - over the course of the night we are asked for Sex Pistols, Deep Purple, Blondie, Nancy Sinatra, Pixies and Violent Femmes. As it is, we finish with 'Paranoid' by the Sabbath just as it's getting light at 5.30am.

Next morning finds us snow biking in the mountains. I won't go all Judith Chalmers on you and tell you how great snow biking is. Suffice it to say that everyone seems to agree that it is one of the best things that they had ever done. It also gives us an insight into the true nature of supposed 'hard man' journalist, Steven Wells. He drives like a pensioner going for a spin in the Peak District on a Sunday afternoon - and he still manages to fall off three times, once into a pool of freezing cold slush, much to everyone's amusement. That's ex-performance poet skinheads for you.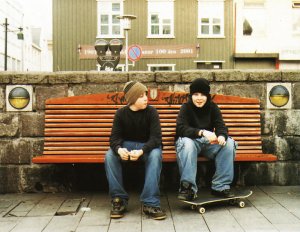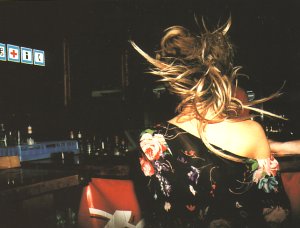 The first thing that happens when I get to the club on the second evening is that I get asked to be in a threesome. The lack of enthusiasm in my expression moves the lady from the couple to suggest: 'OK, well you can just fuck him if you like - and I'll watch.' Her partner shrugs disinterestedly, as if to say: 'Whatever.' I chant a mantralike 'one, two - one, two' down the microphone until they get bored and leave.
I manage to make myself audible to the audience just in time to introduce White Trash in my best working men's club-style. They take to the stage. Alicia, almost motionless, occasionally prods a synth; Pete and Barry trade lines and taunt the punters, Ross... well, Ross appears to have fallen asleep on the keyboard that the promoter found for us. But his hand's still playing the bass-lines - I'm impressed.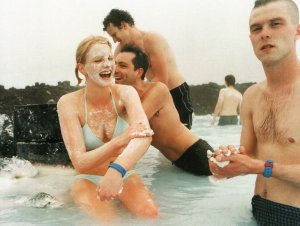 Pipes is the star DJ this evening, playing ragga to a town where I only saw one black face all weekend - come on! We start packing up at 5.30am. A scary Lithuanian girl follows us out of the club, but we manage to lose her by giving her a Pixies' Greatest Hits album. I am fucked. I lose consciousness almost before my head touches the pillow.
Next day, we go to Blue Lagoon geothermal spa, like everybody else who visits Iceland does (it is great, though). Finally, on our return journey, Barry refuses to get on the plane with the rest of us (he's deported later that day). Settling into my seat, preparing for take off, my attention is suddenly drawn to the music being piped over the cabin speakers. It's an easy listening version of R Kelly's 'I Believe I Can Fly'. Ha, ha - I need a bit more than that, Mr Pilot: I need you to know you can fly. But after three days like we've just had, did I really think we'd be able to leave the weirdness behind so easily? No, no, no.
'Til next time. Kisses, Jarv