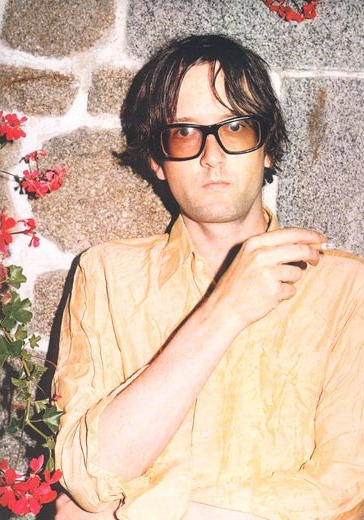 The Green Party: The Face Interview with Pulp
Words: Craig McLean, Photographer: Frederike Helwig
Taken from Face #57, October 2001

Pulp were lost in music. Jarvis Cocker felt like a caricature of himself. Their record sales collapsed. They wanted to split up. Then Jarvis found inspiration in birds, trees, weeds and art. Then they made Pulp Love Life...

Rachel, 19, from south Surrey, Janine, 19, from Manchester, Sharon, 28, from Suffolk, and Jody, 18, from Bolton, 'love Pulp to bits'. They met through the fanclub. Jody first saw them at Glastonbury in '95. She'd gone to see the Stone Roses, but they were replaced at the top of the bill by Pulp. 'Then I heard "Mis-Shapes" and we all fell about.' Janine has seen the band eight times before. 'But the first time they played near me, my Mum wouldn't let me go. She said it was 'cause I was only 13. Bitch.' Candida said hello to the girls today, as they maintained their vigil, a-shiver, by the fence separating Guildford Festival's backstage area from the artists' Portacabins. She always says hello, Jody has noticed, with the derision she might afford an older brother who's gone off to college and come back home with fancy ideas and student clothes, that Jarvis is wearing a 'Seventies kid's jumper'. Jarvis, of course, at 38, is old enough, and then some, to be her dad.

'What's great about Pulp is that they're not so starry as other bands,' says Janine. 'Like, 3 Colours Red, they were full of 'emselves. Pulp walk about all scruffy. Most bands wouldn't walk about scruffy.' Pulp are winding up for their headline slot at the small, pleasant Guildford Festival in London's commuter belt. You can buy a little pot of Sage at Guildford, or some bedding plants. In the band's Portacabin, Jarvis Cocker's battered ghetto blaster sits amongst the nuts and plastic cups, ready to play the vocal exercise tape which, prior to shows, the band tra-la-la along with in unison. Right, sort me eyes out,' mutters Jarvis, on his haunches, fiddling with his contacts.

Keyboard player Candida Doyle is pondering whether to tie a bit of her hair back. 'I don't wanna look like it's a folk festival.' Guitarist Mark Webber eats an orange and attends to his parents. Bass player Steve Mackey and drummer Nick Banks trade wisecracks with auxiliary guitarist Richard Hawley (late of Longpigs and a long-term Sheffield associate) and Antony Genn (another old Pulp pal, forever known as The Naked Bloke With Elastica At Glastonbury).

Someone has handed in a drawing for Jarvis. It's a painting of Pulp on stage. 'It's like having an official war artist,' he says. 'A court artist!' pipes up Mackey. Then, mimicking a stuffy TV reporter crowing over the Jeffrey Archer trial, and to cackles from 'the lads', Mackey goes: '"Mr Cocker started to twitch his leg uncontrollably during song three...'" And so it came to pass that Mr Cocker did (although it was during song one).

Forty-two months after This Is Hardcore, a record whose bruised, hard songs gave the impression of a band who were - finally, after 16 years of failure and four years of success - drained, flattened, fed up and finished, Pulp Love Life. Not for their seventh album the summertime brit-pop exuberance of 'Common People', 'Sorted For E's & Wizz', 'Disco 2000' and Different Class. Nor the slick, sickly, leathery, post-party psychosis of 'Help The Aged' and 'The Fear'. Pulp Love Life is about plugging back into the simple joys - and the mundane pains - of livin'. The glorious 'Bad Cover Version' crystallises where Jarvis's head is at, as he ranges far and near in his distain for former lovers', friends' and culture's prevailing tolerance for 'sad imitations' that always lets you down - 'A later Tom and Jerry / When the two of them could talk / Like the Stones since the Eighties', or 'an own-brand box of cornflakes', smashing stuff. And unlike this Is Hardcore, Jarvis sounds liberated, not jaundiced, by insight and realisation.

'Trees' ponders cycles of decay and rebirth and what happens when love dies. 'Sunrise' is a tidy prog-house wig-out which considers coming home at dawn to be the best thing about staying out all night. 'Birds In Your Garden', inspired by a Garry Hume painting of a blackbird, comes complete with twittering birdsong. And all of this to the sound of a band with their blood up, their lust for life rediscovered. Getting in Scott Walker - Cocker hero, recluse, legend and sometime creator of adventurous ballads and 'difficult' LPs - as producer was a masterstroke. Pulp Love Life. Is the album's title a simple declaration of intent? Or are Jarvis Cocker's fingers crossed behind his back? It's not meant ironically,' Mr Pulp will insist. 'A lot of this record is about trying to engage with quite simple, in fact quite childish, ideas of nature. I hope there's more of a simplicity about it.'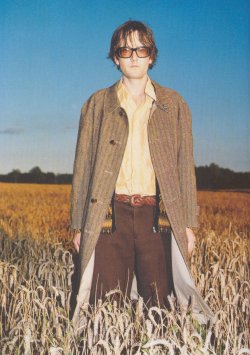 'They overdo it and you don't believe in it'
One pissing-it-down afternoon, the week after Guildford, Jarvis and I go to the pictures. He shuffles across the Soho street, a rhapsody in brown with several days' growth. He wants to see Swedish film Together, which is set in a Stockholm commune in 1975 and is about what happens when people don't acknowledge their own loneliness and pain, prefering to fart around with politics and sloganeering. The cinema haven't got salted popcorn, so Jarvis has to buy sweets.

Afterwards we go to an old italian cafe tucked behind Piccadilly Circus, unchanged since the last time Jarvis did an interview there. 'Haddock, chips and beans?' asks the waiter on arrival. But no. Only ham and chips today. He'll also have a grapefruit juice. Not large, just a medium. 'I don't wanna go mad.' Even the waiter knows this is Jarvis being Jarvis. He's wearing a badge that says 'I'm Desperate'. Jarvis liked the film. 'It was quite touching.' He appreciates the fact that they didn't over-egg the period pudding: not too much ABBA, or stunt retro clothing. 'If that film was made here,' he says mournfully, mouth working at bits of pig and potato, 'they'd probably go way over the top with all the... like, East Is East, I thought that was really overdone. It stuck in your throat. They overdo it and you don't believe in it. It starts being a nostalgia market.'

As you might expect of a band who travel at an art tempo rather than a pop pace, Pulp are taking their time about their comeback. Earlier this year they played dance festival Homelands, and literary festival Hay-on-Wye. They've released a white-label 12-inch of 'Sunrise', complete with remixes from members of Sheffield's fruity underground dance scene. Jarvis and Steve hosted a 'secret' club, called Desperate, in a shifty venue in happenin' East London. They played out their Desperate Sound System signature tune - an a cappella take of 1986 summer cheese-choon 'Holiday Rap' laid over an instumental version of Coolio's 'Gangsta's Paradise' - and got New York scruffbags A.R.E. Weapons to play. Jarvis thought they were 'good, but a bit all over the place'.

The centrepiece of Pulp Love Life is 'Wickerman'. The Wicker is a rough part of Sheffield where Jarvis used to live. Its long spoken-word passage talks of local rivers the Porter and Don. Jarvis was struck by how the Porter disappears into a tunnel under the road near Sheffield train station. 'This river has been there for thousands, millions, of years, and all this stuff has gone on top of it, and it still exists. The idea appealed to me that you've still got a thread running through things, even though you've got all this stuff built on top of it. There will still be something constant underneath it. A sense of continuity in your own life is quite important.'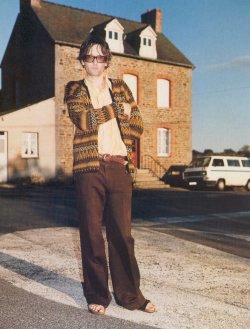 'A swan would float past'
Pulp unveiled some of their new songs at the Venice Biennale in 1999, where they played a six-song set - behind Venetian blinds (Jarvis's idea) - to accompany a Gary hume exhibition (Hume's idea). An early version of 'Trees' appeared at that year's Nick Cave curated Meltdown Festival. Then it was a spoken word version of American folk standard 'The Boil Weevil Song', reimagined in Jarvis's hands as the true story of a cockroach almost falling into his spag bol while he was living in Camberwell.

They played some more new songs at Reading and Leeds Festivals last year, at which point they decided to scrap all the recording they'd done in a rural retreat that spring with Chris Thomas (producer ot Different Class and This Is Hardcore). 'We didn't want to make an unplugged record or something, but we did want to do things in a less manufactured way,' Jarvis says. 'The first studio was very pleasant. We were out in this hut, and there were big windows, and you could see this lake, and you'd be playing your guitar and this swan would float past, and you thought, "Oh, this is quite nice." But it didn't work, it just wasn't us really. It isn't our world.'

As a succession of release dates came and went, you might have thought Pulp were finished, that this ragbag of ageing misfits and mis-shapes would never get it together to release another record, far less scale once more the giddy creative and popular heights of Different Class. As Steve will admit, the period around This Is Hardcore had been 'dark days, like Berlin Walls going up all over the place'. Candida almost left. 'That record's only got bad memories for me,' she says chirpily. 'It just seemed like you were being forced to do something you didn't really want to do. All that fame thing, it was just horrible. But it calmed down.' And as former Pulp guitarist Russell Senior used to say, what doesn't kill you makes you stronger.

Why make a new records, though? Jarvis thinks about this. 'One of the major points for me was to prove...' He thinks some more. 'If we hadn't made another album after This Is Hardcore, if Pulp was a film it would have been a really bad ending to it, and the executives at the studio would have made you go in and change it. For me, I just wanted to prove that wasn't the end of the line.' Pulp knew they wanted to make the follow-up to This Is Hardcore 'natural sounding'. They abandoned the countryside, went back to the city and began working with someone who had spent 11 years making his own last album. That did the trick.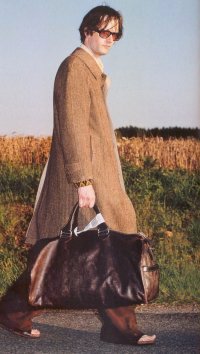 'Behold! Emerging from its cocoon, a moth'
The next day, Pulp are playing the Routes De Rock festival, a classy affair in the ruins of an old fort in Brittany. They're on after Mogwai, around midnight. Candida got to the hotel three days ago. Jarvis, Nick, Steve and Richard arrive by light aircraft at a local airfield around teatime. Jarvis was wearing the same clothes as he was yesterday. Mark is nowhere to be seen. He will not arrive until three hours before stagetime. No one is very happy about this. 'Mark,' Candida says brightly, 'is going through his not-liking-the-group phase now, which is really weird. Five years later - typical! I think it's because he was the last to join. At some point, you just don't like it, being in a band.'

So it is that tonight the favourite sport of 'The Lads', refreshed by demis, is taking the piss out of the absent Mark rather than out of Jarvis. That said, the stuff about Jarvis is funnier, because it seems mainly predicated on affection. 'Behold!' yells Richard as the singer's unmistakable figure, lugging a big holdall and his big overcoat, is espied exiting a brief rendezvous with the make-up artist. 'Emerging from its cocoon, a butterfly!' 'A moth!' hoots Nick. 'Cabbage White!' sprays Richard. 'One word,' hisses Steve. 'Rigsby!' Jarvis, knowing full well they're laughing at him doesn't offer the required impersonation of the scruffy landlord from Seventies sitcom Rising Damp. He screws up his face and flashes them the Vs. Increasingly stressed as the day wears on and show time approaches, and visibly harassed by the swarm of people who linger around him, he will eventually relax when ex-girlfriend Chloe Sevigny appears backstage (she's in France filming).

On stage that night, Jarvis Cocker is transformed again. He starts off by squeezing an orange over his already clotted hair during new song 'Minnie Timperley'. Seen up close, from the back and the side, the marvel that is the Cocker dance takes on new dimentions. He looks younger on stage, a barefoot boyman with snake hips and slack jaw. He starts off like he's left his coat hanger in his hirt, like there's callipers fixed inside his brown, bobbly slacks. Then, with a flick of his right foot, as if dislodging a splat of dog poo, Jarvis and the clanking, euro version of 'Common People' explode into life. With so much else going on around and about - and within - them, it's easy to forget: Pulp are a phenomenal live band. Quite rock 'n' roll, really.

'Christ, how long can you keep doing this?'
Candida is painfully thin, and carries herself with the china-doll fragility of an Edwardian lady. Mark looks like he's been touring for a hundred years. Steve has flecks of grey in his hair. Nick is quite chunky and has eczema running under his forearms. Jarvis has to clip his eyebrows and nose hair these days, and has discovered age means his hangovers now come with the added bonus of 'slight psychosis and mental anguish'.

Is he less cluttered after getting This Is Hardcore out of his system? Does he feel purer for going au naturel? Might he want to - whisper it - settle down? ' Well, we've been brought up in an age where the things that seem appealing are the things that you do when you're younger. And the idea of settling down just doesn't really seem to... I never thoguht I'd do it because me mum and dad split up when I was younger and so I thought, there's no point in getting married and stuff like that, so I'll just ignore all that. But then when you're getting on a bit, you start going, "Christ, how long can you keep doing this?" 'That's why our club is called Desperate, because that's what it's like. I remember when I first started going to clubs I'd see people who were 28, and I'd think, "What the fuck are they still coming out for?" And now I'm ten years on from that, and I'm still doing it. So sure, when people see me out, they think, "What the hell is that clapped-out fucker still doing out?" But you know, I'm desperate. I admit it!' Are you gonna find true love in a club? 'I can't hear any more! I can't even hear conversations, so it's gonna be difficult.'

This year, Pulp's presence at Reading Festival amounted to Jarvis and Steve hosting a Desperate Sound System night in the adjacent leisure centre. Is it too much like hard work these days, being a singer in a band? 'Nah,' he sniffs. 'The kind of band we are is probably a dying breed. I don't mind it. We're a...' He ruminates, a mildly downcast old moo cow. 'Slight Dinosaur.' He keeps ruminating. 'We've always been a bit out of touch with reality anyway.' Better than having a real job? 'Oh yeah. That goes without saying.' Pulp: now is the autumn of their disco tents.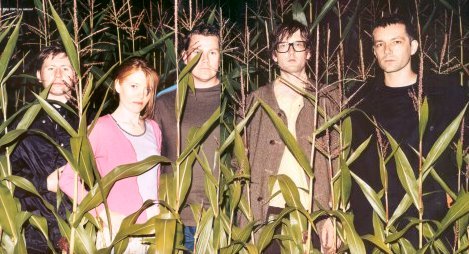 POSTSCRIPT:
As The Face went to press, Pulp renamed their album. Now it would be just "Pulp". Why? Have Pulp decided that, on reflection, actually they don't love life after all? 'We've been working on the sleeve artwork,' Jarvis said, 'and when we had "Pulp [loveheart] Life", it felt like one of them I Love The Seventies things. And if it was Pulp Love Life, you read it like it was called either Love Life or Life - both of which are terrible. Life's a really bad one. Thats's Des'ree, innit? 'But I still agree with the sentiments of "Pulp Love Life". "Pulp" works awright, though, 'cause another theme of the record is keeping things simple and direct and uncluttered. Plus, of course,' he says, with wry emphasis, 'this is the definitive Pulp album.'