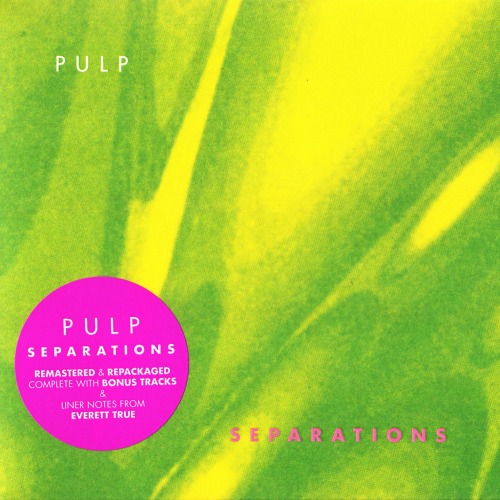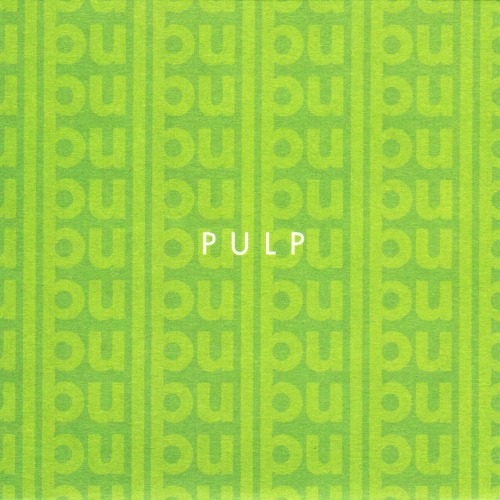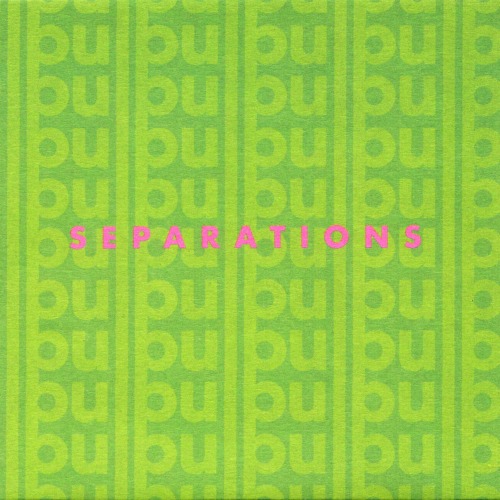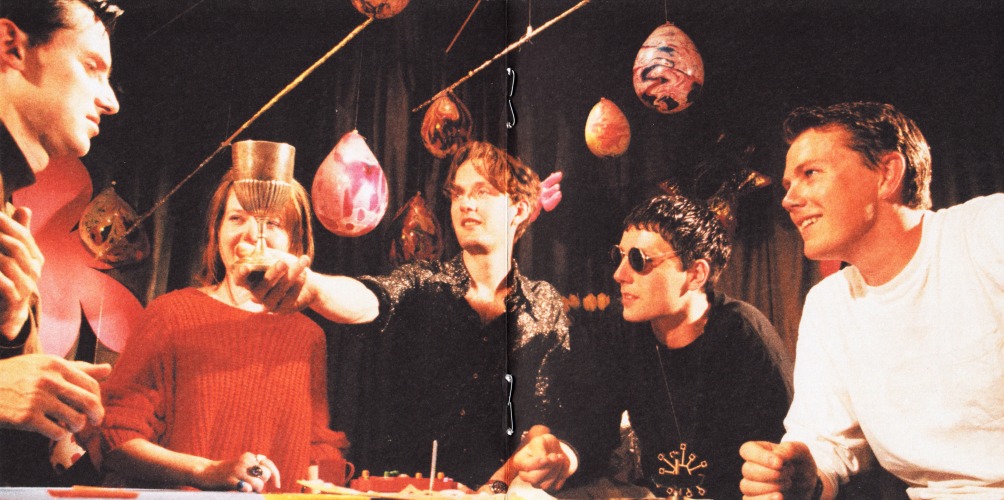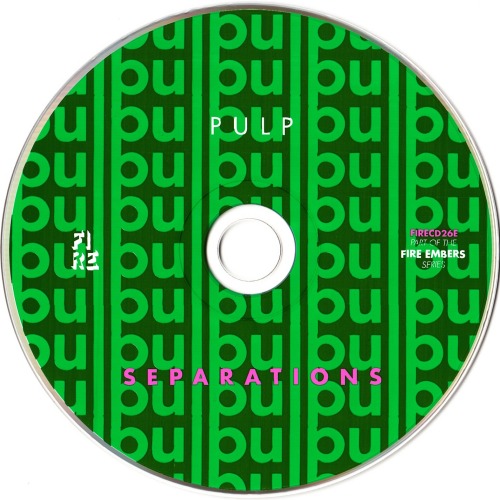 Sleevenotes:

"Pulp is... wearing suede trousers with nothing on underneath... doing a wheelie on a Raleigh Chopper... going to the supermarket in a lurex jumper... being very knowledgeable about antique glass" - Pulp literature, 1992
So, Separations: more songs about death, despair, abandonment and imaginary girlfriends. Any amount of inflamed Sixties-style girl group harmonies. Washes of glorious keyboard, and tunes to kill Tony Christie for. Intrigue and adventure: anticipation, and those threatening strings playing in the background. Jarvis always understood that anticipation is the greatest part of anything - that's why Pulp songs have always swollen and faded, roared and faltered. The wait is all: the moment never quite lives up to expectations. Foreplay. that's all that matters.
Separations is the album where it all kicked off, recorded in 1989 not released until 1992 and then only after Pulp had switched labels and a slew of critically-acclaimed 12-inch singles had slunk out, like batchelors caugh canoodling at a wedding party. Most of the songs on Separations sound fully realised in that undeniably Pulp manner that was soon to be experienced everywhere. And, for the first time, there was an inescapable disco pulse.
Nick Banks joined on drums. Jarvis moved down to London to study at St Martin's College. Steve Mackey joined on bass, and he liked going to raves. Jarvis quickly learned that he liked going to raves alongside Steve. Pulp still loved Serge Gainsbourg and Leonard Cohen, but they were fashioning that infatuation into an aesthetic decidely Pulp.
Take a listen to the tremendous, brooding 'She's Dead' - a song that (ma)lingers as it builds, never hurried, never about to rush and spoil the moment. It's one of several truly lovely moments here. It lingers, so everyone can take a look at the metaphorical corpse of Jarvis' old love.
She's dying, everybody came to see
She's falling and I know I'll
Never see her face again
And I don't really know just why she's leaving
All she ever said was she just had to go
Take a listen to 'Don't You Want Me Anymore' - a song about the dangers of leaving home, perhaps foreshadowing 'Sorted For E's & Wizz' by a few years, a 'She's Leaving Home' for the new rave generation, shaded by Senior's violin. "I've never seen you look so ugly as the way you did that night," Jarvis sneers. "That night was 18 months ago." Isn't this how you'd love all your failed affairs to sound? The title track boasts a giddy and desperate vocal, and violins and guitars that sound like they want to be plying their trade among the hills of Istanbul. That's OK. Haven't we all wanted to be doing that at some point?
"All our songs are about mundane everyday things that assume the status of high art in your own life," Jarvis Cocker told Melody Maker. "I used to get too precious about our records and think they'd alter people's lives; I'd try too hard. Now I've mellowed... Making music is like bricklaying, and if people are impressionable that's up to them."
Bricklaying. Jarvis always did have a knack for an earthly understatement. This is the transition album where Pulp, caught between a doomed romantic outsider past and an acid-bright future, made an album that brilliantly reflects both. This is the album where Pulp said goodbye to the wilderness years, and latched on to the mood of the times. Or perhaps the mood of the times latched on to Pulp? Who can say? It was the Britpop era. Pulp were made Single Of The Week in Melody Maker the same week as Suede. Suddenly, everyone was desperate for a bit of Northern glamour, some Bri-Nylon shirts, some space-age escapism. No one wanted reality. Everyone wanted to dream for a few years.
"I like the idea that Bri-Nylon was going to be the fabric of the future," Jarvis told NME for the release of the 'Countdown' 12-inch. "This fantastic, durable stuff rather than this rubbish that gave you a rash. The one-piece Bri-Nylon never really took off in the way the makers of Space 1999 thought it would. That's because in Space 1999 no one ever got an embarrassing stain on their groin where they hadn't shaken their thing properly."
NME called Separations "archly naive glitter pop". Select thought, "Jarvis wears clothes so unfashionable his body seems to be revolting against them... he dances with the same graceless beauty that Nicholas Cage displayed in Wild At Heart - all karate kicks and hand-chops." Chris Roberts wrote in Melody Maker that the album's first single, 'My Legendary Girlfriend' (released in 1991), "pulsates with not only the spirit of the great Barry [White] but also echoes of Iggy Pop, Human League, and any great existential profundity you care to raise."
Or, as Jarvis put it: "Pulp are light and shade, a dog snapping off its lead for a bit and running around then getting caught again. I can hear a train going past."
It's noticeable that the two singles drawn from Separations are the first two songs on the second side, the 'acid house' side. This would give a fair indication as to where Pulp's future lay, with a squelchy disco beat and a sex-driven libido, Jarvis all expressive hand gestures and awkward body movements, deliciously packaged up as "sex" to the daughters of the mums who first saw Pulp play in 1980 at the Sheffield Leadmill. In 1991, Stuart Maconie described a 12-inch of 'My Legendary Girlfirend' as "a throbbing ferment of nightclub soul and teen opera" making it NME's Single Of The Week. Or, as I wrote in my review for Melody Maker, catching hold of the song's salacious properties:
"Back to the present, and all the pleasures that can bring. For example, the first 30 seconds of this single which are very, very steamy indeed. The male version of [posh, all-female, madrigal-singing group] Miranda Sex Garden, no less - the introduction makes me want to crop my hair, start taking one teaspoon less in my coffee and laying out the satin sheets in readiness. And then the damn fool spoils it all by opening his mouth another centimetre or two, and singing. Worse - singing like Bryan Ferry was today's news, instead of World Of Twist. Damn. Until then, I really thought we had an online male orgasm scenario going there. Still, not bad at all."
Not as histronic or overtly wonderfully melodramatic as 1995's Different Class and with a pleasingly sinister undercurrent, in places Separations has shades of the darker Pulp of 1998 (This Is Hardcore). Jarvis was really starting to come into his own as a singer, expressive and weeping out to the skies over the more absurd sides of love. The album is worth buying for the opener 'Love Is Blind' and 'She's Dead' alone.
On the other hand, the album's closing instrumental rave, 'This House Is Condemned' was perhaps a little - what's the word again - ill advised. Still, it was interesting that Cocker, under the influence of Mackey, felt confident enought to try. Not that anyone cared. By the time Separations finally got a release, Pulp were on their way.
"Today," wrote an impressionistic John Mulvey in the NME, "Pulp is... trying to be superstars in your hometown... organising party games for drunks... loving Des O'Connor and not having to say you're sorry... being fantastic... being mundane... being fantastic and mundane at the same time... dreaming of space-age Sheffield..."
"I think space is something that a lot of people our age are fascinated with," Cocker told Volume writer Paul Mathur for the release of 'Countdown'. "I'm not a sci-fi buff or anything, don't get me wrong. It's just that I remember when I was young watching the first man on the moon... The people at NASA were saying that by 1984 or something, we'd be living on different planets or whirring around in Space Stations, and we believed them completely, There didn't seem to be any reason why we wouldn't."
He continued: "I wrote this song on the new LP about how you leave school and you treat the rest of your life like a big countdown for something big that's going to happen - and the years go by with you thinking, well, when am I going to get to the 10, 9, 8, 7, 6 bit? It just never comes along."
He wouldn't have much longer to wait.
Everett True, 2012
---