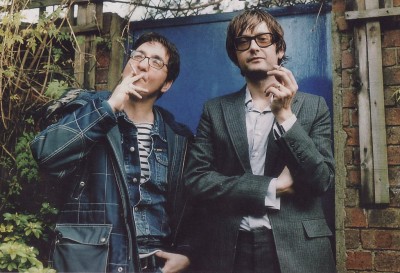 How We Met: Richard Hawley & Jarvis Cocker
Words: Tony Naylor, Photographer: Retts Wood
Taken from The Independent on Sunday, 8 December 2002
Richard Hawley, 35, was born, and still lives, in Sheffield. During the mid-1990s he played guitar with Britpop-band The Longpigs and last year released his debut solo album. A member of Relaxed Muscle, Hawley's third solo album is out in February. He is married and has two children.
Jarvis Cocker, 39, was also born in Sheffield. He is the singer with Pulp, the group which formed in the early 1980s and was nominated for the Mercury Prize for 1995's 'Different Class'. The next year, Cocker famously disrupted a Michael Jackson performance at the Brits. After a farewell gig this month, Pulp will go into 'cryogenic suspension' while its members pursue other interests. For Cocker this includes ad-hoc band Relaxed Muscle. He is married and lives in London.
Richard Hawley
Pulp turned up to my 16th birthday party, but only Candida [Doyle, Pulp's keyboard player] can remember it. A lot of ale has gone under the bridge since and the information has been deleted. So I can't remember the day I met Jarv but I remember seeing him around Sheffield. You'd see him carrying a Hoover or something. He was probably just taking it down to this squat, off Wicker - which is what Pulp's song "Wicker Man" is about - but there was always that mad professor thing about him. Pulp always seemed like the Bloomsbury Set crossed with the cast of One Flew Over The Cuckoo's Nest.
In the early 1980s, my band Treebound Story used to do gigs with Pulp. We'd play little bars like the Underground and right dodgy Red Wedge-style council benefits for Donkeys With Polio or whatever. I always thought Pulp were the best Sheffield band, really idiosyncratic and quirky.
Jarvis and I got to know one another well when I started working with Pulp in 1997, after Russell [Senior, guitarist] left. I'd just come back from a world tour with The Longpigs, and my brain was frying. It was the maddest thing ever to think I'd cure my fear of touring by going on a world tour with Pulp, but it saved my life in a lot of ways. With The Longpigs it was all corporate and horrible. But Pulp was a laugh, like touring with your family.
Since then, me and Jarv have been really close mates. We discovered we're both speccy mongs who like similar things. We both trawl junkshops for little weird records. And, independently, we'd listened to similar music, like Santo & Johnny and Bob Lind.
When I was in London, I'd always stay at his house. I renamed it Teetering Piles, 'cos there were carrier bags of things everywhere that he'd bought a year ago and never opened. Basically, the evening would be: finish rehearsal, listen to loads of mental tunes, get monumentally trollied. It's not just music, though. Jarv's always been there for me. He's a very generous warm bloke. And he's funny as well. He has me belly laughing sometimes.
Jarvis doesn't think he did, but I'm amazed at how well he dealt with the tabloid stardom. People would come up and hassle him and he'd never tell 'em to piss off. He drives you mental, actually. If you've got to go somewhere, he'll always sit talking to a fan. I think he just likes talking to people.
There's never been that "star" thing with him. A mate of ours, Antony Genn did all the music for that Mike Basset film, and the premiere was all screaming kids, fans, cameras... We'd been shopping for records and we just turned up in scruffy parkas with our carrier bags. I don't ever see "Jarvis Cocker", I just see Jarv. I suppose, when you've seen somebody spewing up in the bog and that after a good night out, the glamour tends to fade.
Recently, we played together as Relaxed Muscle and the reviews were humourless. When you get bands that are "pop-star-mates" or whatever, it's fair enough if people want to have a pop, but they just didn't see the funny side. I was pissing myself at Jarvis doing these karate chops on balsa wood. That sums him up, actually. We rehearse, seriously, and he turns up with pieces of balsawood and a bottle made out of sugar to smash over his head.
Right: Richard, Jarvis & Steve in Budapest, August 2002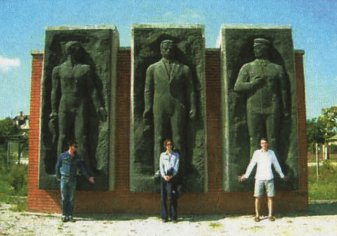 Jarvis Cocker
I first became aware of Richard, I think, when we played a concert together in the early 1980s. They used to have this Dolebusters summer festival in Sheffield, bands playing in parks and stuff, and I think us and Richard's band played at Burngreave Vestry Hall. There were only about 30 people there, mostly rough kids, and I remember them unplugging the power half-way through.
After that, Richard invited me and Russell to his party. It was their idea of a psychedelic party, but we were quite impressed. I was especially impressed that this was happening in Firth Park. It's alright doing it in Broornhill, where all the students live, but they were doing that stuff somewhere pretty rough, where they could easily get smacked for being a bit weird. So, I respected Richard.
I think Pulp put out records before Treebound, but they got to record in a posh studio and were allowed to have a full-colour sleeve. We were on an independent label and the most colours we could use was two. There's always rivalry between bands, and I can remember being really upset about that.
I didn't really get to know Richard properly, though, until he started playing with us. He is, without doubt, the most accomplished musician in the band, so I had to tell him not to show us up. He is fairly tasteful although if he feels like annoying you he'll launch into some Jimi Hendrix solo.
It was really good, especially for me. After the This Is Hardcore album, I was in a right horrible, negative mood, thinking I'd had it bad, and that I was entitled to a nervous breakdown. But then Richard told me stories about touring America with The Longpigs, non-stop for a year, and I just thought, "Bloody hell, I'm being a lightweight here."
I won't say he's the life and soul of the party, because when people say that I always imagine some really irritating twat in a revolving bow-tie, but Richard is more sociable than me. And he's more open with his emotions. But, in the end, we've both got a similar outlook, that, you know... the world's basically bad, but you can make or discover your own islands of OK-ness within that.
For the purposes of Relaxed Muscle, I'm Darren Spooner and Richard's Wayne Marsden, which is the name of a kid who bullied me at school. As far as I'm concerned they're just a band from Doncaster. I wanted to do something off-the-cuff, just for the laugh. I thought it was funny that everyone hated it.
When Richard started doing his solo stuff, he did it because he had to. It was almost his last role of the dice and, like in films it's always good when that takes off. It's the most heartening thing I've witnessed in music in 10 years.