Pulp's Tour Itineraries
Tour itineraries are small booklets, typically A5-sized, that detail the daily touring plans for the band and tour crew. They include the travel, venue and accommodation details for the tour party and (generally) help to ensure that everyone's in the right place at the right time. They give an insight to what goes on behind the scenes and reveal how manic a tour schedule can be.
UK Arena Tour, 1996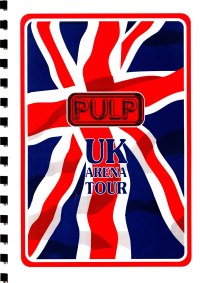 (Click image to download - 1.9MB pdf file). Within a month of the Arena Tour beginning, Pulp had managed to complete mini-tours of Japan and Scandinavia, guest edited an edition of the NME, undertook a week of production rehearsals and performed at the now-infamous Brit Awards ceremony. Pulp played to 87,000 people across 10 concerts making this their biggest ever headline tour. And yet on the morning of their first show in Brighton, Jarvis was detained in the custody suite at Kensington Police Station thanks to the actions of Sony lawyers representing a wannabe Messiah. "It weren't a bad cell," Jarvis told Smash Hits, "it had a flushing toilet and a bit of padding on the bench". Life in a pop band probably doesn't get more random than this.
The tour progressed through the inevitable media circus. The NME covered their third show in Birmingham and on the following night in Manchester, Jarvis was interviewed live from the Pulp dressing room on TFI Friday. By the Sunday evening, when Pulp were performing in Edinburgh, ITV relented and broadcast the full, unedited version of the Brit Awards ceremony. By that point it was clear to see that Jarvis was guilty only of mimicking a fart-wafting motion in the general direction of the audience: surely the gold standard of effective non-violent protest? Their final show at Wembley was personally significant as it was my first Pulp concert. Arriving early that afternoon I caught the end of Pulp's soundcheck. The song I heard them play? Acrylic Afternoons of course, and it's been a favourite ever since.
A week later Jarvis returned to Kensington Police Station, honouring his conditions of bail, to be told that all charges had been dropped. In the space of a fortnight, Jarvis had gone from being a 'Drunken Lout' to 'National Hero' and became top quality tabloid fodder in the process. Different Class was back in the upper reaches of the Top 10, slogging it out once again with Oasis and Alanis Morissette. But with ever greater amounts of fame, notoriety and attention, the seeds of panic, desperation and mental breakdown were sown. Watch out...here comes The Fear.
Summertime Special, 1996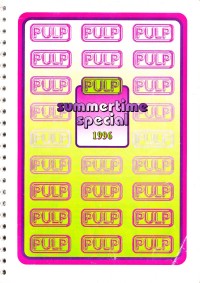 The summertime special (click the image to download - 1.8MB pdf file) covers three weeks in August 1996 when Pulp played four very different concerts. Two of these were mega-shows in Chelmsford and Warrington (now branded each year as the V Festival) where they played to 70,000 fans.
These were preceded by a tiny 'homecoming' show for Candida in Shetland and followed by a corporate invite-only bash in Barcelona. Notable people in the audience that night included Jarvis' gran and the police officer who arrested Jarvis at the Brit Awards. More significantly, it turned out to be Russell's last concert before quitting in band.
En route to Shetland, Jarvis, Steve and Pulp video director Pedro Romhayi found the time to give a talk about Pulp's promotional videos at the Edinburgh Film Festival.
Passport? Money? Fags? Backstage pass? Hold tight!
Other itineraries to follow soon...