Birmingham Academy: 31 October 2001
---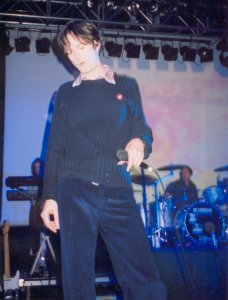 Words & Pictures: Giles

"This is the last song we're gonna play," announced the vocalist of the final support band, Appliance. Definitely a big mistake on his part, because he must have felt a right tit faced by the huge cheers of relief that followed. Cheering soon subsided into embarrassing laughter, as everyone suddenly realised how rude we'd all just been. But let's face it, any support band that says that really is asking for it, and Birmingham was undeniably ready for some all-new Pulp. At 9.40pm, John Peel, who now seems inseparable from Pulp's cause, trundled on stage and mumbled some incomprehensible DJ speak for a link introducing Pulp for the live radio broadcast. At that point it dawned on me that it really would be childishly great if Pulp would play Bob Lind, cause we could all shout "f**k-up" several times live on air. The simplest pleasures are definitely the best, though as Jarvis would say, 'that's just imma.'

As Mark, Candida, Nick and Steve took their places, as well as Richard (whose amps have "Pulp: Richard Hawley" sprayed on the side), Jarvis explained that he was "slightly nervous" because Pulp were going to play some songs that they'd not played before, by which he meant they were going to do a few 'We Love Life' tracks that had been played at odd concerts over the last couple of years.

"And you know it's on the radio don't yer?" commanded Jarvis. "Yeaaahhhhh!..." came the reply.

"But it's better here innit really?" [louder still]: "Yeeaaaaaahhhhhhh!"

And with that, a corking opener in the form of Weeds was just the thing to kick the night off. That relentless drumming coupled with Jarvis' agile moves was instantly mesmerising and entertaining. I was captured. Smashing the beat out on the stage barriers was all I could do to dissipate my pent-up enthusiasm, which had been simmering along, close to boiling point all day. I really hoped they'd open with Weeds, but listening back to the radio broadcast when I'd got home really didn't do it the justice it deserved. You just had to be there for it to click. Watching them play Weeds leaves me in no doubt that the excitement is as much visual as it is musical.

Though it makes perfect sense to segue Weeds with Origin Of The Species, I'd never have imagined that Pulp would've had the guts to play it live. In doing so, they sensibly opted to sample as little as possible, choosing instead to get on with carving out a slightly alternative live sound for it. The basic samples and reverse-loops were still there, but only just, and it sounded tonnes more credible for it, with Jarvis' monologue coming over wonderfully bleak. The overall feel of the song was much more guitar than synth, more rock than ambient, and it was also slightly faster. It was a very brave attempt, and I'll bet they'll carry on innovating the tune teasing out a fourth dimension for it as they've done for FEELING. Already showing signs of exertion, Jarvis' jaws were beginning to glisten with a hint of sweat. Smashing stuff.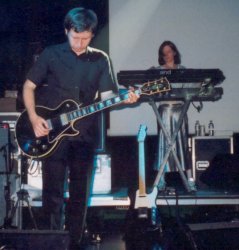 The Fear proves to be as desperate and paranoid as ever and I'm dead chuffed that they're still bothering to play it live. Maybe it's an odd choice when you think there was only four non-We Love Life tracks in the entire set, but Pulp make it well worth the trouble. Who needs Babies, Sorted & Common People for the 100th time when you can have a superb rendition of The Fear for the 10th? Controversial maybe, but times have changed. And if you've ever the chance to watch Mark play that cascading guitar solo, then take it, cause some inept photographer eclipsed my line of view right at my most favourite Webbo moment. Bugger! I just hope he got (yet another) good photo of Jarvis who was by now starting to strip off under the strain of the heat. Having taken off his jumper (a rather nice and inoffensive one, before you ask) he suggestively said that, "We could pretend for people listening on the radio that I'm naked now." Pretend? But he really was naked. Honest!

A one-note flute sample emanates from Candida's keyboard indicating it was time for the wonderful Birds In Your Garden, but not before Jarvis had laid into the up-your-nostrils webcam bloke who was prowling the photographers pit zooming in on Jarvis' every twitch. "Can you stop doing that please - yer getting on me tits - go away," he demanded, wafting his arm about as if to shoo him off. Birds ebbs and flows as beautifully as ever - it's one of those songs that when they're played really well are untouchable. It seemed slightly more acoustic than previous performances as Mark was a little easier on the guitars during the chorus.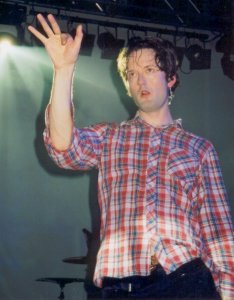 There are times when Jarvis ruthlessly takes the piss out of an audience that in its collective excitement will cheer for almost anything. He asks what major rivers flow through Birmingham... "The River Birm? The River Ingham?". As he explains the next song is about the Rivers Don and Porter, a small enthusiastic cheer goes up as people know they're about to play Wickerman, the glorious centrepiece of their new album. Sensing his moment, and knowing full well why we're cheering, he jokingly comments that he didn't know there were so many river-fans here tonight. "So let's hear it for the River Trent?" he sarcastically asks. "Yeahhhh" replies the crowd, who enjoying playing Jarvis' game. Steve and Richard, chuckling away, look on at Jarvis through admiring smiles. At this one moment, Jarvis has got the band, as well as the entire audience, eating out of his hands. There was no doubt who the star of tonight's show was. Jarvis couldn't help himself... "And how about... the Severn?"... "Yeaaahhhhh-woooo!", came the reply. It could have gone on for ages. He tells us the next song is 8 minutes long and all about rivers. Skimming his stretched fingers over his nipples he wryly observes that we'll be 'Buzzing our tits-off'.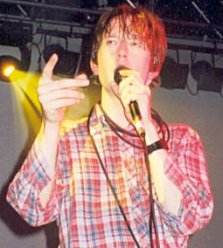 Now I admit that Wickerman might be a bit lengthy, and might require an extra ounce of attention, but if you can actually be arsed to really listen to the words and relate them to the epic soundtrack they frame, you're in for a wonderful experience. It was the only song I really wanted them to play tonight and I felt relieved that they'd opted to play it instead of churning out a couple of old favourites. The hits may well get the mosh-pit going, but it's moments as sublime as this that make the most special concerts - think how great it is that Blur still bother to play 'This Is A Low' when they could churn out a couple of old singles instead. Hearing Wickerman gives me a similar sense of satisfaction and is definitely a song worthy of the patience it demands. By the time you reach the end of it, the fact that Jarvis has just transported you on a cinematic subterranean journey through the Sheffield grime is surely special enough to want to hear it all over again. During the song, Jarvis tangled the mic lead around his neck and shoulders, though he confessed afterwards that he really didn't know why, but it did make for a great photograph (left).

Eventually untangled, and having made a rather unnecessary bin Laden joke, he'd got the acoustic guitar in hand for The Trees which sounded much closer to the studio version than I thought they'd have been able to manage. But the best is yet to come with The Night That Minnie Timperley Died which I reckon is a consistently fantastic live song, played with tonnes more attitude and immediacy than the gentler studio version. Jarvis' pig squeals weren't really up to par, but it's rare I enjoy singing a Pulp song as much as this and the band really do play it blindingly well.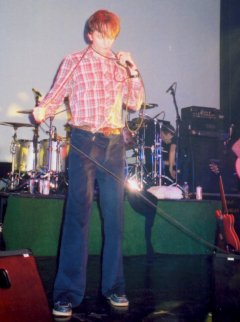 Jarvis' comedy chatter continued apace as he explained to us that it was his dad's birthday today, and what with his dad being born on Halloween, and with his mother being born on Friday 13th, he must have been devil's child! As if that wasn't random enough he went on to tell us how a few days ago, this girl lifted her skirt up to flash him and he noticed that she'd got '666' tattooed amongst her pubic hairs. Nice story Jarvis! Momentarily slipping back into his stand-up routine, he eventually realised he was supposed to be singing and promptly got stuck into I Love Life. I admit to not being a huge fan of this track when they debuted it last summer, and I'm relatively indifferent to it on the album, but like Sunrise, it's final half is just fantastic to watch and hear them play live. The energy, the wall of angry noise, the physical release is just what you need mid-way through a concert. By the time it ends my body feels toasted by the inescapable radiation of the sound. Eventually, the song can't work into anything bigger, louder, any more contorted or passionate and it shatters to pieces all over the place, leaving an exhausted Jarvis barely holding himself upright, just being able to "breathe-in, breathe-out". It's like we're all wired up on some communal life-support that's about to give way. It really was superb!

But out of the debris and clutter rise the pervy tones of This Is Hardcore, the bread and butter of Pulp's set which you'd expect to be getting tired of by now, but against all odds sounds as tight and refreshing as ever. Roadkill seemed to be a surprise inclusion as you'd half expect it to be so delicate and quiet that it would hardly come over as well as intended. Jarvis: "Next time you see a squashed hedgehog, think of this song". The audience were particularly silent and I reckon that it sounded pretty alright, though would've been better appreciated as some sort of Bar Italia going home type of song, played after the encore. Towards the end of the song, Nick had so little to do, he just stared blankly towards the floor of the stage. In fact, Roadkill almost put an un-wanted pause in the build up to the climax of the show which was, as if you needed to guess, a storming performance of Sunrise.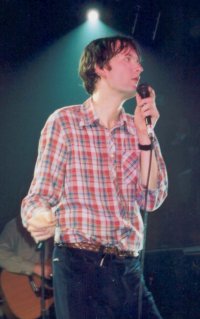 The excitement of Sunrise is not exclusively confined to the instrumental, but also in the long build up to it. As the anticipation rises, the stage lighting gradually changes from dark blue into a golden yellow. At the end of the vocal, just before the instrumental really crashes in, Jarvis abandons his mic and prowls along the front of the stage in a 'come-on then, let's-ave-yer' style provocation. He knew we really wanted it and as he limbered up his jangly mass he sent the audience into clapping frenzy who were picking out the ascending beat. The clapping got louder and faster, drawing in almost everyone there. At the break of the sun, the infectious hand-in-the-air clapping gave way to an energetic outburst of jumping, pushing, moshing and cheering. It was bloody fantastic, and the following 30 seconds of Pulp were worth the ticket money alone. You celebrate this Sunrise moment however you choose, but one thing's for sure, and that is if you celebrate it with a crowd of like-minded people, it's one of those 'sum of parts' moments which gives me some sort of shared experience which takes you higher than you'll ever imagine. I know it's a cliché, but your spine really does tingle, even at the memory of it. It's hard to imagine what your parents did before the invention of TV, and in a similar way, it's also hard to imagine what today's Pulp concerts would be like without Sunrise.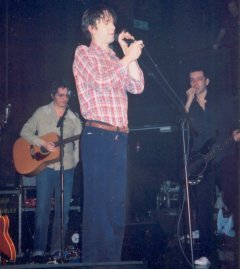 They come back after the encore and launch straight into Party Hard which sends the audience absolutely mental. If like me, you're the sort that has to gasp for breath during the break in the Sunrise instrumental, then Party Hard just leaves you out of breath altogether. But there's no let up tonight because as soon as its over, the swirling synths of Common People are whipping up the expectation and excitement further. The enthusiastic response was assured and with the rousing finale complete, they stroll off the stage just before 11 o'clock, having managed to play most of their new album, yet still entertain a pretty sizeable crowd. From the new album, only Bob Lind, and most surprisingly, Bad Cover Version fail to get played tonight. I can only assume that the guitar pieces in Bob Lind are a bit too tricky for Richard Hawley to play live, though not playing Bad Cover Version, which I'm still hoping will be a December single, is unexplainable. Anyway, nine songs out of eleven is pretty good going, although it did necessitate dropping a couple of Hardcore singles, F.E.E.L.I.N.G.C.A.L.L.E.D.L.O.V.E and any His 'n' Hers regulars they would normally play.

I guess that if tonight's anything to go by, we can expect the forthcoming tour to draw very heavily on the We Love Life material, with only five or so other tracks sprinkled between them (two of which will inevitably be Hardcore and Common People). If only Pulp would rotate their sets on the tour, say choosing 14 songs from a repertoire of 20, it would mean that none of these older songs would be lost to their memories. We'll see.



The Radio 1 One Live in Birmingham site includes a webcast and pictures from Pulp's performance.