V96 Festival, Chelmsford Hylands Park: 17 August 1996
---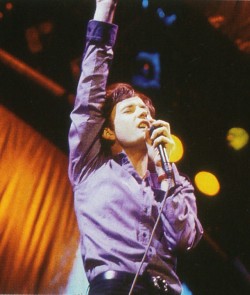 "When was your last perfect summer's day?" was the question posed to each band member as part of the Pulp interview for the V96 festival programme. For Nick, it happened to be a day out in Derbyshire with his wife and his equally loved dog called Malcolm (we're informed that Malcolm is treated to several phonecalls from Nick whilst the band are on tour!)
For me, the last perfect summer's day would have to be seeing Pulp headline at their own festival in Chelmsford. The day itself could not have been better - perfectly hot weather, perfectly great support bands (Supergrass and Cast to name a few) and even a vacancy for me in those nice festival showers earlier that morning. Perfect! As the sun set over the stage just before 9 o' clock, all that was left was for Pulp to come and show us yet again that they really are the best live band currently around. After almost an entire year of touring - UK, Europe, UK, Japan, UK, Europe, USA, Europe - it seemed that tonight was some sort of end of year - or rather end of tour - progress report. At last, Pulp were coming home to show us kids that they really were intact after their ordeal, and that far from being exhausted, still had the energy and the will to give us a performance as great as any other they'd given before.
When the moment finally arrived, the expectation was massive. Prior to their entrance on stage, Jarvis' voice suddenly enveloped the arena. It resembled that of a Dalek, as he welcomed his followers with his vocoderised statement of intent: "Please understand. We don't want no trouble. We just want the right to be different. That's all." As if to reinforce the message, the words were projected up alongside strobing multicolour Pulp logos on two giant telly screens either side of the stage. Jarvis continued his rallying cry: "We shall fight them in 'The Beeches' - and 'The Stag' and 'The Kings Head' if it comes to that... Fear not brothers and sisters - we shall prevail. Live on." From that point onwards you knew something special was going to happen. And moments later, it did.
Although their opening song, Mis-Shapes (an obvious beginner after Jarvis' introduction), never sounds terribly great live, Pulp appeared to play faultlessly, as they went on to do throughout the night. Despite months of practice in which the they must have over-familiarised themselves with the set, you could still sense a genuine effort from them to try all the harder to make the songs sound polished and precise. Yet they somehow managed to keep them sounding fresh and energetic despite the realisation that some songs would probably never be played again as the old material would inevitably have to give way to the new.
Irritatingly (though understandably) the setlist remained predictable. They played nothing that we hadn't heard before (all of Different Class less Bar Italia, two of the three His 'n' Hers singles, Mile End and their newest-of-new song - Help The Aged). They didn't even offer us their other new b-sides - P.T.A. and Ansaphone - which was a shame. But fear not, for this is Pulp, and no matter what they play it's sure to be enjoyable regardless of how many times we've heard it before. Help The Aged seemed to be a bit of a rocker punctuated by some more mellow moments which contained Jarvis' cry for help: "Help the aged, cause one day you'll be older too. Drinking, smoking maybe sniffing glue." The music for Help The Aged seemed fine - brilliantly performed, but was dampened by Jarvis who clearly mumbled his way through some of the lyrics which he'd either forgotten or not bothered to finalise. Nevermind, at least there was plenty of time to perfect the words before the next album. In any case, we were privileged to be the first to hear what could possibly be a future single.
Another highlight was Live Bed Show which was not only extended at the start, but was also considerably lengthened towards the end, with the insertion of another verse which clocked the song in at an epic six and a half minutes. I swear it'll never sound as good again as it did that night, although it would be fantastic if they recorded a studio version of this final masterpiece. Anyone without a recording of V96 should get one if only to hear this one performance - it'll send shivers down your spine.
With no appreciation of time, the main set was over before you had the chance to stand back from the moment to allow yourself to take everything in. Clearly, there would be no surprises in what their encore was to consist of. We knew what we wanted to hear and Pulp would have been crazy not to oblige. Repetitive it certainly was - Disco 2000, Common People and Babies - but my God, it was brilliantly delivered and something I'll never be able forget. The intro to Disco 2000 started with a fantastic sample from one of the Motiv8 mixes and climaxed with Mark thrashing away the opening riff on his Gibson. Imagine a karaoke do with 30 thousand people singing one of your most cherished songs, and you'll have an idea of what it felt like. The sense of belonging to the rest of the crowd, who in unison were spitting out each and every word was a moment to behold. Woven together in a moment of euphoric madness, we had suddenly become louder than the band we'd came to see. Incredible!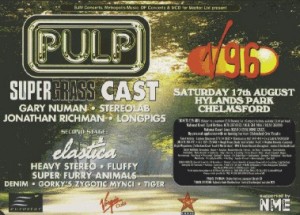 Jarvis: "There's one thing all of us up here have in common."
Crowd: [huge applause]
Jarvis: "We were all once.... Common People."
Crowd: [near rioting and mass hysteria]
Yes! This really was it. As good as things could ever get. As good as Pulp were ever going to get. As emotional and significant as Common People was ever going to get - there was simply no better way to experience it than with thousands of others who felt the same. This was our song! Common People became the meteoric finale to Pulp's long year that had taken them all over the world and most probably beyond. In years to come, people will have to understand the relevance of Common People in the context that it was played tonight. Great songs never lose their appeal, but generations may eventually forget their relevance. It's safe to say that those people there on that night will never forget this moment of high emotion.
With fireworks exploding perfectly in time with Jarvis' passionate lyrics, I couldn't help but sense vindication for a band that had been dragged through so much shit for such a long time. The 'war' was over and their time had come. This was their moment - the moment by which if you hadn't already recognised their dominance of the mainstream, then your were about to do so. Their persistence, their inner beauty, their heroism, their persistence and their glorious souls defiantly shone through the shit that night. The fireworks, symbolic of that effort, were fizzing away as Pulp brought Common People to a storming climax.
Aware that fans may not have ever made it back to their tents that night for fear of over excitement, they concluded their set with a performance of Babies. Not that anyone really noticed having been blinded by the brilliance of Common People. That night I felt as if I'd been put through some sort of electric car wash. Being buffeted from one emotion to the other, punctuated along with way with frequent flashes of brilliance. I did make it back to my tent, but only just.
Later that night, the campsite came alive as voices from within random tents wailed out... "Jaaaar-viiiiis. JAAAAR-VIIIIIS". And then, from a distant tent the other end of the field... "Jaaaar-vissss". In went on, spreading around what must have been a huge area. God only knows what sort of Pulpy bedtime activities were going on underneath many of those canvases, but "Jaaar-viiis" had undoubtedly become the night's orgasmic cry of choice. Not to be outdone, the Paul Weller fans who'd arrived for the Sunday night headline began to pipe up too... "Wellll-errr". "Jaaar-viiis", "Welll-errr". This vocal ping-pong between rival fans was a fitting bedtime lullaby - I realised I was firmly pitched in Pulp territory, in amongst the mis-shapes, mistakes and misfits.
That, ladies and gentleman, was Pulp at the end of their world tour in 1996. Expired? Exhausted? Irrelevant? Boring?... No way! - not if tonight was anything to go by. The future beckoned us with a glowing warmth that Pulp would undoubtedly be a part of. And so another chapter in their epic story had closed, but we went home knowing that the next chapter would be even better. The future's bright, the future's Pulp!