The Eden Project, Cornwall: 5 July 2002
---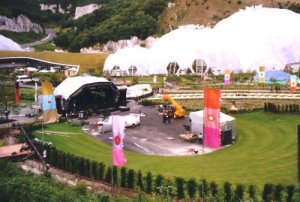 Words: Giles, Pictures: Giles & Yvette
If the philosophy of the forest tour was to do something different by playing at unconventional venues away from the drab and grime of the cities, then to play at Cornwall's Eden Project is probably the ultimate goal. It was, to say the very least, both bizarre and futuristic, yet somehow felt entirely natural which is no mean feat when you're standing next to a huge man-made environment encased in a series of bubble-like biomes.
In a previous life, the whole site was a china-clay pit which accounted for the fact that you felt like you were at the bottom of a giant crater. No wonder the makers of the new James Bond movie wanted to film here.
Some bright spark also decided that admission to the project should be free for everyone who bought a Pulp ticket. For once, you could arrive at the venue of a Pulp show in the early afternoon and not feel in any way silly about your level of dedication to the band. Seeing Pulp meander through the pathways around the biomes was a surreal experience. One moment you'd be trying to see where the bananas were growing on the banana tree, and then Mark Webber would unexpectedly walk by. By the time you'd regained your banana-spotting concentration, Steve and Jarvis would stride past, and then moments later, Candida, Richard and Nick would emerge. It's terrific fun the first time it happens, but then you become so conscious of the Pulp presence that you have to go to great lengths to make it look like you're not following them!
At one point I was gagging to go to the loo having spent a second hour in the main biome, but was nervous to see most of Pulp (plus a Fat Trucker) sitting on the bench right outside the entrance to the gents! They were being ignored by so many elderly day visitors that they almost blended into the background. Nevertheless, I would never intentionally follow any member of Pulp into the toilets as there are some things I just don't want to see. Wisely, I decided to hold it in for a later visit.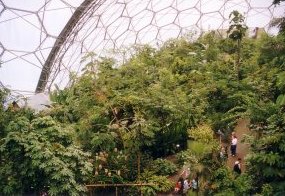 At around 5pm, Pulp came on stage for the soundcheck and small pockets of lucky fans formed around the perimeter of the arena to watch. Attendance wise, it could well have been their largest soundcheck and I spotted at least two people filming it on their camcorders for posterity! In a long green overcoat, Jarvis trundled on stage and started muttering suggestions of songs the band might like to play. They started off with Bad Cover Version after which Richard complained that Candida's keyboards were far too loud in his monitor. After they sorted that out, Candida stepped down from her keyboard riser and asked Jarvis a question. Obviously unaware of the growing crowd, Jarvis amusingly replied to her through his microphone, meaning everyone could hear him tell Candida that she couldn't go to the toilet cause there weren't any near enough - aah, the rock and roll life of a Pulp soundcheck!
A few songs later they even played My Legendary Girlfriend, which was made even more special by the fact they didn't play it in the main set. Hearing Jarvis shout about the "Pitsmoor Woman" in the depths of a Cornish china-clay pit was something I'll never forget. It was fantastic stuff which made me wonder why we even bother with support bands when we can just watch the main band do a soundcheck! As I'd been delaying going to the toilet until after the soundcheck (much the same as Candida had to do) you can imagine how funny it was when I dashed back to the gents for the second attempt only to find Steve in there too. Doh!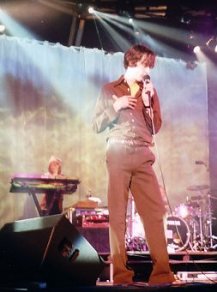 Several hours later, during which time the clouds tried their hardest to rain on us all, it was time for Pulp to play for real. The importance of the show was apparent as it was being filmed specially for a BBC music programme. They even filmed us all running from the queuing area up to the front of the stage!?? It was the sort of occasion that you couldn't even pick your nose for fear of it being shown on the telly. With the camera men all on standby (four on the stage, two special cameras either side of the stage, a trolley mounted camera that moved across the front of the stage on special tracks, and countless cameras around the arena) everything and everyone was ready. Even the biomes were lit up in strange atmospheric colours as if to contribute towards this unique event.
When they eventually came on, the cameras whirred into action and within moments the pit at the front of the stage was jam-packed with photographers desperately vying to get pictures of Jarvis. As the trolley camera moved across the stage, so the photographers moved and there were wires, cables and people everywhere. It was pandemonium like I'd never seen before. Standing at the front of the barrier it suddenly seemed as though there were more people in front of me than were behind me. Christ! You get on front row and then you had to actually concentrate on watching Pulp because there was so much going off! (They were playing The Trees by the way!) It was irritating, but lots of fun at the same time and even carried on throughout Sorted For E's & Wizz.
A mysterious girl who was mingling about the front rows threatening to murder people then started shouting at Jarvis to 'get his kit off' just as he was beginning to explain how cool the lit-up biomes looked as they were walking from their dressing room down to the stage. "Oh shu-tup" said Jarvis in his irritated but friendly way. "I'm old, it's hard enough for me to concentrate as it is," he said before lifting his shirt to show us his six-pack.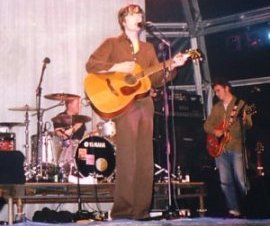 Next up came A Little Soul and it was time for Jarvis to seek revenge on behalf of the crowd - and I swear it was one of the funniest things I've seen him do. Ever one to connect with an audience, he stepped down from the stage onto the camera tracks as though to address the audience and not the cameras. A couple of minutes later and he'd only gone and mounted the trolley camera mid way through his vocal. Holding on to the camera man's head for support, and with his feet ferreting about for something to stand on, he carried on singing as the TV people pushed the trolley across the front of stage. The sight of Jarvis desperately trying to cling on yet effortlessly singing along was a hilarious contrast. It was spontaneity as daft as this which made the 1996 Brit Awards worth watching! As the trolley moved along and with Jarvis brushing by the people on the front row, he was able to look into the whites of all our eyes. Connection made! By the time he scrambled back up onto the stage the band may as well have finished bothering, because for those few moments it was Jarvis, not Pulp, that was the centre of attention. What a star!
After last year's tour Weeds will always be the ideal show-opener for me, and tonight sees the welcome return of one of the Fat Truckers (Jason?) on drum duties. I suppose they must have drafted him in to give the song that bit more 'bite' for the telly, which was a great shame cause it wasn't one of the tracks they eventually broadcast! Oh well, a terrific song anyway.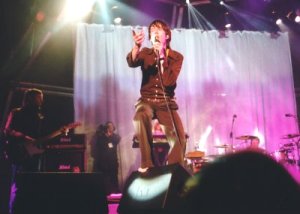 For some reason right at the start of Bad Cover Version Jarvis likes to jump on his monitor in time with the first beat of the introduction, and he does it again tonight with the satisfaction of a kid jumping on his sandcastle having spent all day building it. He usually has wooden covers over the top of the monitors to make them easier to stand on, but tonight he has to make do with balancing on the top edge (pictured right) which means we don't get to see as many of those classic Cocker-postures.
"Have you been in these dome efforts then?" asks Jarvis, having already explained that seeing the beauty of a tobacco plant almost made him feel good about smoking. Despite signs all over the place telling you not to take cuttings, Jarv admitted that he wanted to take a tobacco leaf! The Birds In Your Garden followed which soon had Candida swaying away behind her keyboard stack.
The dual sonic might of Live Bed Show and F.E.E.L.I.N.G.C.A.L.L.E.D.L.O.V.E provide the most blissful 15 minutes a Pulp fan can reasonably expect to experience. Live Bed Show is (as always) an epic three-part journey through the senses starting with a pop-y intro, a rock middle bit and an ambient synthed-out ending. FEELING therefore seems the ideal song to follow and with a darkened sky, the strobing stage lights give it that seedier and somehow more 'dirty' edge. Lovely! Without hesitation, and maybe jumping the gun a little, Jarvis even decided to empty his mineral water bottle over his head, but rather than drenching him it instead gave him a series of suspect damp patches!
As now seems customary, Jarvis introduces Help The Aged with talk of a various range of ailments, culminating in the question "alright then, who's incontinent?" before saying that it must be one of us cause he could smell it! With the band having belted out another great performance of this hugely underrated song, Jarvis told us that it was his Grandma's birthday in a couple of days and he somehow managed to talk himself into accepting the fact that even if he did post her a card immediately, it still wouldn't get there in time for her birthday. He was, in his own words, a right bastard for leaving it so late. However, it was illuminating to see that another of Jarvis' many specialised subject areas was the workings and delivery times of the British postal system.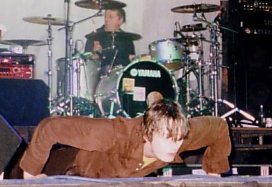 This Is Hardcore starts off with Candida leaning up against her keyboards in the same manner as someone propping up a bar waiting to order their next double vodka. With Mark playing the familiar piano introduction, poor Candida seemed almost redundant.
That's no problem for Jarvis, cause if he's not singing he's always up to something else. Hardcore sees him appropriately rolling around on the floor. He eventually lies face down in the middle of the stage before draging himself along using only his arms (pictured right). He looked like a crab with only two legs and got another perfectly good shirt shit-up in the process - no doubt more work for the long-suffering Richard Banks who by now must surely deserve early retirement!
After Hardcore Jarvis once again shunned the cameras and came down to the front to address his loyal subjects. In a dating agency style he proceeded to introduce himself to us... "Hi, I'm Jarvis. I'm from Sheffield" (liar!) "I occasionally sing"... all pretty reasonable stuff. But then... "And I'm getting married a week on Saturday." Cries of 'Awww' were soon followed by 'Don't do it!' This was the last concert that our Jarv was going to do as a single man. It felt like his grand sending off - within a week he'd be whisked off to France only to return as a taken man, probably wearing a wedding ring and thinking about children. Well, we all have to grow up sometime (just as long as we don't grow old!)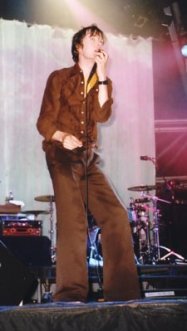 He went on to introduce the band, starting with Mark: "wearing the scarf", Candida: "sporting a stripey hat", Nick: "trying to hide behind his fist", Richard: "with the poorly finger", and finally Steve, affectionately described by Jarvis as "The King". Gorgeously sleek, he looked every inch the stylish bass player, dressed to kill in a black semi-unbuttoned shirt and suit. There was definitely something regal in his attire that night. Having given Mark a huge cheer when Jarvis introduced him (the boy deserves it!), it was only fair to do the same for everyone else and ultimately the final cheer was for Jarv's introduction to I Love Life.
I've never been able to decide whether or not I Love Life is a great Pulp song. The first half seems deceptively weak and maybe even tedious. However, the second half - and in particular the ending - transform the song into an amazing burst of life-affirming energy which somehow manages to sound brutally nihilistic at the same time. Forget Russell's "Where's the fanaticism?" vocal on 'The Will To Power', or even his cackling on 'Fairground' - Love Life really does take it down to the marrowbone without even having the option to 'hold-tight'. It's made me realise the only way to hear this song is by turning it up to 10 for the full-on experience.
It's during Love Life that Nick manages to smash the cymbals so fast that even when you're sober he appears to have 3 or 4 arms slicing and chopping through the air. As the wall of noise implodes into it's destructive climax, the sight of Jarvis contorted over his mic, barely summoning enough energy to pant the words "Breathe-in, Breathe out" really is an experience to hold on to forever.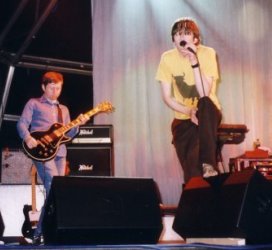 Sure enough, Sunrise really gets the sort of reaction from the crowd you'd wish so many other songs did. They love it! I love how it gradually builds and re-energises you for the all-out passion of the instrumental. As the band built it up, the crowd clapped along. The clapping soon turned into clapping and jumping, and clapping and jumping soon turned into clapping, jumping, shouting and moshing as the song burst into life. Fab! For whatever reason I instinctively shut my eyes during this bit almost as if to concentrate absolutely on the music, which is I normally why I miss whatever Jarvis does. But tonight, I looked! He suddenly ripped open his shirt (Incredible Hulk style!) with the buttons flying off in all directions landing all over the place. As the shirt finally came off he revealed his yellow Gonzales t-shirt (just how many layers does this man need? - I'm surprised he got out of the tropical biomes alive such was their heat and humidity!) Bereft of any vocal to sing or instrument to play, he ferociously played around with his t-shirt tugging it about and lifting it up for the second time that night. When Jarv loses it to the music, my god, he really does go berserk! With Mark and Richard teasing out the last euphoric notes from their guitars, another unforgettable Sunrise moment came to a close.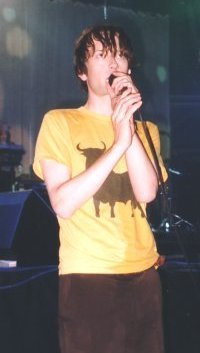 Returning after a brief encore, they came back to play what now seems to be their most favourite (or most easiest to remember) of the old old songs - I Want You. Jarvis is handed his Gibson 135 and the ghosts of Pulp past are let out for all to see. There's something quite touching about the tender moments of the song, but like so much of the Freaks album, it's schizo personality soon becomes apparent as Jarvis sings: "you can't leave it to die here in pain... you've got to stamp upon its head". Musically, the chorus of the song is really beefed up, although it's a shame that Hawley didn't provide any backing 'pom pom paaa poms' which are quite prominent on the recorded version. Nevertheless, it's smashing to hear, and the hardcore treasure the fact they've bothered to dust off some old ones (even if Pink Glove isn't one of them!) With Jarvis keeping hold of the guitar, they launch straight into Babies which soon wakes everyone up as they realise it's the one they're supposed to go mad to. And they do. The orgasmic "you might be my girlfriend" refrain was probably the best piece of action the Cornish had seen in many a year, so I'd be surprised if tonight was going to be forgotten in a hurry.
A guitar-driven rendition of Underwear was another delight for the crowd, especially as Jarvis hopped back down into the pit again. And when he clambered back up top, he dramatically threw his two monitors off the stage in an attempt to block the 'railway tracks' and stop the cameras from coming between 'them' and 'us'. Such a simple gesture but it let us know that we, not the people at home, were the ones that mattered. As if that wasn't enough, by the end of the song, he'd even retrieved a large metal box from under the drum riser and threw that on the tracks too, successfully scuppering any more intrusive-camera-activity. Jarvis mate - we salute you!
So exactly where do you go after that? They found the answer in a triumphant Common People which we embraced with the same enthusiasm and significance as we did the first time we heard it. It might sound crass, but it's still the Pulp fans anthem to end all other anthems. And any song which gets both 10 year olds and 55 year olds jumping around in a delirious unison is something incredibly special. Long may the wonderful Eden Project witness many more performances as good as this!