London Finsbury Park: 25 July 1998
---
Finsbury, the first headline Pulp concert in Britain since last November, but more crucially since the Hardcore album was released, finally touched down months overdue (and much anticipated) on July 25th. Leaving such an event until after the band had played most of Europe and various dates in the US and Canada only heightened the interest and passion of us all. It was now our turn to get off our heads at the sheer brilliance of Pulp's new sound. Only weeks earlier, stories had been floating across the Atlantic that some classic old Pulp songs were being taken off the shelf and rehearsed much to the amazement of the fan base. With a bit of luck, Finsbury would yield a clutch of pre-Island songs that were playable even without the individual talent and stylings of Russell Senior. Only two months previously, the Glastonbury set barely reached out beyond the Different Class era. There was no 'I Want You', no 'She's Dead', no 'Razzmatazz', nothing at all - which was a disappointment if nothing else.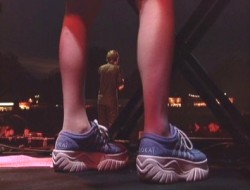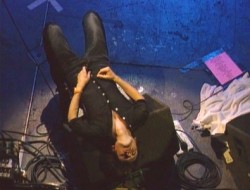 But for tonight, the show opens superbly, if somewhat predictably, with 'The Fear'. It only takes you a few minutes into the song to realise that if they can play stuff like this so well in this live situation, then songs such as Seductive Barry and This Is Hardcore would be truly sensational to hear. Jarvis, in his usual fine conversational form noted how much the bungee-jumpers at the back of the park would be comforted to be hearing him sing about "the end is near again" during The Fear. He even asked us where we'd all come from as if to suggest he had no idea why we were here. It was one of those classic in between the song moments that Jarvis is only capable of pulling off.
Having settled the reason of why 30 odd thousand people were standing in a North London park, the band ploughed into their token His 'n' Hers song which luckily wasn't Babies, but instead 'Do You Remember The First Time?'. 'I'm A Man' flowed the concert effortlessly onward with Jarvis speculating that he'd been given a "life sentence of being a man". Surprisingly he said it in such a way as if to suggest that he'd only just been broken the news. Obviously the mid-life crisis referred to in their next song, 'Dishes', had taken its toll on him in quite a severe way. But no talk of crises or the messiah tonight, only some mumblings about his friend buying a dishwasher. Elegant, spirit soaring and uplifting as ever, Dishes really is a special song to hear and its purpose tonight was to signal the performance stepping up a gear. With the introductory stuff out of the way, the band could really get into showing us what they can do with their music and our hearts.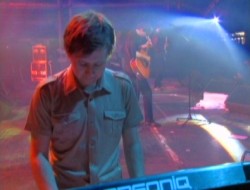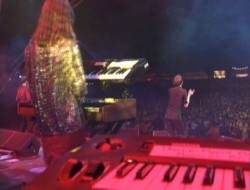 'Sorted For E's & Wizz' prompted the first spark of excitement for the majority of the 'weak' fans whose faces would later on appear perilously lost whilst the string of Hardcore songs would embrace the rest of us. 'Seductive Barry', my undisputed highlight of the night, was the most epic, most commanding and most soaring and pervy of anything they'd played since Acrylic Afternoons at Berlin in 1996 (you must hear that if you can find it). It was on another planet. In fact its brilliance was so blinding that you have to wonder how Chris Thomas could have made such an almighty cock up in producing the studio version. If you ever need evidence that live Pulp is a cut above studio Pulp then here it is and stunning it is too. Forget listening to this song on the album, you've not properly heard it till you've heard it live. And as if things couldn't have got any better, mid way through the song Jarvis belted out one of those Acrylic Afternoons style pig squeals that really really did it for me! Amazing stuff. It wasn't just the music that made Seductive Barry special, but the whole atmosphere and even the projections at the back of the stage made you realise you were seeing as well as hearing something very epic. Quite possibly, this was Pulp at their very best. And if last years Barbican gig ever gets released, we'll hear Seductive Barry with full orchestral backing (Think of 'I Spy' with Anne Dudley on Jools Holland and you'll know how good it can get.)
Certainly better than sitting at home and watching telly was hearing them play 'TV Movie' with the backdrop of the stage resembling a detuned TV. A plain but very simple mood setting effect that just shows you don't need miles of aluminium foil, coloured water, fake snow and hair dryers to make it a multimedia cosmic tangerine experience. 'A Little Soul', 'Party Hard' and 'Help The Aged' got the masses singing and clapping again with HTA rightly sounding like the flagship single from the album. Party Hard proved to us that Pulp can pull it off live without having to play Disco 2000. Deborah has now given way to Uncle Psychosis, but at the stomping rate they played it tonight, it left me in no doubt that this should be the next single and maybe in the near future we'll hear Party Hard being belted out from every dancefloor in the land just as Disco 2000 had been played ever since Christmas '95. Part one of the Finsbury experience ended with 'Sylvia' and Jarvis telling us that we were "all very nice" before running off stage.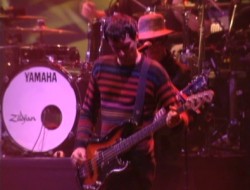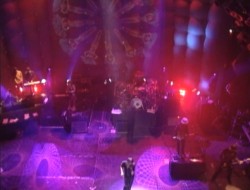 After the encore came the wonderful sound of the 'This Is Hardcore' strings which floated across the park with some scary TIH video images which prepared us to get down to the marrowbone. Hardcore stuff indeed. With Nick having perfected his drumming and Jarvis hitting most of the correct notes, Hardcore was genuinely spine chilling and they left you gagging for it to be played again and again. It was only whilst singing along to 'Glory Days' that I realised how much I hated the concept of running this song into 'Common People' to make Glory People. So there I was waiting to sing about "catching him now before he turned to gold" (one of the finest lyric sections on the album) when everyone started launching themselves about to Common People as if they'd got a rat trying to burrow up their arse. If you ask me, it's a load of crap... if you're going to mix one song into another, you need to at least play half of the first song before mixing it into the second. DJs Mackey and Cocker should at the very least have understood that. And as much as Common People had been the greatest highlight of any Pulp set in recent times, I would gladly rid it if I could hear a complete rendition of Glory Days. In all honesty though, Common People was a stormer like no other and it certainly got the people around me moving who thankfully had kinetically defrosted since the likes of 'Sylvia' and 'A Little Soul'.
There are some things in life that are dead certainties, and Jarvis' compulsory fag break is one of them (the other certainty is that he always seems to give it to a girl!) With that out of the way you know it won't be long before you're on your way home. It's a signal for the unlucky rest of us who don't get the cig that you'd better enjoy the next few minutes because that could be the last time you ever get to see Pulp. And so for what seemed to be the last song of the night (you never know with Pulp), they performed the soothing and swaying 'Laughing Boy' which really did seem a special moment given that it's hardly going to become a regular fixture in future performances. Again, this is another song that when played live is at its best. Ideally though, I reckon this has to be the new Bar Italia going-home-end-of-the-show type song.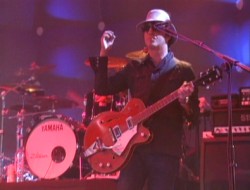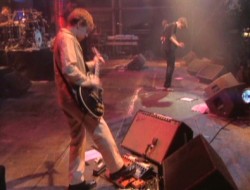 Jarvis' recollections of his school days are always special to hear usually because of their humour. In this case, Jarvis was peering at his watch wondering if they'd have enough time to play one last song before the 10:30 curfew. It was, said Jarvis, just like school when he and his mates would be wagging it down the park when to the fright of them all, the park-keeper, ("Parky") would be on the warpath looking out to give stray kids a clip round the earhole. For tonight, "Parky" was way out of sight, and to the delight of us all we were allowed one last song. Maybe I was gullible in believing that we really had ran out of time and that 'Laughing Boy' was the last song, but Jarvis seemed far from clear if he was allowed any more time. I remember hoping they would play either 'The Day After The Revolution' so completing all songs from the Hardcore album (imagine them all walking off stage to the looping drone and distortion at the end of the song...), or a storming version of 'We Are The Boyz' would have fitted perfectly. Surprisingly they opted for 'Something Changed' which was a fine choice by me and for that one moment, Finsbury Park had become Jarvis' schoolboy park with 30,000 kids singing away without a teacher or park-keeper in sight.

Amazing stuff, and despite the painful wait for the live shows, the problems of Jarvis circa 1996-97 and the misplaced criticisms of the new album, tonight really was as reassuring and confident as any other performance. Maybe there was a tinge of disappointment about the setlist - we didn't even hear 'I Want You' or 'She's Dead' which the Americans were treated to. Including these would have created and encapsulated a fantasy Pulp performance to rival any other. Still, there's hope for the November UK tour, and as Jarvis would be more than willing to testify, it was certainly better than sitting at home watching TV.