London Highbury Garage: 22 August 2000
---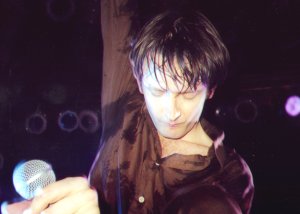 Sorted For E's & Wizz gets more like one of those songs a band has to play if only to please the crowd, and I'm surprised they still bother to play it. It wasn't a particularly great performance, but just a middle of the road effort at a song which could do with being played a little less often, or a lot more better.
It's only when we come to F.E.E.L.I.N.G.C.A.L.L.E.D.L.O.V.E that things get tricky. Playing about with Common People, against all the odds, worked. But I think that the sound of the new version of FEELING was excellent, but only for novel, and not for musical reasons. It was great to hear it played differently, but it still remains impossible to improve on perfection. This version is good (probably very good), but the original is sublime. Tonight's performance featured diminished keyboard and guitar pieces, coupled with a less poppy and more ambient atmosphere. Interestingly, it doesn't flow as easily as the original, mainly due to the brief pause before the "it doesn't make no sense no..." bit of the chorus, at which point the stage exploded in movement, sound and lighting ' which worked to stunning effect. I think it also contained a sample of programmed drums, and like the earlier Common People, the more the song got going, the more it tended to the original.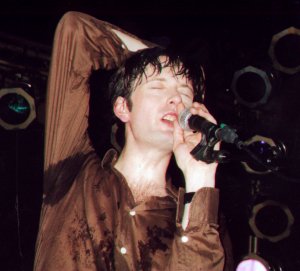 Despite my reservations, it was still a brave and brilliant performance and I'd love to hear it again. If anything, the fact that they attempted to do this shows that any Luddite tendencies remaining in Pulp's current thinking have been suppressed to a minimum. I'm positive the new album won't contain anything as daft as That Boy's Evil, but Pulp really seem to have injected a contemporary groove into FEELING which I suspect will weave its way into their new material if tonight is anything to go by.

New song number three is Minnie, inspired by a dream Jarvis had which left him in an arsey mood long after he woke up, which he seems to remember happening when he and Steve were at a party in Scotland. (I think we've all been in this situation at some point ' confusing emotions experienced in sleep with those of the reality of the following morning).
There's very little I remember about the song, so preoccupied I was with Jarvis' stage antics. There was a bar running along the bottom-edge of the stage which he would stand on, and holding on to the ceiling, he would lean right over us all whilst he was still singing (see opposite picture). He lowered himself onto the crowd in a "come and get it if you want" sexual way. At first I moved back thinking he would fall on me, the second time, I just couldn't help joining in with all the women who were stroking his trousers, chest and feet (like you do). Being the tart he is ' he kept doing this for the remainder of the concert ' three times ' four times ' five times. It was, to say the least, very very distracting, but it was bizarrely exciting to the extent that I could barely concentrate on the music.
For some reason, Jarvis was playing in bare feet tonight and I couldn't help notice how ridiculously long his big toenails are ' it's a wonder they don't slice their way through his shoes. Roy Castle and Norris McWhirter would've been suitably impressed with his record breaking creation. Strangely enough, I did get a photo of his feet, but it's far too scary to put up here.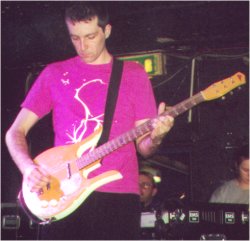 Something Changed was the song I first fell in love to and so I'll never tire of hearing the lush chimes of the 12-string being played live. Everyone sings the lyrics to this with as much passion as they do for songs like Sorted and Common People, which I think is sort of cool.
I Love Life - their last new song of the night continued to expand on their new groove-orientated manifesto with some fine drumming from Nick which transported the song from a steady pace into something much rawer by the end of the first half. Like Dishes, it starts off modestly and steadily and then transforms into something close to perfection, which, in the case of I Love Life is a raw-edged rock stomp which will nicely warm-up any mosh-pit before the manic Sunrise instrumental. Of the three songs which they debuted tonight, this sounds like the most conventional, at least at the beginning. But this didn't stop Jarvis having a great time singing it as he leapt backwards off the bar at the front of the stage, the shape of his twisted jangly body representing the human form of the music being played (do you know what I mean?). It was classic stuff, and Jarvis' dancing had been on a continually excellent level all night.
This is Hardcore closed the main part of tonight's set and was, as always, a fine way to end a show. Afterwards, they trundled off stage and out of the blistering heat to wild applause. Within minutes, they were back on and ready to play us their new end-of-set masterpiece and probably the most eagerly awaited new song...
Sunrise is played with the energy and freshness of a band gagging to unleash it's next masterpiece on the world. It was played much more lively that the Flux performance (which I guess was a very a laid back and stripped-down gig). A few lyrics have also changed (for the better) and when that instrumental bit finally arrives, it's like the morning sun appearing over the horizon and suddenly everything goes from shades of grey to brilliant colour as the new day arrives. It's totally inspirational!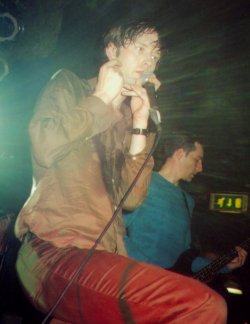 If proof were ever need that Pulp still write songs to moods which they create in the studio ' then this is it. You only have to shut your eyes and you can easily picture a sunrise to the music. The instrumental bit seemed to go on for longer than the rest of the song and Jarvis just went beserk chucking his tangled and twisted microphone stand around the stage sending his two acoustic guitars falling to the floor. He then picked up a tambourine, rattled it and then threw it to the back of the stage, just missing Candida's head. Nothing was safe. He then grabbed the egg that he'd earlier used to demonstrate Birds In Your Garden and hurled it into the audience, narrowly missing me and probably hitting someone behind. Then he went back to the microphone stand and his guitars were rolling around on the floor again. It was total fucking mayhem! Was Mark beginning to ponder the likelihood of a crowd-surf? Was Candida about to chuck her keyboard into the drumkit? Was Jarvis about to rugby-tackle Richard's amps? Believe me ' anything was about to happen. Pulp could end up trashing more equipment playing this song alone than what they've done in the entire life of the band.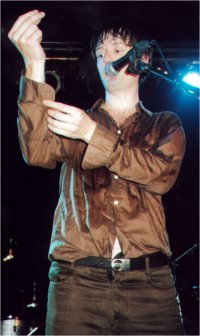 They finish with a storming version of Party Hard which works itself into a critical mass and then explodes into a wall of sound and flashing lights which makes Jarvis dance like he's being electrocuted. It is enough to wear anyone out just by watching it, but it is a vision of inspiration and energy which will be more than enough to keep us all going until their weekend performances at the Reading & Leeds festivals (some people were even going up to Edinburgh the following day for their show on Thursday night!)
They go off at 11pm and the stage is tidied up in preparation for another encore. A microphone stand is set up for Jarvis indicating that he'll be playing acoustic guitar again and so a possible performance of Babies. This goes on for a short while until Roger comes out of the dressing room and mimics a cut across his neck, signalling an order to pull the plug. The music comes on and the lights come up. That is most definitely it.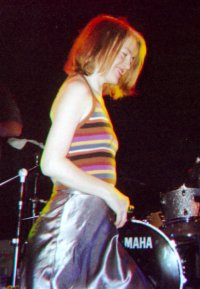 I manage to catch a brief word with Mark after the gig when he came outside to cool off. I asked him whether he'd changed some of his guitar parts in The Fear in order to innovate the songs, or whether he did it out of the boredom that repetition breeds. "I didn't change anything" came his sulky reply, but he then admitted that if he did change things a little, it was just because he felt like it at the time, implying a spontaneous, rather than a calculated change. Either way, it makes him a much more interesting musician to watch at concerts.
Looking back on the night, it was without question my best personal Pulp experience - I'd met the band, smoked Jarvis' end-of-set cigarette (cheers Lisa - I knew your arm would be long enough!) and saw them play so close to me that I would be no closer to them if they played in my front room. Although musically, they could have played much tighter and juggled their songs about to make the setlist feel less disjointed. Whilst you can't expect a warm-up to a warm-up show to be very tight, giving a little more thought to the order of songs would have made it near perfect. Also, where was Disco 2000? If you can't sing about meeting up in the year 2000 with your closest fans at a fanclub concert in the year 2000, then when can you? But the most important thing about the night ' the quality of their new songs ' must have assured anyone who needed assuring that Pulp will be as relevant and important as ever come the release of their next album.
Click here to see more photos from the show