London Wembley Arena: 2 March 1996
---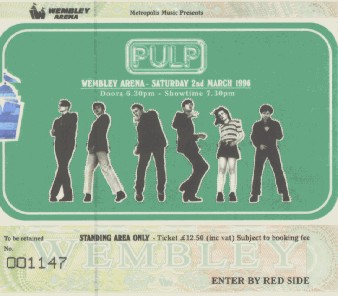 This review isn't going to be one of those shitty concise ones which you find in NME and the like (which you can never understand because they're written by some poncy-arsed journalist), but instead I guess it's more of an account of my first time experience with Pulp.
As the lights finally went down, the 'I Spy' instrumental music began to drift across the arena. This introduction was painfully long and the wait never seemed to end. "Would Pulp ever appear?" I thought, or was I just condemned to the frantic sweaty madness that was the front row? To my relief, out of the haze emerged a tall dark figure whose silhouette easily gave the character away. Steve stood there fixed in front of us for what seemed an eternity. He appeared defiant unnerved by the energised crowd, and looked as if he'd just stepped straight off the Different Class record sleeve (black shirt, pink tie, dark trousers, and an immaculately gelled curve of long black hair in way that only Steve can master). For all the movement his silhouette displayed, it may as well have been one of those life size DC cutouts.
Immediately after Steve, the rest of the band appeared to seep from behind the black curtain, revealing a stage set that could only be described as Pulpishly elaborate. If the rest of the crowd behind us had given up hope of a class performance after the abysmal 'Edwyn Experience', it seemed as if 1000 people had suddenly discovered a point to their presence, and as a result all surged forward by 2 metres taking down anyone or anything in their way. Oh yes - this was going to be great fun!
Luckily I lived through the initial surge and I eventually began to breathe again. Whilst I was gradually drifting into some sort of euphoric haze, I stood there pointing up at Jarvis, and found myself screaming his name out repeatedly. I really believed he could would hear me if I shouted loud enough, and in a way I guess I just wanted him to look down at me. This was the first time I had ever seen him and for a few minutes I descended to the lowly ranks of those pesky noisy teenage girls. Amazingly, it took me the whole of 'I Spy' to realise what a pointless task all my shouting was - as if he or anyone else would hear me for that matter. But I guess it's just one of those things you do, and I suppose at least I managed to get all the initial excitement out of my system that had been steadily building up since I started queuing to get in at 4:30. So from then on, I just relaxed and began to enjoy the show.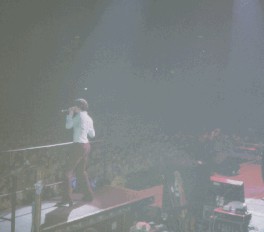 As time progressed, I found myself easing away from the front towards the center of the crowd - I figured not only could I dance more - since there was more room to move - but that I could also see much more of the stage, and eventually I could see Russell (electric blue jacket, shades etc) who as usual occupied his stage left position.
It all felt like some sort of religious experience - something special was happening but I just couldn't put my finger on what it was or why it was happening to me. Many people talk about the quality that Pulp have when they perform in that they are able to reach out to the fans and fill them and the venue with their powerful presence. This was it! The Pulp effect was grabbing hold of me and transforming my entire perspective of life. I could feel the band inside me - they felt a part of me, and I felt a part of them. It was a fantastic feeling!
Just as I was beginning to understand this overwhelming emotion, the band eventually played 'Sorted For E's and Wizz'. It felt as if everyone simultaneously reached down into themselves and discovered their rave side. The white strobe lights jabbed down onto the crowd as we descended into a dancing mass of ecstasy and uncontrollable excitement. The feeling was truly escapist and one of sheer amazement. "I lost my friends I danced alone" was a lyric particularly true of me since my girlfriend was pulled out of the crowd towards the start of the show. But I didn't feel alone - this was Pulp, they were inside me and reacting with me in a way in which I still don't really understand.
Pulp were ploughing through their DC hits and even stopped off on the way to play the usual few songs from HnH such as Babies, Do You Remember..? and Acrylic Afternoons. Jarvis even had the time to explain to us his side of the Jacko incident at that years Brit Awards. "It's just not my style" he told the crowd. We couldn't have cared less though - we knew he was 100% innocent, and as a sign of the audiences loyalty, everyone began chanting "Who the fuck is Michael Jackson?" so loudly infact that Jarvis was quite taken aback by the response. As if to further mimic the King of PopTM, and much to our delight, he began to moonwalk across the stage. Who the fuck was Michael Jackson anyway - and who even cared? Not us! We were just enjoying yet another stunning Pulp performance weren't we?
After a time you could feel the entire show was building up to Common People - you could just feel the crowd boiling up into a mass unsettling frenzy. We craved for it and everyone wanted it so much. It was our anthem for our generation. If it feels as though I own one Pulp song, then it has to be Common People - that night, we felt it was ours, and in our name we demanded it be played and to be played well. Having waited through the encore, and for Jarvis to have his customary fag break (he eventually gave his fag to this tarty long haired girl at the front - it's his way of connecting to the crowd you see), he eventually gave in to us, and the band let rip.
Two films full of images of deprived kids on council estates wearing a few old dirty torn clothes with little belongings were projected onto huge screens either side of the stage. It felt quite moving actually, almost as if we were all going to sing this song in their honour. The excitement of the crowd was to prove once again how significant a song Common People really is "You will never understand how it feels to live your life with no meaning or control..." This song is so passionate, so great, so meaningful - and the way in which Jarvis sang it really nailed the message home. As the final verse came to an orgasmically uncontrollable triumphant end, you could feel the relief of everyone - we'd heard it, we'd sung and we'd danced to it. It felt like we'd marched to the top of Everest, and from here we could do no more and climb no higher. We'd conquered the world! This was the peak of our emotions, and so it felt like you could relax after Common People and just watch as the show began to wind down. And it needed to after several thousand people sang their hearts out to the song that meant so much to them, and meant even more to hear live. We'd done it! - and we all felt fucking fantastic for it! From there the concert gradually wrapped up, stopping off at Disco 2000, Underwear and ending with the going home anthem 'Bar Italia'.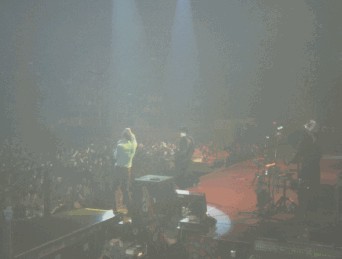 As the lights came on and the stage began to empty we sadly realised that our time was up and that our night was almost over. For Pulp, it signalled the end of an exhaustive few weeks that began way back in January. From here, the last night of their sell out Arena tour playing to over 86,000 people in 10 shows over 12 days, they headed for a well deserved weeks rest before jetting off to the US to continue their quest for worldwide fame and fortune.
For the fans however, the night had not quite ended until they had parted with their hard earned tenners for the programmes, stickers, mugs, knickers and the Glitter tour T-shirts (mine is an XL which completely buries me!). So with my pockets empty and with my hands clutching my Pulp mug and T-shirt, I with the hundreds of others began the long march down Olympic way to the tube station (past the 14 year old girls asking security when Jarvis was coming out to see them) and skilfully managing to avoid all those guys with the dodgy black and white posters of Jarvis - "theyretopqualityguvandforonlyaquid" - quite!
And so into the night we all went. By midnight, my girlfriend and I were staggering down Northumberland Avenue waiting for my Dad to drive us home. True to his word, he was there spot on time. Arriving home at 2am I headed straight for the CD player to listen to Pulp Intro which I had bought from Tower Records earlier on in the day. I sat there listening to my CDs for ages afterwards defying the night to end. Sometime later I fell asleep ending what would have to be one of the best days in the entire year. From then on I promised myself that I would go to every future Pulp concert I could possibly get to. It was, after all, possible to go to all other concerts, but impossible to get too much of a good thing.