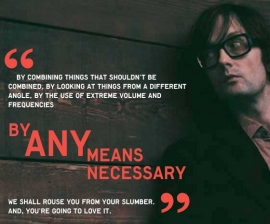 Jarvis Cocker's Meltdown
A collection of assortments relating to Jarvis Cocker's Meltdown Festival, 16-23 June 2007.
Notes From Your Controller
Culture should be a stimulant not a sedative.
Hide beneath the duvet in your plasma-screen surround-sound MP3-enabled crash-pad if you like but we will find you and we shall awaken you. By combining things that shouldn't be combined, by viewing things from a different angle, by the use of extreme volume and sound frequencies - BY ANY MEANS NECESSARY - we shall rouse you from your slumber.
And you're going to love it.
---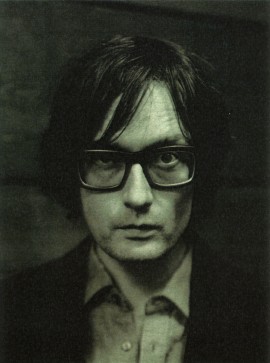 Jarvis Cocker's Subconscious

Jarvis: "Located on the floor below the ballroom there is a small, darkened room where each day you can catch a different programme of short films. This is a mixture of stuff from my own personal archive, artists' films and pieces chosen by people whose taste I admire and trust. Each day is unique - enter and then watch as much or as little as you wish."

During the Meltdown week, a small screened-off area in the Royal Festival Hall's basement was set aside to show a number of short films either selected by or made by Jarvis. Highlights from Jarvis' films include 'Love Is Blue' (a charming three minute affair with deliberately scratchy low-fi footage set to Claudine Longet's L'amour Est Bleu), 'Canadian Dinosaurs' (a set of old promotional clips which were distorted by scribbling over and cutting away chunks of the film) and the more professional 'Hands & Eyes' (a striking and colourful animated piece featuring moving hands and eyes). 'Plastic Palace People' is set to the Scott Walker track of the same name and features shots of a baby strapped into a doorway baby bouncer and the Centre Point building in London.

Highlights from the other films included Miranda Pennell's 'Fisticuffs' which is 11 minutes worth of stunningly choreographed play-fighting in a gritty London boozer and 'The London Nobody Knows' - a 1960's Finisterre which presented a London completely alien to and infinitely more grimy than the London of 2007. Sadly, the Subconscious wasn't very well promoted or signposted by the RFH (most of their staff either didn't know or didn't care about it) and was often closed or empty for large parts of the week. A transcription of the leaflet Jarvis put together detailing the films included on each of the three DVDs is provided below.

DISC 1: Today's programme consists mainly of stuff I did whilst at college plus a couple of longer films from my personal collection and one new piece of work. Feast your eyes.

1: Love Is Blue (1987)
This was the piece of work I showed at my interview for Central Saint Martins College. I filmed it on a Standard 8 camera I had found at a jumble sale. It was shot in the Sheaf Market, Sheffield (now demolished) and the music is by Claudine Longet. Amazingly enough, I got accepted onto the course.

2: Canadian Dinosaurs (1988)
One of the first college projects - we were given lots of old films from the Canadian Tourist Board and told to make something out of them. It involved a lot of bleach, some Vaseline and a hole-punch. The music is 'Psyche Rock' by Pierre Henry.

3: Plastic Palace People (1988)
Stuff that I had shot on the Standard-8 camera in Berlin, Sheffield, London and Blackpool - all edited to the soundtrack of my favourite Scott Walker song of that time. The baby in the film is now a fully grown woman of almost 20 years of age. Scary.

4: Sheffield Music Scene Documentary (1984)
Some students from Sheffield Polytechnic decided to make a documentary on the Sheffield music scene. It was Pulp's first ever appearance on film (well, video tape). Also featured are The Comsat Angels, Hula, Mr Morality and The Mau Maus plus the owner of a Fun Pub called Rockwell's. I apologise for the poor quality of this tape but as far as I know it's the only surviving copy.

5: Blue & Sepia Isabella (1990)
I found some large transparencies in the street. I took them home, stuck them on the front of the TV and filmed the results. The music is by Pierre Henry again.

6: Suzi's Scratches (1988)
Actually this one isn't by me but it somehow ended up on one of my tapes. It's by Suzi Koch and was made as part of the same project that produced Canadian Dinosaurs (see above). Suzi's piece is much more complex and imaginative than my own. If I recall correctly the music is from the soundtrack to a Jacques Tati film.

7: Big Head's Night In (1990)
Martin Wallace and myself made three videos for Warp Records when they were first starting out. This footage was used in the video for 'Aftermath' by Nightmares on Wax but I decided to make it into a short film in its own right. Big Head is played by Chris Wilson, who also made the sculptures (you can see some of his more recent work elsewhere in the Royal Festival Hall). The music is a version of 'Lay Lady Lay' by Claude Denjean.

8: Manner Wir Kommen (1972)
I found a book of Allen Jones' Projects in the college library which featured a number of stills from this German TV programme on the women's liberation movement. Jones art directed the whole show and this is a copy of it that I picked up years later. It's in German but I think you can get the general idea.

9: Concrete Suite (1989)
Martin Wallace and I produced a three screen work in conjunction with some experimental musicians who called themselves Nigra. This is a small excerpt.

10: Hands & Eyes (1989)
This was my attempt to get to grips with the college's video rostrum camera. Music by Pierre Henry (again).

11: Chopsticks (1989)
Another bit of film from the Canadian Tourist Board - actually I think Martin Wallace put this together.

12: Lie Down (2007)
Whilst I was making a programme on pop music on TV for Channel 4 a couple of years ago I came across this footage from the Granada production Revolver. It's basically audience shots taken during a performance of Lie Down, I Think I Love You by David Coverdale. I love the way that the audience are way more interested in showing-off for the camera than listening to the band. Many thanks to Gerard Barry for locating this footage.

13: Boom! (1990)
Nice to go out with a bang.

DISC 2: This programme features artists working in the field of film and video whose work I admire plus a documentary on London from 1967.

Fisticuffs (2004) Miranda Pennell
Associations (1975) John Smith
Cluck Cluck (2006) Steve Claydon
Worst Case Scenario (2003) John Smith
Tattoo (2001) Miranda Pennell
March Of The Great White Barbarians (2006) Mark Leckey
The London Nobody Knows (1967) A documentary presented by James Mason that takes a look at London sights not usually on any tourist itinerary.
The Black Tower (1987) John Smith
Human Radio (2003) Miranda Pennell
'A' Like Akarova (2006) Bonnie Camplin and Paulina Olowska
From Earth (2005) Steve Claydon
Magnetic North (2003) Miranda Pennell
Girl Chewing Gum (1975) John Smith


DISC 3:

JOURNEYS INTO THE OUTSIDE (1998)
Journeys Into The Outside was a Channel 4 documentary series presented by myself and directed by Martin Wallace. It investigated the field of Outsider Art - art made by untrained or 'intuitive' artists - a subject I had become interested in towards the end of my college course. We decided to concentrate on people who had made 'environments' as this would give us something more visually interesting to film plus we reckoned people would relate to it a bit more readily (home "makeover" shows were starting to get big just around this time).

Episode 1 - Europe
We cross the channel and begin our odyssey with a man who has spent many years covering the outside of his house in broken crockery, spend a day in a forest in the pouring rain trying to gain access to Chomo and his mysterious 'Village de l'Art Preludien' and (after numerous other adventures) wind up at 'Le Palais Ideal' - an amazing palace constructed over the course of 30 years by the local postman.

Episode 2 - USA
On the other side of the Atlantic we start in Florida, in a hurricane-proof castle built of massive blocks of coral in honour of a lost love, and finish up at the Watts Towers in Los Angeles - Gaudi-esque structures thrown up single-handedly on a vacant lot by an unemployed man during the 1940s. The Towers have now been granted National Monument status. On the way we visit a building devoted entirely to extolling the virtues of eating oranges and meet the incomparable Howard Finster.

Episode 3 - The Rest Of The World
For our final installment we visit the Mexican jungle to see the mouldering remains of a huge, unfinished project constructed in reinforced concrete by the English millionaire eccentric Edward James and then visit various other sites in search of clues as to where Outsider Art may be heading next. We end our quest in India - where a 'Rock Garden' begun in private by an ex-inspector of roads has become one the country's most visited destinations - second only to the Taj Mahal.
---
Forest Of No Return: Hal Willner Presents The Vintage Disney Songbook, Sunday 17 June
Jarvis: "Disney was an exotic luxury in my day, only to be glimpsed via wet bank holiday editions of Disney Time or rare visits to the cinema. So how come I've got so many of the songs from those films lodged in my head? This evening is an attempt to explore that phenomenon - love 'em or hate 'em; if you leave the auditorium at the end of this performance without having shed at least one tear then you're something less than human."
Concert review by Aymi Derham:
Staged on Father's Day, this evening at times brought out the little girl in me again but then it also let the audience enter into a darker and more serious side of some vintage Disney tunes. Hal Willner and Jarvis created with their choice of performers and tunes an eclectic mix of enchanting, sombre and at times sardonic adaptations of the classics. David Thomas (Pere Ubu) put plenty of much needed gusto into his performance of the Alice In Wonderland 'I'm Late' kicking the evening off to a lively yet apt start. The real reason the concert started later than expected was not as you might expect down to the usual suspect of Pete Doherty but perhaps Grace Jones. Her show stopping performance snarling 'Trust In Me' in a billowing black and purple creation stood high on the stage, was a little later than scheduled but well worth the wait if not a little menacing.
Skye Edwards (Morcheeba) and Beth Orton reminded everyone of why they had been specifically chosen for the job with voices so soft, delicate and full of emotion. I think you would honestly have heard a pin drop during their tracks, which their voices complemented flawlessly. Tunes such as 'Little April Showers' (Skye), 'Stay Awake' and 'Baby Mine' (Beth). Coincidently 'Baby Mine' is Cocker's personal favourite and one which could be a pleasing b-side in the future for the curator who would no doubt pull out all the stops on delivering a truly touching rendition.
Cocker sang two songs: 'I Wanna Be Like You' and a softly whispered finale of 'When You Wish Upon A Star'. He commenced the Jungle Book tune by stating "I've come to tell you what you all know... I'm the King of the Swingers..." showing his humorous side is never far away, as he pointed and kicked through the number in such a way that all eyes were on him for those few minutes and nowhere else.
Other than the curator, Nick Cave and Pete Doherty gave memorable performances. Cave stormed across the stage on 'Hi Diddle Dee Dee' leaving only the wire of the mic behind him, when it could well have been a trail of destruction the speed he was moving! His voice was strong and he spat out the words in an acerbic style. Doherty surprised most there with a 'spot on' performance of 'Chim Chim Cheree', cockney accent thrown in too. He sang the full tune and captured the audience into a Mary Poppins nostalgic bubble for a magical few minutes. Shane MacGowan - another volatile character - amused us all with a mumbling 'Zip-a-dee Doo Dah' and beer in hand. Cocker was quite brave choosing Doherty, MacGowan and Jones but he showed us all why he had as they brought to us performances that were quite unique.
Gavin Friday (Virgin Prunes) singing the 'Siamese Cat Song' in a camp feline style sat well in your mind with how you'd expect a real life performance to capture a sinister cartoon cat. Another comical highlight was Cocker, Cave, MacGowan and Doherty howling 'Home Sweet Home'. From where I was sat you could clearly see Cocker's wife Camille and Kate Moss chuckling at their partner's attempts to sound like canines. There was much more including Ed Harcourt and Roisin Murphy who both delivered well. Fenella Fielding (Carry On fame) managed a truly charming 'Feed The Birds', which sounded as mighty and as sombre as it should in the surroundings of the newly refurbished Royal Festival Hall. The instrumentals were touching yet at times towards the end dragged; yet this I guess was all time to prepare the many artists behind the scenes.
I went last minute to the 'Forest of No Return' having taken shots of a band 'They Came From The Stars, I Saw Them' (see pictures below) at a free gig also arranged by Cocker in the afternoon. Even then Cocker was hanging about in the crowd watching the younger bands proving that he's dedicated to making this Meltdown a memorable one. The whole evening was a real one off and kept us on our toes of what style of performance we'd receive next all night, yes it was indeed one of those nights you won't forget in a hurry - thanks Jarvis! Aymi Derham
Setlist:

Act 1

Opening - Ken Nordine Jungle Book Overture - Featuring Marshall Allen & Terry Adams (Arr. Steve Weisburg)
AEIOU - Roger McGough (Arr. Steve Weisburg)
I'm Late - David Thomas (Arr. Steve Weisburg)
Clock Sequence - INSTR (Arr. Steve Weisburg)
Little April Shower - Skye Edwards Ed Harcourt (Arr. Kate St.John)
Little Wooden Heart - Howie B (Arr. Steve Weisburg)
Baby Mine - Beth Orton (Arr. Steve Bernstein)
I Wanna Be Like You - Jarvis Cocker (Arr. Steve Bernstein)
Monkey Chase - INSTR (Arr. Steve Bernstein)
Trust In Me - Grace Jones (Arr. Jun Miyake)
Angry Cricket - INSTR (Arr. Steve Bernstein)
Hi Diddle Dee Dee - Nick Cave (Arr. Steve Bernstein)
Home Sweet Home - Nick Cave & Jarvis Cocker (and Friends) (that was Pete Doherty and David Thomas and Shane MacGowan)
Headless Horseman - Richard Strange (Arr. Steve Weisburg)
Tiger Fight - INSTR (Arr. Jun Miyake)
Saimese Cat Song - Gavin Friday (Arr. Jun Miyake)
A Dream is a Wish Your Heart Makes - Leafcutter John (with David Coulter)
Bare Necessities - Baaba Maal (Arr. Steve Weisburg)

Act 2

Bella Notte - David Coulter
Feed the Birds - Fenella Fielding
Whistle While you Work - Terry Adams
Hiegh Ho - Nick Cave/David Thomas (Arr. Steve Weisburg)
A World of My Own - Ed Harcourt (Arr. Steve Weisburg)
Chim Chim Cheree - Pete Doherty (Arr. Steve Bernstein)
Castle in Spain - Gavin Friday (Arr. Steve Bernstein)
Love is a Song - INSTR (Arr. Steve Beresford)
Blue Shadows on the Trail - The Smoke Fairies
When I see an Elepant fly - David Thomas
Pink Elephants On Parade - David Thomas - Featuring Marshall Allen & Terry Adams (Arr. Steve Weisburg)
Some Day My Prince will Come - INSTR Terry Adams (with Marshall Allen)
He's a Tramp - Roisin Murphy (Arr. Steve Weisburg)
Zip-Dee-Doo-Dah - Shane MacGowan
Stay Awake - Beth Orton (acapella)
Second Star to the Right - Beth Orton (Arr. Steve Weisburg)
Desolation Theme - INSTR (Arr. Jun Miyake)
When you Wish Upon a Star - Jarvis Cocker (Steve Weisburg)

---
They Came From The Stars, I Saw Them: Outdoor Stage, Sunday 17 June
Thanks to Aymi Derham for the photos