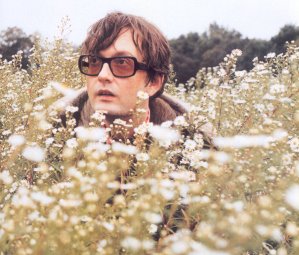 Sorted For Trees
Words: Rob Fitzpatrick, Photographer: Alan Clarke
Taken from Ministry, December 2001

We meet Pulp's Jarvis Cocker on Hampstead Heath, where he tells us about his band's new album and getting his tackle out at raves...

Jarvis Cocker is crouched in the long grass, lovingly recreating a classic rave moment. There's no big wheel, no bouncy castles, no flower strobes up here, but the memories are still alive. Pulp's beanpole frontman has Been There and Done That. Ministry joined him on Hampstead Heath to find out how.

What was your first clubbing experience?
I've been through loads. When I'd left school in the early 80s, clubs in Sheffield where I grew up were low-grade piss-up environments. It was the same records and in the same order every week: Planet Claire [by the B52's] and [Bauhaus' goth classic] Bela Lugosi's Dead. I moved to London in 1988 when the warehouse party thing started.

What was your first rave?
Sunrise, Cup Final day, 1989. We got a coach down to London and everyone seemed to know each other, apart from us knobheads at the back. I remember being surprised that everyone started getting friendly after an hour or so - obviously they'd all dropped their E's at the right time. It was one of those moments.

What happened to you?
We stood in this massive queue, but no one was getting arsey, they were enjoying queuing! We decided to take our drugs before we got in. As we got to the front of the queue, the pills kicked in. We walked into this massive hangar full of people. There was a big wheel going out the back, I'd never seen anything like it before, never experienced anything like it before. It was a revelatory experience. To be honest, it was never that good again.

Was that your first pill?
I'd had E before, but not in that environment. That place, it seemed perfect, but after six months I got too ill from going every weekend.

Did your experiences change you?
Yeah, but I thought that the friendliness at the raves would last. In Sheffield, if you didn't get off with someone, you'd hammer someone out of frustration. This seemed different. I always hoped the feeling would keep going, last past the weekend. That's what inspired Sorted For E's & Wizz. Drugs can enhance a feeling, but you need to feel that without drugs too.

What was the weirdest rave you ever went to?
Under the M25, in a tunnel that was built for badgers and deer, so they didn't get twatted by cars. All the sound equipment was at one entrance and it went 400 yards back. I remember thinking that the further I moved back from the music, the further I went back in time. When I saw people right at the back I thought they were Neanderthals! Very strange...

Was that the end of your Ecstasy honeymoon?
Yeah, but it was November too, and that didn't help. It was too cold for warehouses.

Then what happened?
Ministry of Sound opened. But I didn't go too much because I liked the cloak-and-dagger aspect of the raves as much as the music. We played at the launch party for Pulp Fiction at Ministry, so I know the sound system was very good!

Did you ever get into rave wear?
My look for raving was these blue shorts which were very wide and made my legs look really thin, like two pieces of cotton. I matched that with a cotton anorak from a jumble sale - I had the look of a Girl Guide leader. At one do, I put my hair in bunches with these see-through teddy-bear bobbles with baubles on.

I'm sensing Ecstasy honeymoon here...
Well, yes. I didn't wear underwear in those days and the button fly on the shorts tended to come undone. I remember once I looked down after dancing for an hour and seeing my cock was out waving around in the air. I might have started wearing pants after that. There were no uniforms, girls in evening wear or people brushing their teeth, that was fucking mad. People would go out on a limb to do each others' heads in. It was a game, it was fun, I thought it was great.

Why did you start your own night, Desperate?
Desperation, literally! The idea came from a party in the Bricklayers Arms that me and Steve played at. We played daft records and the atmosphere was great. A lot of clubs are the same tempo and this was more ramshackle. We were pissed, but everyone was dancing.

What's a top Desperate tune?
I like a bit of singing, dancey stuff, often with a robotic effect on the vocal. The last record I got I loved was the Now Thing album on Mo'Wax, it reminds me of the 80s bleepy stuff from Sheffield.

What was the oddest celebrity party you went to?
The funniest one I went to was Elton John and Versace on Bond St - fuckin hell! It was meant to be all A-list, but there was A, AA, AAA. They had a glass lift so everyone could see. I saw David Copperfield in the lift and wondered why he didn't just fly.

Why the fixation with nature on the new album?
To get away from the paranoid, fucked-up nature of This Is Hardcore. I wanted something different. I want to enjoy life, so I went into the countryside in my van and hung out. I'd drive around and listen to our new songs.

Where would you go?
Isle of Wight, Norfolk Broads. I liked the fresh air and getting some perspective, man! I wanted to write a positive record, but I didn't want it to sound like I was taking Prozac. The last record was a dark tunnel and I needed something simple, and there's nothing more simple than weeds and trees.

What's your favourite type of party?
I love a costume party, a few games, anything to get people arseing about. I went to one recently dressed head to toe in white, with white body paint and white hair, I was the Isle Of Wight. I looked like a ghost. I scared small children all night.

What was your best recent birthday present?
Well, actually, it was a piece of the original Wicker Man [from the classic 70s horror film of the same name] that I got a few weeks ago. We sampled the soundtrack on the album [on a track called, er, Wickerman]. It's one of my most treasured possessions.

Would you man the decks at your own party?
Oh yeah. My flat's got a concrete floor, so we can turn it up nice and loud. I wish I could remember what I play, but I'm always that drunk.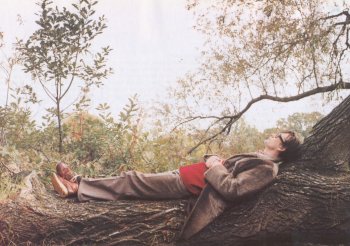 Where did you have your last big night out?
Attica. I felt right out of place there - I didn't have an expensive tank top on with nothing else. I had a dance, though.
Does your record box hide any horrors?
Almost everything's a horror. There was this twat from Sheffield who ended up playing bass for Simply Red who went through my records at a party once who said to me, 'That's the worst record collection I've ever seen.' I just thought, 'Fuck off!'
Did you buy a lot of tunes back in the old days?
No, but I like that Ministry Old Skool compilation. I might buy that!
Are you a good DJ?
When I started I was a bit ropey. Actually, I still am, but I'm getting better. I'm sure if a real DJ looked in my box he'd go, 'No! Captain & Tenille! I don't think so...' I'll never be a proper DJ, but I enjoy it and that's enough. To do it professionally would take the joy out of it.
Did you enjoy Homelands?
Yeah, it was a challenge. I thought people might accuse us of killing their buzz. There was an MTV poll beforehand that said, 'Should Pulp be playing Homelands?' and 85 per cent of people said no. But I think the dance scene is much more open-minded than the rock world, because not all the rules have been written yet.
What music can't you stand?
That American nu-metal stuff and world music.
Are DJs the new rock stars?
Possibly. Sometimes I think I'm in the wrong business: the DJs get paid loads of money, no-one knows who you are, you get to go to great places and the girls in clubs are much better-looking than the ones at indie concerts. It's the future!
What's the worst song you've ever written?
There was one called Everybody's Problem. I was told by an old manager to write a song like Wham! and I couldn't do it. Recently, it would be I'm A Man from This Is Hardcore. That was rubbish.
Are you happy being you?
I am a lot happier than I was. It's getting better. We've been going donkey's years, but we're alright y'know... we're not knobheads.