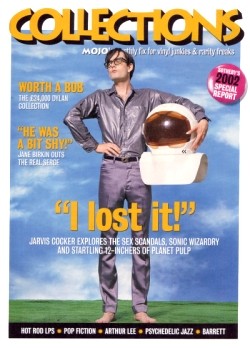 Mojo Collections: Pulp
Words: D. Peschek, Photographer: Various
Taken from Mojo, February 2003

From grief to glitz and back to earth again in a desperate heap, Pulp frontman Jarvis Cocker has done it all.

In a quiet cafe in London's Beak Street, Jarvis Cocker is a symphony in brown: dufflecoat, chocolate cords, discreet velour jumper. He might be in camouflage so easily does he disappear into the bustle around him, which is odd because he couldn't look more quintessentially like the most significant English pop star of the last 10 years.

Pulp were to the '90s what The Smiths had been to the previous decade: as Morrissey brought kitchen-sink realism and a dry, camp literacy to pop, speaking to those left in the cold during Thatcherism's inglorious heyday, so Jarvis and Pulp articulated sexual anxieties in a largely unprecedented way, and embraced the social and musical upheavals of the dance music revolution with a visionary elegance that their peers were unable to match. However retro Pulp looked, they couldn't actually be anything but modern. As pop returns to a '50s world of spivs and stage-school starlets, we need Jarvis Cocker now more than ever.

It. Mini LP, Red Rhino, RED LP 29, 1983

"Before this, when we'd only done a John Peel session, Pulp had been brasher and poppier. Then all the people who were in the group went off to university and I got involved with Simon Hinkler [of local band Artery and, later, The Mission]. I thought I was going to be famous by about 17 or 18 because of Peel; I thought we'd automatically get a record deal and we didn't. [Simon] used to help me arrange my songs.

It was an attempt to create the sound of Leonard Cohen: having the drums as quiet as possible without actually being inaudible, and the distant female backing singers and a lot of acoustic guitar - a complete rip-off, basically. The only people who wanted it were Red Rhino. I was so excited to get the record, I placed it at the front of the rack and stood in different parts of the room to see what it looked like. But it caused very little excitement in the musical world."

Little Girl (With Blue Eyes) & Other Pieces 12-Inch EP, Fire, BLAZE 5, 1985

"Simon went back to Artery and I was a bit pissed off. Then I met Russell Senior who I'd known in Sheffield - he'd been down in Bath doing a business studies degree. As a final desperate thing we had a rehearsal, [Russell], me and Candida [Doyle]'s brother Magnus and it seemed like a revelation. Little Girl was the first product of that. [Russell] added a kind of arch, quite experimental and quite hard-line attitude. He'd liked Pulp when he'd seen us at school; he thought we were disgustingly drippy when we went acoustic. I was just ripping off The Velvet Underground's ballads, sometimes even using the same chords, and he would always do something to undermine them. Little Girl ended up with this slightly out-of-tune violin all over it and the sound of a baby crying at the end. The first concert the new Pulp played was at this rugby club social evening and we got bottled off."

Freaks LP, Fire, FIRELP 5, 1987

"Do you find it depressing? I did. I weren't so happy at the time. I can't listen to it now because it was hard to record things back then. You're doing it for £800 and it sounds crap. Especially if you're doing stuff that is a bit grim. You've got to abstract grimness into something else to make it palatable: that's art, innit? If it's just grimness on a plate, it's just shit. We'd not been in the studio often and you think people know what they're talking about; you realise later they know fuck all. I liked the ridiculousness of writing 'Master Of The Universe' while being on the dole and not being the master of anything at all. It was the winter I'd fallen out of the window - I was stuck in a wheelchair and my mother's watching Lovejoy. So it had a certain grim humour."

Separations LP, Fire, FIRELP 11026, 1992

"We got fed up with Fire. FON Records in Sheffield gave us some studio time and three of those tracks ended up on that record. [Actually they didn't. The songs - Rattlesnake, the original version of Don't You Want Me Anymore? and Death Comes To Town remain unreleased to this day.] They were going to sign us, but they ummed and ahhed and it never happened. But we'd got enough songs to do an album. Then I ended up coming to St Martin's in London. In between writing and recording, me and Steve [Mackey] had started going to acid house parties and decided that house music was the future, so we attempted to graft that on the songs we'd written.

There's no real drums on the album except for one song, Down By The River, which isn't that bad, but poor old Nick [Banks] had to programme it all. It doesn't sound right: My Legendary Girlfriend is the I only one it works on. Separations was written in about '87, got recorded in '89 and didn't get released until '92. Going back to Fire was silly really. Nobody wanted to release us, so I thought if we don't do a record we're not going to exist, so... suck Satan's cock. But the trouble was the actual sucking of the cock was put off for three years."

O.U. (Gone Gone) 12-Inch, Gift, GIF1, 1992

"My Legendary Girlfriend came out as a single and it got a bit of response. We were desperate to get off Fire. We got involved with Warp imprint Gift, we played in France with Blur and Lush, which was very exciting - we'd never been outside the U K. We met [PR] John Best, he was going out with Miki [Berenyi] from Lush. He suggested we go and talk to Geoff [Travis] and Jeanette [Lee, from Rough Trade] who agreed to help us even though we'd signed a five-album deal. We just decided, let's do something and see what Fire do. On the day O.U. came out, they released Separations that had been in limbo for three years, and claimed it was coincidence."

Babies 12-Inch, Gift, GIF3, 1992

"The first time we'd written a proper pop song. Nick [Banks] would always insist on playing guitar whenever he wasn't on drums - even though he can't play. He came up with this interesting chord by accident and we turned it into a song. At first I thought it sounds like indie-dance, which really put me off. But Mark Webber, who wasn't in the group at the time, said, 'That's the best song you've written', and everybody seemed to like it. It was goodbye to the long, dark midnight of the soul, the Eurodisco with gothic leanings or whatever, and more of the recognisable Pulp of today, I suppose - fairly poppy songs with slightly iffy subject matter."
Sheffield: Sex City Babies B-side, Gift, GIF3, 1992
"Sometimes you write a song and you can't think of a tune but you like the music. So that's a cue for me to write a long stream of whatever, a few grunts and a little bit of singing at some point. It's OK, but it could have been done better. We got some good bass on it though 'cos this Rasta guy Zeebee, the house mixer at Island, was smoking a lot of dope and got that bass turned up.
Was I actually having sex? Probably wasn't, actually, 'cos when I first came down to London my girlfriend went away for a year. You might think, Young man in London at college? Gotta be getting some shagging. But for some reason I didn't really get it on. Sex isn't really written about much except in very clichéd or caricatured terms, rather than as a part of everyday life."
Common People 45, Island, CID 613, 1995
"I wrote this in summer 1994 after trading in some records for a Casio keyboard at Record & Tape Exchange. I came up with the riff and worked on it with Steve. Russell hated it; he said it sounded like a Stereolab rip-off. I thought it was great. I was pleased we'd written a song with only three chords. We debuted it at Reading that year, and everybody said it had to be a single. I'd enjoyed working with [His 'n' Hers producer] Ed Buller, but his sound tended to be quite reverby and thin, so we scouted around for someone who could give us a big sound without it coming over all Simple Minds. We had a shortlist, but Trevor Horn's records all sound like Trevor Horn and Bill Drummond said he couldn't face doing music any more ever. But Chris Thomas was into it. The records he'd done didn't seem to have a Chris Thomas sound; they just sounded good.
We did that and Underwear at the beginning of '95 and I got gripped by the feeling that we had to get it out as soon as possible. We had a big fight with Island about putting it out before having an album ready. After being so out of step with everything, we'd suddenly managed to get in sync. To delay it would have been silly. We were quite focused at that point. We become quite fuzzy afterwards."
Sorted For E's & Wizz/Mis-Shapes 45, Island, CID 620, 1995
"It was Chris Thomas who persuaded us to release it as a single. I thought it would never get played because of the subject matter. I think it was the day of my birthday that year [September 19th] when I woke upon it was all over the Daily Mirror. In a megalomaniac way I'd probably asked for it to come out then. 'Ban This Sick Stunt' kind of amused me. But when I realised what being in the tabloids entailed, which culminated in the Michael Jackson thing, it was pretty horrifying. That stuff with the girl I shagged - seeing the details all over the newspaper was mortifying. Sorted... actually came out of the 1988 business, my end feelings about that scene. I had a bee in my bonnet about how if people went out and were friendly, even if it was chemically induced, that it would spill over into society. I was amazed that it didn't seem to. Maybe it has."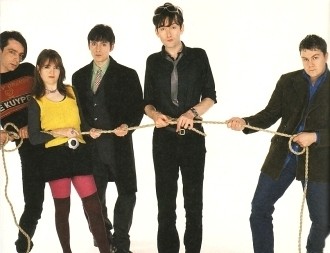 This Is Hardcore 45, Island, CID 695, 1998
"One of the best things we've done. Whether it was worth the grief it took to get there, and the psychological landscape I had to inhabit to write it, I dunno. I was losing it. It wasn't a good commercial move, and there was the terrible realisation that at this point of psychic and spiritual disintegration, the spectre of Paul Daniels appears to haunt you. I got drunk and wrote the words, then looked at them the next day but couldn't remember having written them. It was the same in the recording studio. I got really hammered and sung it, and can't really remember singing it either. It was obviously in me but it took a lot to get it out. That's what gives it something slightly unearthly; it's unhealthy, sort of glossy and shiny but in a kind of queasy way.
Island must have been horrified. To their credit they did get behind it - the video must have cost a quarter of a million pounds. The fall-out was a gradual decrease in interest on Island's part, which I can understand. We had wilfully destroyed ourselves. We played in Venice for [Brit artist] Gary Hurne's opening in 1999 and that seemed a good place to play that song: the overripe and over-ornate crumbling into the canals, and there was a storm. It was probably the best time we played it."
Sunrise 12-Inch White Label, Island, No Number, 2001
"That's one of my great regrets, and it's kind of indicative of what happened to us. We played at Reading in August 2000 and everybody went mad to that song. I thought, Let's learn from the past. If people like a song they've never heard it before, let's get it out. Unfortunately, the way things were set up at the time, it just didn't happen. Maybe because of the experience of releasing This Is Hardcore, the idea of putting out a six-minute single, of which the last three minutes were instrumental, seemed too risky. In the end, I allowed myself to settle for the double A-side option [with Trees], which didn't work. Everything got pored over too much, which maybe is a symptom of the business at the moment. It always ended up as a halfway house between Island wanting us to be a pop band again and us wanting to do our own thing, a middle ground that neither party were happy with."
Last Day Of The Miners' Strike From Hits LP, Island, CID 8126, 2002
"We had to do a new song contractually but we wanted to do something good, and that wouldn't seem out of place with everything else on the record. It didn't seem appropriate to go off on some speed garage trip at the end of the album. Candida come up with the Burt Bacharach sample, but the words were problematic.
I'd had this dream where I was listening to this John Lennon song, woke up and realised it wasn't a Lennon song; I wrote it down and tried to remember the tune. It's a bit iffy writing about the Miners' Strike when I don't know that much about it. When it was on, Russell was going out on pickets all the time, but I had no interest in politics at the time. I kinda regretted it later. I tried to make the song more allusive rather than some Billy Bragg thing."
---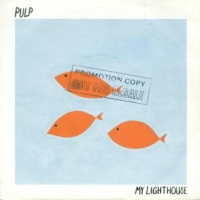 Rare Stuff. Common People might be happy with the ordinary stuff. But for the hardcore...
My Lighthouse 7-Inch, Red Rhino, RED 32, 1983 (Right)
The band's debut single, a different mix of the version on It, included as a bonus track when Fire reissued the band's debut. Pulp's first appearance on record is the track 'What Do You Say' on the Statik compilation 'Your Secret's Safe With Us' (STAT LP 7, 1982).
Oozing Through The Ozone Layer Cassette, Globe of Bulbs, LSD 5, 1987
Features 'My First Wife' and 'Don't You Want Me Anymore', recorded by Mark Webber at Nottingham's Barracuda Club in July 1987, plus songs by the Jazz Butcher, Television Personalities, Spacemen 3 and others. Compiled by Mark Webber before he joined the band.
My Legendary Girlfriend / Back In LA / Sickly Grin 7-Inch 500 only, Caff, Caff 17, 1992
Caff was run by Saint Etienne man Bob Stanley. My Legendary Girlfriend was taken from a 1991 soundcheck, 'Back In LA' from the 1984 Ping Pong Jerry demo, while 'Sickly Grin' was a demo from 1982.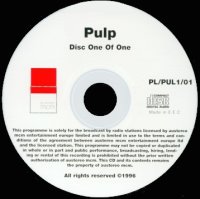 His 'n' Hers USA Promo Paperback Book, Island, 1994
This 50s-style 'pulp' paperback provided 'A list of reasons to love Pulp', plus all the lyrics for the album, discography and short biographies of band members.
F.E.E.L.I.N.G.C.A.L.L.E.D.L.O.V.E 12-Inch Promo, Island, 12IS632DJ, 1996
One-sided 12-inch featuring a remix by Moloko. Moloko's Mark Brydon had been a leading light at FON studios in Sheffield.
Coca Cola Planet Live CD Promo, Island, PL/PUL1/01, 1996 (Right)
CD featuring 11 tracks recorded at the Forum, London, October 20 1995, and two interviews.
---
England Made Me. Jarvis Cocker: Migrating to Paris, ponders Englishness.
Soho, London, December 2, 2002.
"I'm not sure whether the English eccentric exists any more. There is that obsessional quality of collecting things, and the most pointless expression of that is trainspotting. I've never seen trainspotting in other cultures; maybe it's a desperate attempt to fit the world into your imposed framework. The other cliché is that the English 'like to queue'. In any situation, they'll always want the official line rather than the horror of having to improvise. But that's conformity rather than eccentricity, or conformity taken to such an extreme that it flips over.
With someone like Vivian Stanshall, you've also got a strong tragic element. I only met him just before he died, when we did the video for Do You Remember The First Time? We wanted to do this documentary about people losing their virginity. We weren't very well known then, so we talked to people who'd expressed some vague liking for the group. He had a reputation for getting drunk, so we got him in at 10.30 in the morning. I thought he'd be reasonably sober, but he arrived with his pockets stuffed with those pre-mixed gin and tonic efforts, and he was incoherent. If you watch it three or four times, you can start to follow his logic. Afterwards, he insisted on going for a drink and tried to walk into a furniture shop because he thought it was a pub. That was funny, but sad. When people walked in, he'd drum on the table and say, 'This is the way this person walks.' We thought we were going to get beaten up - it was quite a rough pub to be taking the piss out of the clientele.
I heard he was dead when we were mixing our record. The hallmark of his eccentricity was his construction of a persona: he wasn't born a toff, so he invented himself. I was very impressed with his clothes for example. He had this purple tweed suit on and big glasses. And even though he was falling apart physically and mentally, he kept that personality together at all costs, even though it had completely isolated him. They're English things too, the desire for order and a willingness to go to quite life-denying extremes to pursue something. I suppose that's why the English are supposed to be good inventors but shit at following through. It's a bit vulgar to actually make something out of it. I like that pointlessness, and I hate it when everything has to have a payback - something to put in a ledger to be claimed against later.
I don't know about identifiably 'English' music, though. It usually involves a banjo, some sing-along or a rinky-dink piano - all that Kinks stuff that got trotted out during Britpop. I fucking hate it! The other thing, coming from the North, is brass bands. The moment I hear a brass band I become suicidal. Think of Peter Skellern singing: "You're a lady / I'm a man / You're supposed to understand." I imagine atrocities being committed to that song.
As for the English love of cross-dressing, I've never dressed up as a woman. The British defuse sex by making it funny or grotesque. There's a film, Best Legs In The Business, which is a favourite of mine. Reg Varney plays a holiday camp entertainer whose act is dressing up as a woman. But he's getting old. You expect it to be end-of-the-pier humour, but it's like Chekov. He gets squeezed out because the camp's getting modernised. He gets chucked in the pool and his wig falls off, showing that he's bald. It's tragic. That film dissects Englishness quite well, really."