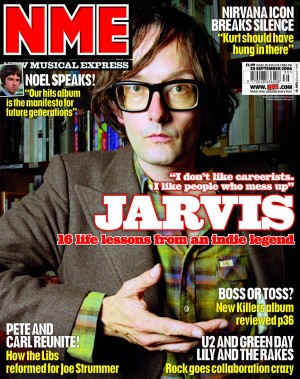 16 Life Lessons From An Indie Legend
Words: Alex Needham, Photographer: Andy Fallon
Taken from New Musical Express, 30 September 2006

There's a familiar figure standing at the Gare Du Nord in Paris as we disembark from the Eurostar. Dressed in green cords and enormous glasses, an indie icon is waiting to pick us up. "Turn left - or 'a gauche' as they say over here," he announces, leading us to an old Chrysler with an orange corduroy interior. Yes, it's Jarvis (these days operating without his surname, Cocker), former lead singer with Britpop heroes Pulp and the peerless lyricist who put the steamier side of Sheffield onto the landscape of pop more than a decade before Arctic Monkeys.

Now, three years after deciding that he was giving up music, Jarvis has caused a stir with his download song 'Running The World' and is about to release his first solo album, currently untitled. Recorded with his friends Steve Mackey (formerly the bass player in Pulp), Richard Hawley and Ross Orton (ex-Fat Truckers), it includes a song about being murdered by fat children and one about the Yorkshire Ripper hoaxer as well as marginally more conventional fare. Paris is now Jarvis' adopted home - he has a French wife and a young son, Albert, who's at a bilingual school. "He speaks English in the morning and French in the afternoon," says Jarvis as he drives us to a book shop on the Left Bank, adding, "hopefully he won't end up doing it all his life."

Later, Jarvis takes us to a café where we ask him for the benefit of his accumulated wisdom. "Nobody's ever asked me for advice," he declares. "They probably think, 'He was in an unsuccessful indie band for 10 years, then they got famous and he pissed it all away. That's not somebody to ask for advice from'."

1. NEVER MIX CIDER AND RED WINE

"That's one of my life lessons. Fucking awful, the headache you get after that is the worst ever."

2. MOST POP STARS HAVE DEFECTIVE PERSONALITIES

"People who make good music aren't necessarily nice people. There is a personality type to pop stars - a defective personality, I think. You have the desire to receive adulation from people to make you feel alright about yourself. That's why often the best pop stars screw themselves up because the reality doesn't provide the thing they were looking for. Having a group is a chance to create your own world. It's like you can make this little thing that adheres to your rules. But of course if people then decide they like it, it gets taken away from you, and then you realise it doesn't take you into a magical land where everybody's your servant and that's when people have problems with it."

3. THERE'S NOTHING DULLER THAN A CAREERIST

"I've always liked people who mess up. I don't like career people - it doesn't seem very appropriate when it comes to music which is about something emotional. Reading an interview with Razorlight is just like reading The Economist, saying, 'Yeah, well we're going to be really big in America and we think this album's going to follow up the next one' - that's what the record company should be saying, not the people in the band. And even The Rapture, who I like, there was an article recently about them being managed by the same people who manage U2. I just thought, 'Why do I want to know that?' That's not what music's about. I don't care who they're managed by. I don't care who makes their guitars. I don't care how many records they've sold, really, I just want to know whether they've got anything to say."

4. RAVE GAVE ME A GLIMPSE OF A UTOPIAN SOCIETY

"I'm too old for new rave but it sounds interesting. Proper raves were the best musical events that I ever went to. Mobile phones had only just come in, so you had to meet someone at a lay-by who had a mobile phone, who would then tell you the next place to go. It was like a treasure hunt and then you'd end up dancing in one of the escape tunnels for animals under the M25. People weren't bothered about having a drink and it wasn't really about copping off. It was about being there, getting excited and dancing. Obviously the drugs helped, but it was a different way of thinking about entertaining yourself. I thought it was going to lead to some big change in society and that's why I ended up writing 'Sorted For E's & Wizz' because at the end of it I thought, 'Oh no, it isn't'. My flirtation with it was only about six months because I'm not strong enough to take drugs for a long period of time."

5. NEVER TRUST A MAN WHO WEARS ANKLE SOCKS

"You've either got to have no socks or long socks that reach your knee. This is going to sound very pretentious, but I get them from a shop in Rome called Schostal. It's very good. I have to buy about 20 pairs at once. They're fine cotton in all different colours. You can get them over the internet."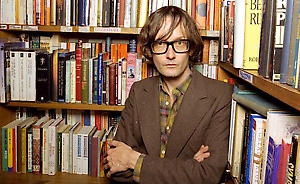 6. NO-ONE WANTS TO BE SQUARE ANYMORE
"In my day, Topshop was just a place for townies to go - nobody else would be seen dead in there. You'd get your white shirt and your pleat top trousers, but now it's all things with bits of zips and chains hanging off - it's quite extreme. The obscure trendy things are now the mainstream townie things. That's why those 'Guilty Pleasures' things are popular, because it's nostalgia for a time when there was that naff side of things that you did like a bit because some tunes were good. But nobody wants to be square any more, or they'll do it in a very knowing way, like The Feeling. There isn't that big mass of normal people."
7. WRITE ABOUT WHAT YOU KNOW - BUT NOT IF IT'S BORING
"I like pop music but then I wish that it would try harder with what it talks about. It doesn't have to be dark, but life is dark, isn't it? Let's face it. If I'm listening to somebody, I want to get some sense of what that person's about. Arctic Monkeys' lyrics are good, it's just a shame for them that everyone starts copying them. Like, I heard this other Sheffield band called Little Man Tate, who I thought were appalling. One song was all about going down to London, and trying to get a record deal. I thought, 'Alright, it's good to write about your real life, but also that's a bit boring. Try and write about something else'."
8. LIVE YOUR LIFE AND THE WORK WILL FOLLOW
"I once read a quote from Nick Cave which I thought was good where he said the work that you produce is like the trail that a snail leaves behind it. Which I think is quite true. It's not very pleasant and it's very slow, but it's just a by-product of living."
9. EVERYBODY HAS HORRIBLE THOUGHTS
"Relaxed Muscle [Jarvis' quasi-electroclash experiment with Richard Hawley] was a way of me getting negative, unpleasant feelings out. At the time I'd just got married and my wife was pregnant so I was thinking, 'Oh, I've got to be a nice person now, I've got to be nurturing' and it's not really my natural personality. In a slightly pathetic way I suppose songs are a way of me saying things I wouldn't dare say in the normal course of the conversation. To get those feelings out in a song is healthier than having them festering away, because everybody's got horrible thoughts - well, I think they have anyway. Nice people bore me. Not in real life, but if I go and read a book or see a film, if somebody's too nice I'm like, 'Fuck off and be nice somewhere else, I don't want to know about it'. I always like the baddies much more. It's like if you watch Snow White, you fancy the witch a lot more than Snow White. She looks like she could teach you a thing or two."
10. PUT SUGAR IN A CAPPUCCINO LIKE PAUL WELLER
"I read an NME interview with Paul Weller when he was starting The Style Council. He said you've got to get the sachet and pour it in just one area and then wait for the weight of the sugar to fall through the foam. Then you put the spoon through the hole that the sugar's just made and stir. That way you still have the froth but the sugar's dispersed in the cappuccino. Every time I have a cappuccino I think of Paul Weller."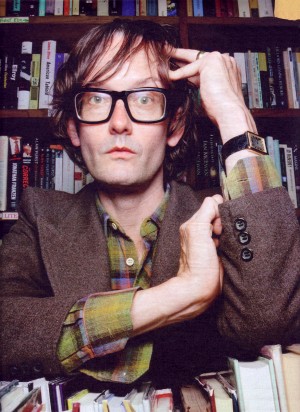 11. DON'T SEDATE YOURSELF WITH CULTURE - READ
"Boredom can be a big inspiration, because you have to invent something to entertain yourself, otherwise you'll go crackers. If you can just watch a film on your iPod... it's like culture becomes not so much a stimulating thing but a pacifying thing. That's why I've really got into reading a lot more recently, because a book doesn't seem quite as passive. It's like you're in this person's company for 300 pages. You get inside their thought processes, and that becomes part of your mental landscape. I re-read all of JD Salinger's books recently - I'm probably a bit old to be doing that, but I really enjoyed those and then Carson McCullers. There's a bit of her voice on my record, on 'Big Julie', which was partly inspired by her book, The Heart Is A Lonely Hunter. It's very good. Just read anything."
12. THE INTERNET TAKES THE ARTIST OFF HIS PEDESTAL
"It's good in that you've got a fairly direct relationship with people who are interested in what you're doing. It's fairly unmediated. You put music there and then people come across it and if they're interested they'll listen to it and they'll tell their friends. There's not as much hype and marketing. I'm sure the powers that be are working overtime to find a way to control it but at the moment it still feels fairly pure. For instance, I've been doing these podcasts with me just reading these stories. You couldn't do that any other way than the internet, really. If you want to hear it, have a listen, it's not such a big deal. It doesn't seem so much like the artist on high delivering his message to the world. I've never really liked the fact that because you're stood on a stage that somehow turns you into some kind of exotic creature, that's rubbish. The exciting thing about concerts is everybody being in the same room together for that little bit of time."
13. AT SOME POINT, YOU HAVE TO GO TO THE DARK SIDE
"My darkest moment? There's probably quite a few. I remember seeing some people sniffing some cocaine off the cover of 'Scott 4' and thinking, 'That's my favourite record and that just doesn't seem right'. Stuff like that is just when the magic goes away from it but you do it to yourself, as Thom Yorke would say. I think it's a necessary thing to go through. It's like puberty, it just happens, doesn't it? Sometimes the accumulation of knowledge isn't a particularly pleasant process but there's no wishing it away, so you have to keep going deeper into the heart of darkness. I think you do it until you come out the other side. A person has to develop. Otherwise, you're not quite human, are you?"
14. I HAVEN'T GIVEN UP ON GOING INTO SPACE
"I'll never learn how to tumble which I regret. I'll never learn how to inline skate, although I'm not that arsed about that. I haven't given up on going into space although I'm going to have to save up because it's fucking expensive. I could have said I'll never make a record with a saxophone on it but then there is a saxophone on this latest record but it's very quiet. I'll never have a saxophone solo. I think I can safely say that. Although now I've said that I'm bound to want to do it. It's just got so many bad connotations, hasn't it? I'll never sew all the buttons that I've got hidden in the pockets back on the jackets they fell off. And I'll probably never see Dog Day Afternoon. It's weird, it's one of them films that I've always thought is very interesting and I've never managed to get round to seeing it."
15. YOU DON'T CHOOSE WHAT TO DO
"As soon as I said to myself I was going to stop making music I started writing songs in my head. If you have to try too hard, that means it's not really the thing for you. I know that's probably an invitation for people to be lazy but it's true."
16. WHEN IT COMES TO MUSIC, 99.9% CORRECT IS STILL WRONG
"There's no such thing as, 'Ooh I've written an almost classic'. It's either classic or it's not. You can get it 99.9 per cent of the way there but if you don't get it that extra 0.1 per cent it won't be right, so it may as well be totally wrong. You can't sit down and decide to write a classic - look what happened when Adrian Gurvitz did it. (Sings) 'Got to write a classic/Got to write it in an attic' - it's one of the most tragic songs ever. It's the frustrating thing about music, but it's also the exciting thing that there isn't a hard and fast way to do it. But when you do get something good, the excitement you feel justifies all the stumbling about."