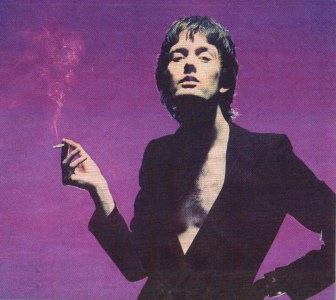 Cocker Dude'll Do!
Words: Sian Pattenden, Photographer: Steve Double
Taken from the New Musical Express, 9 January 1993



Pulp: single-handed re-inventors of the '70s revival, latest darlings of Siobhan and Dave, the 'bonkers Suede' everyone has yet to like. But are they, and more particularly their 'wacky' frontman Jarvis Cocker, really mad? Or have they just had a bad press?

Myth: Jarvis Cocker from pop aesthetes Pulp is mad, the type that likes to balance melons on his head in his spare time. The glamourous throng at the glittering NME Christmas quiz thought he would be. He has sideburns, stack heels and once did a tour in a wheelchair. He lives in a house with no phone and listens to Radio 2. He is lead singer with Sheffield's premier synth-pop quintet. He has embodied a new Crimplene Scene made up of suchlike individuals. He is not usual.

During the course of that now legendary quiz, he uttered the immortal phrase "Is it Scunthorpe?" and then looked grumpy for the rest of the evening. "Everybody said how boring I was," he admits. "I'm not grumpy, but I don't consider myself a jovial person. I hate being seen as 'wacky'. I am serious about my art."

Jarvis Cocker is 29 and still in a pop group. He was born in Sheffield (he's a "prissy" Virgo, astro-fans) to a beatnik couple who liked trombone playing and art. His mum made him go to school in black leather lederhosen with a "stag" design on the bib (a gift from a German relative) as a small child; she threw a wobbler when he pissed into a shoebox ("To see whether it would come out of the corners. It did.") And he didn't cut his hair ("I was the only boy at school who looked like a gawky girl").

Young Cocker was seven when his dad left home and 14 when he started to nick his old suits in a Punk Effort. In between he would be class goon. He once pretended to be dead in the school playground after a game of 'Armies' so convincingly that the school decided to ring for an ambulance. "It must have been about 20 minutes. I thought, that's going a bit too far, so I did a miraculous 'wake up from a coma' and that was it," he remembers.

Then he wanted to be famous. "That was the main thing, just the fact that people would be thinking you were great and all that stuff. I thought it would be a good thing, 'cos I wouldn't have to deal with the kind of banal little things of life. I wouldn't have to bother with the shops. I'd have everything brought in. I could concentrate on the higher essence of being."

He cultivated an "I Am Jarvis And I'm Mad, Me" image. He wore high heels to accentuate his tallness and did comedy turns (his typical clown philosophy: "There's no way I could be in with everybody 'cos of football or 'cos girls fancied me."). He formed Pulp in an economics lesson and did his first gig at school with the chemistry department providing special 'effects' by setting magnesium ribbon alight. After school he became a fishmonger, scrubbing crabs. ("My mother got me the job in a drive to make me more extrovert"): he was a playgroup leader; then he fell out of a window while trying to impress a girlfriend.

"That was quite good, 'cos it's not often you get the chance to be removed from everyday life. It made me realise that I ought to do something different, rather than the crap things I'd found myself doing. I wasn't going to have many great memories to look back on. Like great memories of getting up at 2pm and all that great sleep I had." Jarvis moved down to London to study film at St Martin's School Of Art. Then he discovered rave. He was 25.

Truth: Jarvis once thought he was Paul Nicholas. "We went to this rave and someone must have sold me this very bad E. I got home and I got a bit feverish. Two things happened to me. One was that the Milli Vanilli song ' Girl I'm Gonna Miss You' was stuck in my head, like it was on a loop, so that was driving me mad. The other thing was, in the height of me fever, I suddenly thought I was Paul Nicholas. You know, like when you're half way between awake and asleep, I just thought I was Paul Nicholas, but it only lasted about ten minutes. Then the week later, I had the name Mike Lipbarski coming into the front of me mind all the time. I've never met Mike Lipbarski, but I was shit scared 'cos I thought, 'Maybe he's going to kill me!' When things like that happen I think you have to lay off."

Fortunately for him, Pulp got good. They didn't have any hits or anything, but they released some spacey singles and lots of youngsters in debatable nylon began to turn up at their gigs. They had "contractual problems" with their record company, Fire; released two more feisty numbers on Sheffield's new indie Gift Records ('O.U', about train stations; 'Babies', about wardrobes) and have now signed to Island Records.

Pop cognoscenti have also started to get in on the act. Shakespears Sister's Siobhan and husband Dave were on the guest list at their London ULU show earlier this year. The fresh-faced contingent from St Etienne's haphazard Ice Rink label religiously attend every gig. Miki from Lush, Mat from Suede, Denim, that bloke with funny hair from Revolver all turn up. There are the seeds of a scene here - it's called the Crimplene Scene...

"Er..."

Jarvis is in the process of discovering new and exciting ways to flick ash from a cigarette, commonly known as a 'nervous habit'.

"Yes. We're friendly with St Etienne. It's more to do with the fact of how they are rather than because they're famous. That would be a bit crap."

Pulp may like St Etienne. They don't, however, like grunge. "I don't mind Nirvana but I've never liked music like that. It's lads' music. When I was going to clubs it would be The Cult and everybody would do the Chicken War Dance and push each other about. Noise is an easy thing to hide behind. If you make a lot of noise and shout behind that, nobody can tell what you're singing. It is showbusiness after all. I think you have a duty to perform, you have to entertain people. But just 'cos someone might wear a sequinned jacket onstage does not mean they are instantly interesting to watch."

Ah, sequinned jackets. Since we're on the subject of style, let's talk about the so-called '70s 'revival'. Although many lay the blame at the feet of Denim, Jarvis, with his penchant for floppy collars and shiny fabric, is a man who could possibly be cited for single-handedly redefining the concept of sartorial 'style'. Jarvis, your defence, please.

"I suppose I'm the main offender in the group. But the reason why like the '70s is becoming more obscure now. Our guitarist Russell went to a '70s disco in Sheffield the other day, and he said those sorts of things are better now than they were then. All the crapness gets sifted away. I like the '70s because it was also a bit tacky; people would be wearing vinyl jackets and getting a bit sweaty. I don't know if it's a new scene or not, but at least the '70s were sexy. In the '80s everybody just watched the Antiques Roadshow."

But now, everyone can watch the marvellous Pulp videos that Jarvis directs. Much as he is a welcome addition to the visual medium, rumour has it that in expanding this side of his career Jarvis has taken on board some less than credible projects. For instance, ahem, Slipstream's 'We Are Raving' video! Are you really responsible for this heinous lapse in moral taste?

"I don't know if I should tell you about this one, it's so bad," he hesitates. "I consider it to be the final nail in the rave coffin. I'm the guilty man, yeah. Island asked me to make the video and I said yes 'cos I wanted some money for Christmas. I did have a long tussle with me conscience about doing it, but we made something quite amusing in the end so it's alright. I'd never do it again though, unless it was for someone we liked. But it's flattering in a way, being asked to do things. Like being in a band. To know that someone maybe somehow is interested to know whether you prefer Twix to Mars Bar. In the normal walk of life you wouldn't go to a job interview and they'd say, 'Just one more thing Mr Cocker, do you prefer Twix to Mars?'"

Do you actually eat either?

"Yeah, I eat loads. I don't know why I'm so thin. I've never been a fatty. I like eating as well."

You're not really mad then? You eat and sleep and have your own set of house keys?

"It was always one of me aspirations to become more physical," he states with a straight face. "I've got a bike now. I can play pinball. I can drive a car, all those day-to-day practical things. When I was young, as I said, I had this attitude that I was never going to need all those things; I was just going to get someone to drive me everywhere and that. Now I can do those things. You can't expect somebody to live their art all the time."