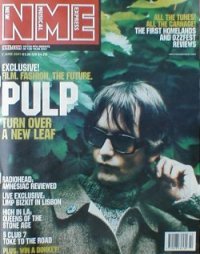 Postcards From The Hedge
Words: Ted Kessler, Photographer: Perou
Taken from the New Musical Express, 2 June 2001

Galloping stallions, shagging on a mountain top and perhaps a spot of weeding. Welcome to the all-new pastoral pastimes of Pulp.

Imagine a perfect day with no commitments. You can fulfil any desire. Come on. It'll be our secret. Pulp keyboardist Candida Doyle would lie on a sandy beach, in France or Portugal. She's got the radio on there's someone on hand to bring her food and drinks whenever she fancies. It's not too hot, though. She doesn't want to burn.

Bassist Steve Mackey has big horses in mind. He wants to climb aboard a huge stallion and gallop across sand, a swift, powerful union of sinewy beast and jodhpur-clad master. He wants to be in command. He wants to ride.

Nick Banks likes horsepower too. But the drummer likes it harnessed to a metal frame that he can drive his wife and kids to the seaside in. He'll row with the missus on the way because he'll miss the turning off the motorway and she'll misread the map. The kids will scream in the back. Once there, it'll be freezing. The whole family will enjoy a bracing walk along the front and maybe an ice cream. For once, the dog will not have diarrhoea on the beach and the kids will not be sick in the car. Perfect. Why have a family if you can't tweak your own happy childhood memories?

Jarvis Cocker, singer, meanwhile, is heading back to nature. He likes it there these days. "Well," he muses, "I'd be on my bicycle because I find that a good way to travel. I wouldn't be polluting the atmosphere. It would be sunny, but not too hot. There would be a lake that was clean and not too cold, which I could have a swim in. Maybe it would have a few fish in it so I could have a look with my snorkel on. Then, I'd get out. I'd have a lie down for a short while. There would be a volcano nearby, conveniently, which I could climb. I don't want to be in danger so I'd watch some lava flying around from a safe distance, maybe take a few pictures of that. I would see a very rare bird that I've never seen before. I'd watch it but I wouldn't photograph it. That's not my thing. Then, hopefully, I'd have a shag out in the open air, while the bird looked on." And what of Mark Webber, Pulp's elf-like guitarist? "Oh, Mark's maintaining a media blackout," says Cocker. "Fuck knows why."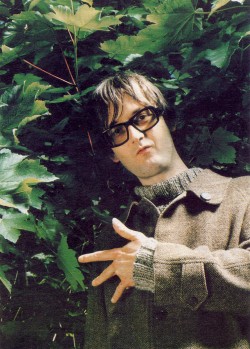 Does any of this seem strange? No, that's right, it doesn't. Hmmm, strange... We meet Pulp on a muggy day in north London to discover their secret life. We'd heard their heads had been turned. Which is why we set that initial task. To trick them, to expose them. And that's why the task's a beautiful failure. The answers do not reveal a divided group questing after wildly different dreams. Yes, Pulp may have changed in the three years since their last album, 'This Is Hardcore'. But it's evolution. We're not losing them to imagined dark forces, not yet. Pulp do have another life, though. It's not a secret but it's not advertised, either. They've had one since 'This Is Hardcore''s release in '98. For some members, like Mackey, who's been collaborating with designer Giles Deacon on music that messes with form a bit more, as well as scoring music to accompany an exhibition at The Chapman's Gallery in London, it's a chance to spread his wings. Mark Webber, meanwhile curates exhibitions of film across the world. He also ran a film and music club night called Little Stabs Of Happiness at the ICA in London until recently. We'd like to describe the motivation behind this pursuit in more detail, but his vow of silence precludes any such disclosure.

Nick Banks' secret life is another life, at home in Sheffield. There he's just a bloke with a family and a dog and a garden. He goes to the pub. He potters in the garden. Sometimes, he watches Sheffield Wednesday play football badly. He doesn't think about drums. He saves that for when he's in London rehearsing. It's like being a criminal who has money but never tells the neighbours what he really does. Candida Doyle would like to not have another life, actually, because she finds the work she does with Pulp enough effort. But last year her world was turned upside-down by two cataclysmic events. Firstly, she split from her boyfriend of 15 years and had to adjust to living alone. It was hard. Secondly, her brother who'd been missing for five years suddenly turned up. He'd been in India. So they got reacquainted and she spent Christmas in Jaipur, south of Delhi. That was weird, but good. Not sure about the food though.

And then there's Jarvis, whose other life was an absolute necessity after the dual pressures of recording the intense, dark 'This Is Hardcore' collided with the terror of tabloid-level celebrity that he'd attained. After 18 years in Pulp he'd realised he'd achieved many of the goals that he'd set out in search of and that if he didn't work out some new ones he'd go mental. So he started thinking about film and art, two things he'd always been interested in, and then came up with the idea of combining them for a series that was aired on Channel 4 called Outsider Art. The series examined those who make art outside the established art world, often building large-scale environments. Jarvis flew around the world collecting material and was the series' discreet presenter.

Jarvis also has other film work up his sleeve. He's currently pitching to direct the film version of his friend Harland Miller's book, Slow Down Arthur, Stick To Thirty, which is about a David Bowie impersonator in York in the early '80s. The rights have been sold to DNA, who made Trainspotting and Jarvis - who studied film at Central Saint Martin's College in London and made videos with Mackey - is keen to make his directorial debut with it. There's other stuff, too, such as Jarvis and Steve's collaboration with a glass harmonica player - billed as - hey, hey - A Touch Of Glass - at Scott Walker's Meltdown last year (which Steve characterises as dreadful). And there's the DJing that both Steve and Jarvis enjoy doing. In fact, it was one of Jarvis' sets last summer that triggered alarm bells around NME about what might be happening to Pulp.

It was London Fashion Week, which is like Glastonbury for the high octane world of fashion. There are shows and parties, lots of air kissing, and probably more champagne and cocaine ingested in six square miles of London in one week than across the whole of the UK. The golden ticket last year, the party that all the fashionista were begging to get into, was the Pop/Chanel party in a gallery space in Islington. The free drinks were mini-bottles of Piper Heidsieck champagne with straws. And the DJ was Jarvis Cocker. Why? Really, why?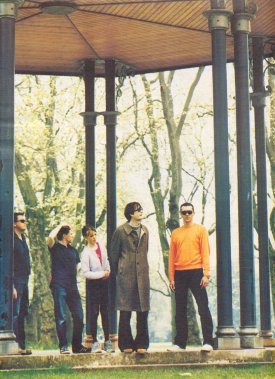 The plot thickened when it was discovered that Steve went out with Katie Grand, editor of fashion mag Pop, fashion director of The Face and creative director of part Gucci owned luxury fashion label Bottega Veneta. Jarvis, meanwhile, could be seen in the pages of Vogue alongside his girlfriend Camille Bidault Waddington, a top stylist. Pulp had always had an interest in the surface world of high glamour, but before they'd appeared to have their noses pressed to the window looking in. Now they peered back through the flash bulbs from the other side of the glass. What was happening? were Pulp becoming highfalutin?

"No," says Mackey, against a well-cut orange sweater, orange watch and blue jeans, sitting in a shady pub garden off Camden Road. "I don't think I lead a highfalutin lifestyle. Highfalutin means going to parties that have little reason to exist. Spending your money idly on expensive sunglasses every Saturday. I don't do that. Through my girlfriend I've met a lot of people in the fashion world. But I kinda keep out of it. There are some interesting people, though, and I've always been interested in photography and the artwork that Pulp have done. I've enjoyed meeting people who do that kind of thing. It might be a bit of an arty lifestyle, but it's not a highfalutin, fashion life. I'd be horrified if anyone thought it was. It suggests Elton John to me."

Jarvis' denial is sadder and more concrete. "I don't live a highfalutin fashion lifestyle now," he says evenly, as he puffs on a Marlboro and adjusts his lanky frame within a flappy, unseasonable brown overcoat. "I've split up with my girlfriend." A large tabby cat climbs onto the pub bench opposite Jarvis and stares at him. "I did have an interest in tennis too, but I've lost my partner now." Oh. "I know people from that world, but the main people I know aren't into that. That lifestyle, all that mwah, mwah, mwah, is something I don't like. I happened to go out with someone from that world but she wasn't particularly... she used to tell cabbies she was a journalist. She didn't like the connotations of shallowness. I DJed at a few parties, but it's not something I aspire to."

Romance sucked him into the fashion world and now that romance is over, it's spat him out again. It's quite sad. "It's sad for my personal life, yeah. It is quite sad." But maybe there's some good lyrical material that can be drawn from Jarvis' brush with the world of fashion. "Four years ago there would have been. Now I'm more interested in the natural world. What interests me now is coming from the city, but we are natural creatures. We get older. We change. I'm trying to find something to say about that. I was interested in glamour once, but with success you quickly realise there's nothing behind it. So you have to look for something else, for some substance. I'm looking towards nature."

You've got to fly like an eagle. You've got to walk like a panther. Was Cocker's collaboration with The All Seeing I on 'Walk Like A Panther' more than just a good pop record and a silly dance? Was it a declaration of artistic intent? In September, or maybe October, Pulp will have a new album out, produced by Scott Walker - a singer whose work was a massive influence on the formative musical direction of the band. It sounds like a really exciting collaboration. Unfortunately, we can't talk about it. Sorry. "It's not a guilty secret," explains Jarvis. "It's logistics. We'll be doing all our blabbing about it in September"

"Since we've been known, people have always been able to see where we go next," expands Steve, who's started thinking a lot more about what Pulp can achieve with the gradual realisation that time may be running out. "I'm really pleased there's no knowledge of what we are and what we stand for, or what we're going to do next. It's given us the opportunity to do whatever we want."

What we do glean from our conversations with each member of Pulp (bar the monkish Webber), with Candida and Nick at the band's rehearsal room in Kings Cross and down the pub with Jarvis and Steve, is that the original album had to be scrapped after nine months of sessions with long-time producer Chris Thomas proved unsatisfactory. That the group took great heart from last year's triumphant Reading performance, and that if Reading had gone badly they may have just given up. And that Scott Walker saved the day. We also learn that the album has a pastoral feel and a natural theme. "When I say to people I've been getting into nature," says Jarvis, "they always say, 'Ooh, that's a bit drippy.' But big animals eat small animals. It's a war zone out there. There's no kind of conscience about it. I don't hug trees, but it's important to get in touch with that. I go walking and I found I just wouldn't know the names of any birds or trees that I see. I thought, 'well, I am a member of the animal kingdom - albeit a more developed one than a badger. I should learn about these things.' So I've been going to the countryside a lot. I'm trying to get to grips with that. I've always lived in a town and nature's almost an irrelevance when you live in a town. I used to look at a view like a postcard. I'm trying to become more connected to it. I've not become a hippy, though, I don't think."


Nature's a language, and Cocker wants to read. But he wants to feel natural too. He wants to experience things first-hand. To do that, he feels it's time for some limitation. "I think the hardest thing people can do now is lead a life in which they feel happy without feeling they're missing out on something. That's the end result of having so much media, so much choice. You can feel dissatisfied with life purely because there's so much going on around you. You think, 'Yeah! I want to be breakdancing in Las Vegas!' Or, 'I should be watching Giraffes in the desert.' There's this creeping unease that people might be missing out. You find out about things by reading about them or seeing them on telly long before you do them. You can't do anything as a natural act, you've always got preconceptions about it. To get all that shit out of your mind and just live your life without it getting in the way is hard. Living your life normally is hard. That's what I'm working towards. That's the theme of this forbidden record: I want to experience things without subtitles, without phrasing, without a soundtrack. I want to know what things feel like."

That's why it's very important for Jarvis to do all the other things he does outside Pulp. "I think of it as a car and caravan. Your life is a car and your art or whatever you produce is a caravan. Car tows caravan, that's fine. If you put the caravan in front of the car you're going nowhere." That's also why this summer, Pulp will be playing some unusual shows, to experience new things. For example, they've played a literary festival in Hay-on-Wye in addition to last weekend's appearance at Homelands - an unlikely setting perhaps for a group who admit they can't dance. But by bringing their own sound system and DJs to Homelands, they got into the spirit of the event. They mean no harm. They just hope the feeling is mutual.

"They had this phone vote on MTV saying, 'Should Pulp be playing Homelands?'" recalls Jarvis. "About 85 per cent said no. I found that a bit crap. Dance music hasn't been going that long and a lot of things can come under the definition of dance. It's not as entrenched in that sense of history or the stagnation of rock. The Stereophonics' view that there is real music and there isn't, that theirs is proper, hand-crafted, yes-sir-it's-matured-in-oak-vats-for-ten-years music... that's shit. Dance should allow you to get away with lots of different things. If you've got the risk that some people will throw their glow sticks at you, you get more satisfaction if you win them over. And I do think our sensibility is appropriate in that setting. I don't think people are so narrow-minded they'll only consider things that are 140bpm." He fiddles with his book of matches and lights a cigarette. As he does so, that last sentence forms an invisible nouse around his neck. He exhales. "Obviously, if you see me with black eyes in three weeks then you'll know it didn't quite work out."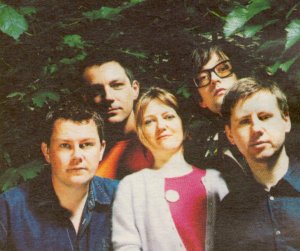 Jarvis doesn't think any of Pulp have changed much since they started as a peculiar indie group in Sheffield in the early-'80s. The rest of the group disagree. Nick says that Steve's changed the most physically ("he used to have this long, flowing Charles III hairdo - probably looked boss at the time"), but all agree that Jarvis has changed. "Did they?" asked Jarvis, surprised and worried. "In a good or bad way?" "When I was first in a group with Jarvis," recalls Candida, with whom Jarvis enjoys the closest connection in the group, "he could be really moody. Awful. He's calmed down a lot." "Jarvis is crackers," confirms Nick. "But maybe less crackers than he used to be." "When I first met Jarvis, Pulp was his life," says Steve. "But he's crossed a lot of dreams off his list since then. It's made him think about the rest of his life, made him more reflective and calmer."

"Yeah?" says Jarvis with relief. "I have made a concerted effort to calm down. For a long time the group was the only part of my life over which I had any control. When you're on the dole living a day-to-day existence and you've got this one thing where you can have people's attention for an hour, maybe that makes you want more from that thing than you can actually get. Hopefully, I'm more secure now - but not complacent!"

Now, at 38, he doesn't let things wind him up. For example, when people come up to him near his house in Hoxton, east London, and ask why he dresses like a tramp when he could wear Versace, he bears it with good grace. It's a reasonable price for not living with the other pop stars in posher parts of town. "I couldn't live with the middle classes," he says. "It's a stultifying, bloodless, slow-death existence." But even though he's a mature and balanced adult now, he still sparkles when talking about the magic of pop music. He thinks we might be on the verge of a new dawn musically and he's excited. It's the year 2001 and the only way forward, he says, is forward. "At the time, the millennium seemed like a damp squib. You wrote '00' and you were there. But now... you might write a song and think 'Too last century, man.' Sampling was really appropriate for the end of the last century, using all the best bits up before they were out of date. But we've got to push on now and define this century. You can't look back to the '60s anymore. It's not healthy."

And what's Pulp's role in this? Does the new album define a fresh sound for the group? "Well it has to," he says with conviction. "'... Hardcore' was a dark and sad record. If you went further down that track then you'd be dead. Don't worry, I've not become a born-again Christian. But the only logical place to turn to after the darkness is the light." And there, tantalisingly, we must leave the evangelical Jarvis. He won't say any more about the future. And who really cares about the past now? Before we leave, we make a farewell trip to the bar. While we're gone, Jarvis takes the tape recorder and seizes the chance to impart one last pearl. "On this trip," he whispers, "to the lake, on my perfect day, I'd also take Marmite sandwiches and a flask of tea." Only a fool digs for spiritual nourishment on an empty stomach.


The Secret Life of Pulp...
Candida: "I fancy Shaggy. I saw him on Later... and now he's got longer hair... I don't think he's the kind of man you should get too close to, but I like him. I can say that now I'm single can't I?"

Steve: "I can't dance. I've an abject fear of it, which is pretty appalling for someone involved in music. I'm the bass player, I'm meant to have rhythm. Shocking."

Nick: "I'm turning into me dad. I'm obsessed with weeding. Every morning when I let the dog out I check for them, and I'll get my spade out and dig for them. You're in trouble when you've got a pair of shoes by the back door. And an old coat. Ahh!"

Jarvis: "Me and my sister and mother are having a competition at the moment to see who can grow the tallest sunflower. We planted them on my sister's birthday. I know it sounds like something that you do when you're about 12. I'm also thinking of taking up badminton. I liked the idea of tennis because I could never do a real macho sport. I'd just get killed. But tennis, you run about, get a bit of exercise. But now my partner's disappeared... I was rubbish anyway. I was always missing the ball. But a shuttlecock seems to have a gentler trajectory, maybe I'll have more chance of hitting it."

Mark: "..."