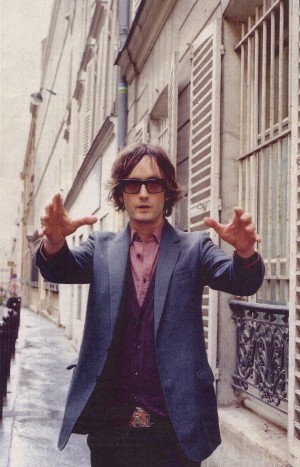 The Observer Interview
Interview: Lynn Barber, Photographer: Suki Dhanda
Taken from The Observer, 10 June 2007

Jarvis Cocker moved to Paris four years ago in search of anonymity and a new life for his French wife and baby son. Returning to Britain to curate the Meltdown Festival, he tells us about fame, fatherhood and his alter-ego, Darren.

Meltdown, the arts festival on the South Bank, starts next Saturday, curated by Jarvis Cocker, and you can see him in concert on the last night, after a week of events including Iggy and the Stooges, Motorhead, Devo, Cornershop, the Jesus and Mary Chain and zillions of acts I've never heard of. That is if you can get tickets - Iggy sold out the first day, rather to Jarvis's chagrin. Jarvis doesn't really do wild enthusiasm but he came as close to it as I've ever heard him when talking about Meltdown. He was asked to do it back in February and was very excited to be taken around the Royal Festival Hall in a hard hat while it was still being restored - he hopes to get a square of the original carpet as a memento.

His first move was to buy a whiteboard "because I was waking up a lot in the middle of the night thinking, 'Oh yes, we can have this,' and it was getting very hard to keep it all in me head so I got a whiteboard. Meltdown is one of those things you might fantasise about doing one day but when it actually happens, it's almost traumatic because you know you're only going to get the one chance, and you don't want to miss anything. Obviously it is a series of concerts but I'm hoping that you will get some sense of a festival, where people can just come and hang out. So we've got talks and a room showing short films, including some I made at college, and something that's supposed to be like Speakers' Corner, where people can express any ideas they're into - as long as they're not religious."

Some of the events are very Jarvisly esoteric: the Lost Ladies of Folk is a showcase for women musicians, mainly from the early Seventies, including a singer called Bonnie Dobson whom he tracked down and dragged out of retirement. Then there's a night of songs from Walt Disney films with many different performers - Jarvis is doing 'I Wanna Be Like You' from The Jungle Book - because he's been watching a lot of Disney films since he became a father. "The thing with Disney songs is they're very manipulative, very sentimental, but they do get you, you know - there's a kind of sadness to them and that kind of music doesn't really exist any more." Then he is having Motorhead, followed by a northern soul disco, which he hopes will mix the audiences up: "I think things are always more interesting when you get people from all different backgrounds. And I wanted to have northern soul because it's almost invisible. It's difficult to have subcultures now because everything is covered so much - as soon as five people sit round a table in a pub in Hoxton, somebody will write an article about it - but they have these northern soul weekends at holiday camps out of season where they play obscure records and put talcum powder on the floor so they can do fancy footwork." His one regret about the line-up is that he couldn't persuade Leonard Cohen to perform - he worships Leonard Cohen.

I was worried that living in Paris and being married to a French fashion stylist might have changed Jarvis - that he might have gone a bit chic and lost his Sheffield wit - but not a bit of it. He met me off the Eurostar at Gare du Nord and walked me round to his nearby flat, apologising that I would find it a bit messy. A bit? Every inch of hall, corridor, sitting room was covered with mounds of bags, suitcases and clothes rails like the back of an Oxfam shop. He explained these were clothes his wife, Camille, had borrowed for fashion shoots, awaiting collection. There were some people dimly discernible among the bags - a young woman whom Jarvis introduced as his wife's assistant, an unidentified man, and a boy of 11 watching television, who turned out to be Jarvis's stepson (his own son, Albert, four, was at school). Jarvis asked the boy if he'd had lunch and, when the answer was no, cooked him some fish fingers, though "we call them batons de poisson here", while inviting me to admire the pistachio-green fridge, which was the one good present he ever got from Island Records: "They usually give you some stupid framed picture of a tulip or something, so one year I said, 'If you want to give me a present, give me a fridge."'

While he was cooking, I kept trying to work out whether the flat would be nice if it weren't covered with jumble. It is certainly vast, and grand, with beautiful cornices and stained-glass windows and a fine baronial fireplace, but there are some worryingly awful lampshades and 'amusing' objects, such as a spinning-globe drinks cabinet. Actually it's the same problem as with Jarvis's clothes - you never quite know whether they're thrift-shop or some brilliant designer look. Today he is wearing an ensemble of a grey suit jacket over a purple cardigan, tan shirt, jeans and yachting shoes that I don't think is high fashion, but how would I know? Anyway, he always looks elegant because he is so thin and graceful.

Boy fed, we then proceed to a very jolly restaurant for lunch, where Jarvis apologises for not drinking and smoking and orders food in a French accent even worse than mine. He has lived in Paris now for four years, ever since he married Camille, but there is no danger of him becoming Francophone. He hardly knows anyone in Paris apart from his wife, and his son goes to a bilingual school. "You will probably have noticed, with your eagle vision, that the telly in our house is in English. I buy me Guardian from the little newsagents on the way to school and I probably read the papers more now than when I lived in England. And there's a couple of English bookshops, which is very good for me, because it would be difficult if I couldn't get books." It doesn't feel like exile, he says, because he can always hop on a train to London, where he still has a house, or fly up to Sheffield to see his mother.
Still, for someone as sensitive to language as Jarvis, it must be quite a loss to live outside England. His dry humour would never work in French. "The French haven't got a sense of humour anyway, so you can forget about that. That's my own excuse for not really picking French up. I know that even if I applied myself to it, I'd never really be able to have a funny conversation - there wouldn't be any beauty in it. I'm not saying the way I speak English has any beauty in it, but there's a lot of pleasure to be had in choosing the right word or turning a phrase. And I know that even if I tried it in French, I couldn't do it. The school Albert goes to has lots of American pupils and he comes back and says things like, 'I'm going to put that in the garbage,' and I say, 'No, no, no, the rubbish bin! Put it in the rubbish bin!' It's terrible, really, to get so het up about it."
Quite. So why is he in Paris? Basically because he married a Frenchwoman, Camille Bidault-Waddington, who had been living in England but wanted to move back when she found she was pregnant. But it also suited him at the time - it enabled him to escape fame. This is the terrible irony of Jarvis's life: having longed for fame ever since he was a child - "It's the classic way of getting over your social ineptitude: you think if you're a star, people will come and talk to you" - and having waited an incredibly long time for it, until Common People in 1995, he found when it arrived he didn't like it at all. He didn't like being recognised in the street or being pointed out at parties - he wanted to be the observer, not the observed - and he could only cope by getting drunk. Whereas Paris is fine: nobody recognises him at all. "If I went and stood in the indie section of the Virgin megastore," he muses, "maybe someone would come along and say, 'Ooh, look, it's Jarvis!' If I was really desperate one day and needed to reassure myself that people still knew who I was, I could do that. But that would be a bit sad, wouldn't it?"
Marrying Camille, moving to Paris, becoming a father - these are all huge changes in his life since I last interviewed him in 1998. He said then that he had no intention of having children - he was enjoying a belated adolescence. He also thought that he couldn't go on being a pop star once he reached 40 (he is now 43), so he was trying his hand at other things. He made some excellent television documentaries about outsider artists and British art schools and also, rather bizarrely, wrote songs for Nancy Sinatra because he thought it would be 'more dignified' to be a songwriter for other people.
When he moved to Paris, he thought he might give up music altogether. Sales of the last two Pulp albums, This is Hardcore and We Love Life, were disappointing and Island Records did not renew their contract, but also Jarvis did not enjoy making them. "They took a long time to do and I was conscious that it was me that was holding the process up, because I couldn't write the words or wasn't sure I liked the song, and I could sense that the others wanted to get on with it and just go and have a laugh or whatever, and I was holding them up. And so I thought at the end, maybe I should just stop because it's taking a long time, it's proving to be a tortuous process, it shouldn't really be like that. I should just knock it on the head. Why bother?"
So he stepped nimbly away from Pulp and fame and England, and threw himself into Paris, marriage and fatherhood. He had been softening on the idea of having children ever since his sister had them, but still he was alarmed when Camille got pregnant the minute they married, and even more alarmed when they found she was expecting a boy. "I suppose I was thinking if it was a girl it would be easier because I wouldn't have to be a role model, I wouldn't have to kick a football or go fishing or anything. And because of my father leaving [he disappeared to Australia when Jarvis was seven], I hadn't got an example to base my performance on. But then once I found out it was a boy, I kind of accepted it quite readily. That was the comforting thing about becoming a parent - I don't want to talk about parenting too much because it makes me want to be sick whenever I read it - but one of the good things is that all those fears you might have about how you're going to rear a child fade away. Once you've got one, it all becomes a lot more instinctive and that's a nice feeling if you are someone who tends to over-analyse everything. It's quite nice to realise that you do have instincts, that you don't have to write everything down on a little pad and plan it all out."
Did the pram in the hall mean any loss of creativity? "No, not at all. It was probably the other way round. If you've got limited time, it makes you use it more effectively - you're more focused. If you've got all the time in the world, you tend to sit around thinking, 'Oh, I'll just sharpen some pencils.' I think Cyril Connolly or whoever said that was talking out of his arse."
So with his new focus, he found himself writing songs again and playing them in the basement. "Then I did that thing where I dressed up in a skeleton costume and called myself Darren Spooner." Yes, why did he do that? "You'd have to ask a psychiatrist! I liked the idea of performing in secret so nobody would know it was me. I made up a name and a whole life story - I would only do telephone interviews and I had a little voice box that made my voice sound deeper. He was Darren Spooner from Doncaster and he was about 45 years old, an ex-club entertainer, whose kids were heavily into drugs - he was kind of an alcoholic as well." Perhaps a bit like Jarvis's father, a club musician who always claimed to be Joe Cocker's brother? "Dunno about that," says Jarvis curtly. He has forgiven his father but he still doesn't like talking about him.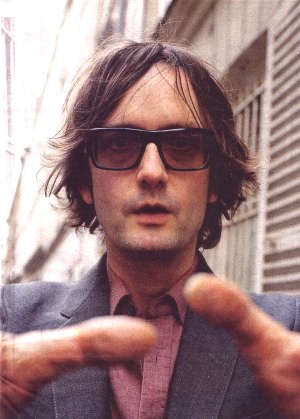 Anyway his experiment with being Darren Spooner ended when the Sun outed him. "But for about a month people didn't know it was me and that was good. I think the satisfaction was doing something that I didn't have to worry about, that was a bit off-the-cuff. I've thought about it since and if I was doing me amateur psychology I could say: I was glad to get married and have a kid and everything but I was kind of worried about thinking I had to be a nice person and a grown-up person, so in a way I invented a character who was the sort of nightmare scenario, who drinks and takes drugs, letting him do all the horrible stuff so that would leave me to be the nice person and get it all right."
Did it work? "Well, it can't work for a long time because you'd become schizophrenic, wouldn't you? And what I realised is that Darren and I have to live together in harmony. For a while Darren became a separate thing but we are now one again. I know it sounds daft but it's true. But you realise those things are part of you. I think it's only when you pretend they don't exist, you can have a problem. You need to accept that you'll always be, in some way, a bit of a nightmare - you're not suddenly going to become a fantastically mature and sensible person."
So, having eased himself cautiously back into music via Darren, he started writing his first solo album, Jarvis, which came out last autumn to brilliant reviews. And then he was asked to go on tour and perform it. It was the first time he'd sung his own songs on stage for five years, so he was nervous: "I'd already recorded the songs but if they didn't work with an audience I'd have been screwed. But luckily for me as soon as I was on the stage singing, it felt great - I didn't feel like a phoney - so I was very relieved." Now he is beginning to think about making a second solo album but he says he has to wait for some time to elapse: "You have to wait till you're in a different frame of mind, till circumstances change. You write a song about how you think at the time, and then gradually you drift away from that, and when it's far enough in the past, that's when you think, 'Now I have to write something new."'
So will he still be singing at 60? "I hope so, yes. Because what else am I going to do? I had that thing where I thought I was going to retire - when we first moved here, I thought, 'Right, that's it' - and then I realised that I still wanted to write songs. Having gone through that, I think, 'Well, once you've resigned yourself to the fact that you are the more mature pop performer and you're past the age you ever thought you would do it, you might as well do it as long as you can'. As long as I can still lift a microphone, then I'll do it, you know."