Three Things Which Have Inspired Me, by Jarvis Cocker
Taken from 'Interior World', a supplement to 'World of Interiors Magazine', January 2000.

Jarvis Cocker has been the singer and principal songwriter with Pulp for nearly 20 years. It was only in the Nineties, however, that the band tasted fame, enjoying their greatest commercial success with a run of Top Ten singles taken from the Mercury Prize-winning album 'Different Class'. A parallel interest in film-making (which he studied at St Martin's) led him to make the documentary series 'Journeys Into The Outside' for Channel Four, examining Outsider Art. Cocker is currently working on Pulp's (as yet untitled) seventh studio album, which includes material premiered in the British Pavilion at the 1999 Venice Biennale.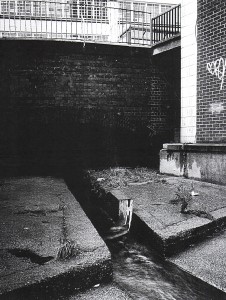 The Rivers Porter And Don
The River Porter is visible at the side of Sheffield's train station. It runs through a concrete channel for about 20 yards before disappearing into a tunnel. Sometime in the mid-Eighties myself and some friends decided to follow the river as far as possible. At first we attempted to stay out of the water as it appeared very polluted: large, oily globules the colour of ketchup covered the surface. This soon proved impossible and we waded through the knee-high water, hoping not to contract an industrial disease. Sometimes the river would run through a dirty brickwork tunnel for a quarter of a mile or so (which was quite scary, seeing as no-one had thought to bring a torch) and then it would emerge in another part of town - never where we expected. It seemed quite amazing to discover such an adventure in the middle of the city we had grown up in and which we all professed to be totally bored with.
I suppose this discovery must have given me a taste for river exploration, as next year I attempted to navigate Sheffield's largest river, the Don. This flows mostly above ground, though it has many weirs along its length which make it slightly treacherous. I had purchased an inflatable dinghy from a jumble sale, so this trip had an altogether more official air about it. I was living in an old warehouse in an area known as the Wicker and the river flowed directly past. One summer afternoon myself and a friend blew up the boat and set off on our adventure. And an adventure it was.
After a couple of close calls with weirs we began to relax and enjoy our journey. We were travelling downstream so we didn't have to do much rowing, and somehow drifting past familiar landmarks from a different angle seemed to fill us with excitement. At one point we were enveloped in steam from a neighbouring factory and I began to have a feeling that maybe we were involved in some kind of South Yorkshire re-creation of Apocalypse Now - it was like the river had decided where it wanted to take us.
The journey continued and the landscape began to get less familiar. We saw some gypsy kids using a bread-crate to kind of 'sledge' down a weir. Some parts of the river were almost stagnant, with large, evil-smelling bubbles rising to the surface. We had seen quite a few fishermen along the route, but as we approached Rotherham we came across a man attempting to shoot fish with an air rifle - whilst uttering the immortal words 'Stitch that you bastards!' Maybe this scared us slightly; anyway, soon after that we deflated the boat and got the bus home but not before marking our end point with a pile of stones and vowing to finish our journey at a later date. Of course, this never happened and the boat got punctured in a later incident - but that day has stuck in my mind as one of the happiest of my life, so l couldn't entirely rule out going back to continue it one day - even this long after the event.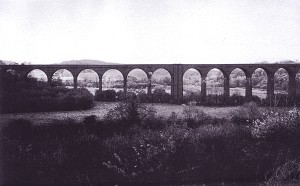 Conisbrough Viaduct
The town of Conisbrough, near Sheffield, is famous mainly for its ruined castle, which stands on a hill at the edge of town. It was whilst visiting the castle one day that I spotted another construction that seemed, to me at least, to be far more intriguing. In the distance was a large disused railway viaduct. I don't know what it was about it but I immediately decided that I had to go and investigate it.
An hour later I was climbing up a steep bank in order to reach the point from which the viaduct carried the railway tracks over the river below. The tracks had been taken up long ago and the place was now completely overgrown. The walls of the viaduct were covered in graffiti which, besides the usual 'Tina is a slag' type of stuff, included the entire lyrics to the Dire Straits song Private Investigations. Towards the middle the walls gave way to iron railings and from here you could look down at the sludgy brown surface of the river far below. Whilst I was doing this a man from the nearby quarry walked past and he told me that it had used to be a local custom to jump off the viaduct into the river when coming home from the pub on a Saturday night - but that this custom had stopped after one man jumped too near to the riverbank and sank into the mud and drowned before anyone could reach him.
The viaduct was a favourite place for me to take girls on dates for a while, until one day when myself and a friend were trapped under one of the supporting arches for quite a while by local kids trying to pelt us with stones from the railings above. I didn't go back for a while after that and when I did I discovered that either end of the viaduct had been blocked with black metal walls by the council - probably for safety reasons.
Later still, I discovered that the river that flows beneath the viaduct is in fact the River Don - star of our previous story.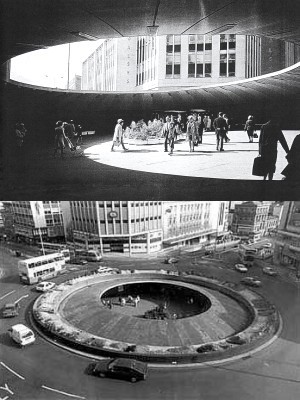 The Hole In The Road

The Hole in the Road, or Castle Square as it was officially known, was a kind of sunken pedestrian precinct in Sheffield city centre. One of my earliest memories is of being taken there as a young child to look at the fish tank that was set into one wall, as a reward for not causing too much trouble during a shopping expedition. When it was first built I guess it was seen as a symbol of Sheffield's determination to be a 'City of the Future', but it soon became the favourite hang-out of the local wino population. They would occupy the long curved benches that ran around the circumference of the building leaving little or no room for weary shoppers. In the early Eighties the council got sick of this and so sawed these benches down during the night, leaving minuscule three-seater jobs at each entrance. I still remember the scene the next day when all the drinkers turned up as usual only to find that their natural habitat had been destroyed during the night. They stood around scratching their heads bewilderedly for a while - and then moved into the Peace Gardens up the road.

The Hole in the Road also had a reputation for late-night violence which made it a scary place to walk home through in the early hours - and this was not helped at all by the fact that the building's construction gave rise to an effect similar to that of the Whispering Gallery in St Paul's Cathedral - meaning that it was extremely difficult to work out where any menacing noises were coming from.

Despite all this, the Hole in the Road was one of my favourite places in Sheffield and I would always show it to any out-of-town visitors. I was dismayed when it was knocked down and filled in, in the early Nineties. When I go back to Sheffield and see the mini-roundabout that now occupies its space I always find myself thinking about the fish in the fish tank and what happened to them - or whether they're still down there in the dark; wondering where all the people have gone.