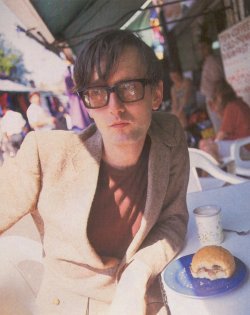 The Q Interview with Jarvis
Words: David Quantick, Photographer: Neil Cooper
Taken from Q Magazine 110, November 1995

With the Jacko-trouncing Top 2 success of Common People, Jarvis Cocker finally achieved his childhood ambition of becoming an overnight sensation. After 16 years. David Quantick takes Pulp's serpent-hipped singer through his voluminous back pages.

"I've been in the studio all the time. I mean, look at me, I'm nearly transparent! I feel bad, really - they're saying it's the best summer for over 200 years or something and I just haven't seen any of it." The speaker is sitting on a metal garden chair on a tiny patio in the sun. Despite the heat, he is wearing a suit that may well be made out of thick office carpet and huge chunky glasses with lenses that, if pointed directly at the sun, would burn his eyes out. The expression on his face is somewhere between that of a slightly pained Michael Caine and top French poet Baudelaire gripped by ennui and mild indigestion. This man is Jarvis Branson Cocker, lead singer of Pulp. He is 31; he has been the lead singer of Pulp since 1978; and since June of this year, this wiry Yorkshire oddball has been a bona fide pop star. The story of Jarvis Cocker is an intricate absurd thing, full of drama, intrigue, boredom and, finally, triumph. Before trawling through all this, he is resting during the recording of Pulp's new album, Different Class, and pondering the nature of success. Has it, Q wonders, changed his life? "Could do," he says, as emphatic as a tired lamprey. "I noticed it a bit when I went on holiday the other day. I had a weekend in Portland Bill - I didn't intend to go there but the car broke down - and I kept getting recognised. They just usually ask you, Are you you? In fact, I've even been thinking of printing up some cards that just say, 'Yes, I am' so I can get one out before they even say anything." Jarvis sighs. He is a man employed by the word "languid" as a consultant. "I mean, people are nice to me, so that's all right, but if you go on holiday you want a holiday from that. You want a holiday where you just kind of swim or row a boat or something. That's why I'm going to Iceland. Apparently if you get to the middle of it, there's hardly anybody around to say , Are you so-and-so? Puffins aren't going to say that, are they?" How true, Jarvis Cocker's fame - and that of Pulp, the incongruous-looking gang of Sheffield men and women he leads - came to a head with the release of one single, the extraordinary disco-meets-Jacques Brel epic Common People. The story of Cocker's real life meeting with a rich Greek art student who told him she wanted to live among scuzzbag proletarians to absorb their horrible lives, Common People had a huge emotional impact on British singles buyers, who sent it to Number 2. "It's quite strange when suddenly you feel locked into synch," drawls Cocker. "I always think it's like - I haven't got my watch on, so I can't do a mime - people say, 'Your watch has stopped', at least it's right twice a day. It's like that. Somehow there's a congruency or whatever the proper word is, and for two or three months you're in tune with the times. It's funny, because for a long time we were completely out of step with what was going on. Painfully so." Way back in the small change of Northern history, there are reasons for this. Jarvis Cocker was not like other boys: convinced he would be living on the moon when he grew up, he never learned to ride a bike. At school, he looked a little out of place because he was the only kid in Sheffield wearing lederhosen, presents from German relatives that his mother thought "looked cute". More seriously, Jarvis's father left home when he was seven. (A Walter Mittyish figure by all accounts, Cocker senior was an acquaintance of Joe Cocker and the two used to pretend to be brothers. To avoid paying Jarvis's mother maintenance, his father went to Australia, where he was last heard of on Sydney radio, still pretending to be Joe Cocker's brother. Jarvis hasn't seen him since). Life chez Jarvis became even odder when the 16-year-old lederhosen prince discovered punk rock. 1978 was a year of rehearsals with friends in his mum's front room. A former art student, she did not discourage Jarvis from his discordant plans, even making a band logo from sticky tape for the group's £10 drum kit. The logo, scarily, read, "Arabicus Pulp". "I wanted Pulp," claims Jarvis now, "but I thought maybe it wasn't enough on it's own and we were looking through the Financial Times in an economics lesson at school. It was a commodity, maybe something to do with coffee. 'cos you have arabica beans... We knew it was rubbish so we just got rid of Arabicus after a year. We played a couple of concerts at school under that name but it was just too much of a mouthful." It also sounds more like a progressive rock group that a youthful synth-led spooky Sheffield band. "It is a bit Ozric Tentacles, isn't it? I think we realised that. In the end, Pulp has ended up being quite appropriate, in terms of pulp magazines and all that. One dictionary said 'cheap mass-produced stuff that is considered to be of no worth in the time it was done'. But often stuff like that comes to sum up the periods it was made in. It's like if you want a picture of 1980, you don't go and listen to a Cabaret Voltaire record, you listen to Sonia or something." Jarvis pauses. He has made an error. "Well, she weren't around then, but you know what I mean." Schooldays Pulp covered songs (Motorhead's version of Holland-Dozier-Holland's Leavin' Here, House Of The Rising Sun, the first half of Wild Thing), made Super 8 films (The Three Spartans and Spaghetti Western Meets Star Trek, in which 17-year-old Jarvis played Clint Eastwood), and made a demo with one Ken Patten, a 55-year-old Sheffield man who claimed to have invented the Vocoder. This demo was given to john Peel at one of the indie-ruler's roadshows.
"He said he'd listen to it on the way home," recalls Jarvis. "Then about a week later, his producer phoned up my mum's house and offered us a session, so we became stars of the school for a bit. We got on the front page of the Sheffield Star. They wanted to take pictures of us in school uniform and pictures of us in stage gear and we refused to do 'em. We were awkward even then." Pulp went to the BBC studios in London's Maida Vale on a Sunday to record the session - and, despite producer Dale Griffin's apparent disgust at seeing a band whose drum kit was made from a burglar alarm and a pocket calculator, Jarvis reckoned that his ascent was under way: "I thought, well, that's it, stardom's here, this is my career. But unfortunately it didn't work like that." Jarvis turned 19, lost his viginity, auditioned as a presenter for The Tube, and the band waited for chart action to happen. It didn't, so in 1982 everyone except Jarvis went to university. This abrupt end to the first Pulp caused the initial stirrings of Cocker's hatred of an entire decade. "I resent the '80s," he spits. "In all walks of life it was like, You've had your fun, let's get back to Victorian values. I'd been born in the '60s and you'd see stuff on telly about how great it was, and by the time it comes to your formative years where you're thinking, come on then, let's have a bit of that, it's all going in the opposite direction. That's why I've often said I want a refund on my adolescence." For all his despondency, in 1983, Jarvis got a new Pulp together - most famous member Simon Hinkler, later of The Mission - and recorded their first album, It. The title is a hopeless pun on the word "pulpit" and the record was doomed from the start. By Sir Cliff. "We recorded it in this quite dangerously bad studio, and the main thing I remember about it was the bloke had this one mike that he was totally proud of," says Jarvis, almost amused. "He used to go, That's Cliff Richard's mike, that. I said, What are you on about? And he said, Cliff Richard's done loads of vocals on that mike. Fucking great. And he insisted on using it on everything. Whenever you were recording a bit of guitar or something, he'd get Cliff Richard's microphone out. So, basically the whole album was done on Cliff Richard's mike." Jarvis finds it - recently released on CD and mastered from a vinyl LP, to it's maker's disbelief - "pretty naïve and embarrassing to listen to. But so what? I'd just left school."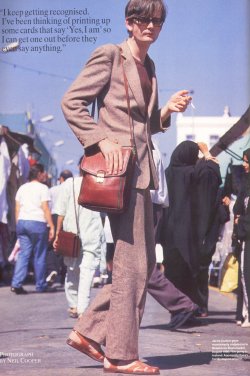 As per tradition, this Pulp fell apart again, partly out of failure and partly out of resentment of The Smiths ("Their first album came out the same week as ours. They got attention and we didn't"), and in 1984 Jarvis decided to go to Liverpool University to study English. Instead he met Russell Senior - a business studies graduate, part-time antiques dealer and his long time Pulp member - and re-formed the group. This Pulp performed a surrealist play, recited poetry and got beaten up by rugby players a lot. They recorded a couple of radically better singles, Little Girl (With Blue Eyes) and Dogs Are Everywhere, and got offered the support slot on a Blue Aeroplanes tour. Things were improving but the career curve soon plunged. At this point - in what he now calls "time-honoured shoot-ourselves-in-the-foot fashion" - Jarvis, trying to impress a girl, fell 30 feet from a window; injuring his pelvis, wrist and foot so badly he was confined to a wheelchair for two months. When he recovered, he moved into an old steel factory (it was rent-free) and things became yet weirder. "It had been converted into rehearsal rooms, and there was a model railway enthusiast upstairs, along with two table tennis clubs. There was a feud going on between them - they used to shit in front of each other's doors - and the place became a magnet for all the misfits and drop outs of Sheffield, which was all right but I started thinking I was getting marginalised." Living in the Steel City nuthouse, going through his first proper relationship, which he now wanly says "weren't so good", Jarvis recorded an album whose somewhat ungainly title perhaps hinted at his frame of mind. Pulp's second album, released in 1986, is jauntily named Freaks (Ten Songs About Power, Claustrophobia, Suffocation And Holding Hands). "I wouldn't advise anyone to listen to it," he says sternly. "For a start, it's very badly recorded. And it's generally very down - me thinking we were turning into freaks, living on the margins of society, which I've never wanted to do. I've always wanted to fit in, really." Pulp life hit rock bottom. Things came to a head when the bass player - a confirmed fan of LSD - joined a charismatic Christianity cult in Sheffield ("He's not into it now," says a relieved Jarvis. "He was the streaker who went on with Elastica at Glastonbury this year") and Jarvis lost interest in being the Andy Warhol of Sheffield. Unable to fit in, he got out. In 1988, Jarvis went to London to study film making at St Martin's College. Here, three very important things happened to him: he was offered the chance to record another Pulp LP with the line-up that survives to this day; he met the student who inspired Common People; and he discovered the trend which transformed British pop music, Acid house. "When I came down to London, I was really amazed," says Jarvis, sounding amazed. "I was 25, I got into college and I got into Acid house around 1989. I thought I was far too old to get into youth cults - but I just got swept away by it." Suddenly, Pulp's acoustically bitter Leonard Cohen and Scott Walker tunes had a new vigour. The album they recorded in 1989, Separations, even featured "an attempt at a house song", called This House Is Condemned. Not that Separations was released in 1989. This is Pulp after all. "I thought that if we didn't do the album, we'd probably split up, so it was done in the summer holidays of my first year at art college," says Jarvis. "And then - lo and behold - it was three years before it came out. We recorded it at the beginning of the course and it actually came out the summer I left. So I got some education in between." With a 2:1 in the celluloid arts, Jarvis could have gone on to media things but - just as he was throwing his mortar board in the air and waving his gown flaps about - the single My Legendary Girlfriend was released from Separations and... "And lo and behold!" says Jarvis again, "it got Single Of The Week in NME. That was the beginning of the new era, really. We got invited to play concerts again and the scene was totally different. And people actually liked us..." He leans forward like a conspirator. "Significantly, it was the beginning of the '90s" he says, significantly, "and things started to go on an upward slope. Even though it may have been a very small gradient and you wouldn't have bothered putting a warning sign on it..."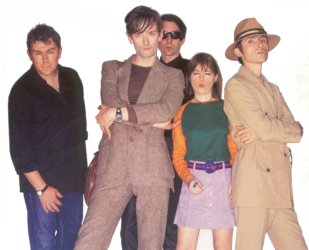 A decade since the band had first foundered, Pulp suddenly found themselves trendy. Leaving their old and hated label, Fire, they managed to bring out their first great singles, Babies (an epic tune about Jarvis hiding in wardrobes to watch his girlfriend's sister shagging), and its follow up, Razzmatazz. Island records soon signed them and in 1994 the band released the album His 'n' Hers with its rumpo-centric hit single, Do You Remember The First Time? and a Channel 4 documentary. "And that," declares Jarvis happily, "was the beginning of modern-day Pulp." And then there was Common People, a glove that fits over the ladylike hand of current British pop music, a scene where Pulp (Jarvis, Russell Senior, bassist Steve Mackey, drummer Nick Banks, keyboard player Candida Doyle and new guitarist Mark Webber) are no longer badly dressed misfits, but suitably eccentric peers of Blur, Oasis and Elastica. A record that kept Michael Jackson's "comeback" single Scream at number 3, moreover. "It was quite weird," drawls Jarvis, unsympathetically. "Jacko crying in Neverland, too gutted to have a go on his rollercoaster." Jarvis Cocker's fairground ride, by contrast, is a happy place. He is a star and he is accepted. "It's what I always wanted, right back to the time when I felt I was marginalised," he says with some relief. "For a start, it makes you feel that you haven't wasted the last 15 years of your life, that you were right to have carried on. It makes you feel you weren't mentally ill at that time." The great vindication of Cocker's sanity was Pulp's appearance at this summer's Glastonbury Festival, where the band headlined as replacements for the injured Stone Roses. There was a genuine sense of occasion, of Pulp taking their rightful star-shaped slot. The fact that they acknowledged the event by debuting their epic next single, Sorted For E's & Wizz, only added to the fun. But now there's an album to finish, press to do, and all the activity of a real pop life. Jarvis Cocker is, in pop terms, one of us. Not that he believes it entirely yet. "We're going on tour next: England, then Europe, Japan and stuff," he muses, "but a lot of that's to do with whether people like the record. If people hate it, we won't be going to very many places." Oh come now, scoffs Q. A band with a top 5 hit around the world is unlikely to be the sudden victim of a wave of mass hatred, is it? "I don't know," says Jarvis Cocker, a man who truly has been down so many times it feels like up. "You can't take anything for granted, can you?"