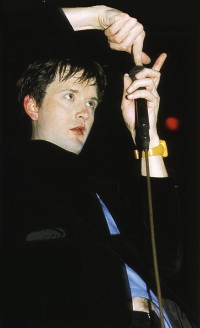 Brighton Centre, 3 December 1998
Words: Nick Duerden
Taken from Q Magazine 149, February 1999



Embarking on their first proper tour in two years with, they readily admit, a fair amount of trepidation ("Can we still cut it?" is the current mantra), logic suggests that, for Pulp, instantaneous crowd-pleasing is the only way to go. But, with well-honed perversity, they instead plump for The Fear ("the sound of loneliness turned up to ten"), which conducts itself at funereal pace for well over five minutes. Oh, great. It's like being stalked by Dracula and the noise created is a fair estimation of what Joy Division would sound like today had they not become New Order.

Inappropriateness aside, however, it's an intriguing introduction, not least at the point where Jarvis Cocker, Dolly The Sheep-style, appears to clone himself, and become two; one pirouetting towards the left of the stage, the other to the right. And if the clone - a young chap who first did Cocker on Stars In Their Eyes and now has a nightly guest slot - seems on tremendous form, then the original looks even better.

It's all something of a relief, given that he spent much of last year wallowing in a pit of weariness. This Is Hardcore, an album received with wrinkling of noses before hindsight suggested it was their most complete work, has proved a commercial turkey, selling fewer copies than 1994's His 'n' Hers and the following year's Different Class. Where those records were all highs and peaks, tip-toeing to kiss the sky, This Is Hardcore represented an all-enveloping low, a world removed of colour. "This is the sound of someone losing the plot," sang Jarvis Cocker. Last year, he did.

"Funny really, because I'd spent years wanting to be popular," he says, juggling wine glass and cigarette, fluttering painted blue eyelids. "Then when it finally happened, I went all weird."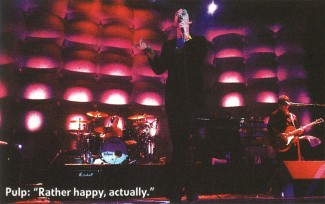 The sleaze quotient suggested he had become obsessed with porn and was now a heavy drug user. He smiles ruefully. "I don't want to make too much of a big deal about it," he shrugs, "but I used writing those songs as my way out of that state. It helped get it out of the system, if you like. Trouble is, although the album's history now, people take it as the present. They still think I'm a miserable bastard."
He screws up his face in concentration. "I'm rather happy, actually." It shows. Tonight, Cocker is as much a skinnier, longer Eddie Izzard as he is pop singer. He knows it, too. At one point he even berates drummer Nick Banks for launching into another song when he hadn't finished chatting with the audience on the topic of the benefits of a dysfunctional upbringing.
"I must say this tour's been hugely gratifying," he trills later, still reeling from what quite clearly was abject adoration throughout the show. "There's always a little insecurity, the thought that perhaps we can't do it any more. But of course we can. These shows have reminded me of that."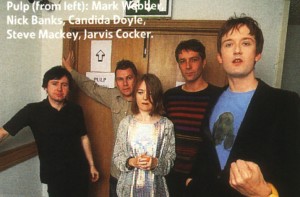 Throughout the performance, the rest of Pulp remain practically static behind their instruments. This is a good thing, for it leaves ample room for Cocker to contort his matchstick body into a series of bizarre poses, like Spiderman having a fit, or a streamer being thrown around the stage by a 14-year-old Russian gymnast intent on bagging Olympic gold. It's a strangely beautiful sight, almost unreal.
Although miserable in tone, the recent material - a melancholy Help The Aged, a neurotic Seductive Barry reveals a certain torpid grace live, but Pulp are still most wondrous when jubilant. Sorted For E's & Wizz, Disco 2000 and Do You Remember The First Time? possess an almost religious fervour, uniting everyone in a fashion that, were it not for James, would be unique. And Common People is - always will be, etc - pure magic, like having a shower in your own goosebumps.
Later, at the post-gig drinks, there's an amusing little incident. Without warning, Pulp's cramped dressing room is invaded by people dressed in lurid fire-fighting wear, all looking anxious. Initially, the theory is that it's some kind of arcane stunt, a private joke for the gathered friends. But it's genuine. Someone suspected a blaze and dialled 999. The people in fancy dress are firemen.