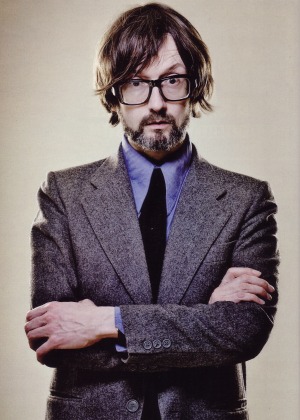 Jarvis Cocker The Outsider
Words: Michael Odell, Photographer: Shamil Tanna
Taken from Q Magazine, June 2009



He's moved to Paris and grown a beard, but the ex-Pulp man is still fascinated by sex, violence and crosswords. Nurse! The baguettes!

The Hôtel Amour on Rue de Navarin in northern Paris is exactly the place a film director might keep in mind for scenes requiring French boho types guffawing, gesticulating and eating ham. It all looks exquisitely Parisian. That is until Jarvis Cocker, for six years now a resident of this neighbourhood, walks in. "Bit pricey in 'ere" he says, examining Q's £5 coffee, as a table of gummy pensioners look up from their croques-monsieur.

Today, the former Pulp singer is almost unrecognisable as the gangling polyester-clad chronicler of Britain who wrote Common People and became a national hero for climbing onstage during Michael Jackson's self-aggrandising performance at the 1996 Brit Awards. With his tortoiseshell specs, lank curtains of hair, full beard and brown shirt/jumper/corduroy ensemble, he looks like a geography teacher who has travelled here in a time machine from 1974 in search of someone who hasn't handed in their homework.

It turns out that the dour look is partly fatigue. He has just got off a plane from Chicago where he was mixing his new solo album, Further Complications, with maverick punk "anti-producer" Steve Albini. If there was a Brit Award for Contrary Sod, Cocker would win. He struggled for 15 years with Pulp before winning the nation's hearts, only to turn his back on fame, eventually splitting the band and moving to the continent to start again. Further Complications distances himself even farther from his past; angry, punk and bereft of frills, it's a world away from his former band.

He asks for a coffee, in French that is grammatically correct yet which reeks of nasal Yorkshire dourness. "I could live here for 30 years and I'd still have me accent." He says. "I'll never get a beret, either."

Ordering in French. That was really quite impressive...

Thank you. I'm not fluent and after six years I should be. People go on language courses and they can speak a language after a year. I haven't applied myself. 'Could do better', and all that.

How French are you? What do you have for breakfast, for example? Cake dipped in a howl of chocolate?

No. I'll drop my son, Albert, at school and then I'll go to the bakery on the corner. They won Baguette Of The Year last year so it's quality stuff. I might have tartine, which is basically bread and butter, but I'll have Marmite on it. Not very French, that. And I'll sit there and do the Times crossword or the Polygon puzzle. I bloody hate Rupert Murdoch so I've tried changing over to The Independent but its puzzle page isn't as good as The Times. I like to think of myself as a man with carefully considered considered political beliefs, but deprive me of a decent puzzle and my resolve falters.

What do you miss about England?

Well, I'm a commuter, really. I go there a lot, so it's a bit dishonest to suggest that I've embraced Paris and consider it home. I don't. I like it here and people are nicer than you expect. But I was in Birmingham city centre on a Saturday night recently and it was like the Wild West, this sense of a mob throwing off the shackles in one insane bid for... nirvana or something. You don't get that round here on a Friday or Saturday night and I sort of miss it. That sense that it all might kick off. Around here it's sort of dead on the weekends. So there you go: Marmite and mob violence. That's what I miss.

And what have the French got right?

Oh, that's easy. Classical music piped direct into underground car parks is a definite gift to the world. Why didn't someone come up with that before? You're hassled because finding a space and parking is always a pain. And then you get out [of your car] and there's a symphony playing. I like that a lot. But in stark contrast is actual French pop music, which is utter shit. I find myself sitting in my Parisian home tuning into Sarah Kennedy on Radio 2, which seems like cheating slightly. But I do draw the line at Terry Wogan, though. He gets on my fucking nerves.

Is your son aware his dad is famous?

He knows what I do for a living. I don't make him sit through Pulp DVDs and test him afterwards, if that's what you mean. He's six and he came to see me [play live] in Japan. But then kids of six are often onstage in nativity plays. That's possibly what he thinks. My dad's in a big school play. In Japan.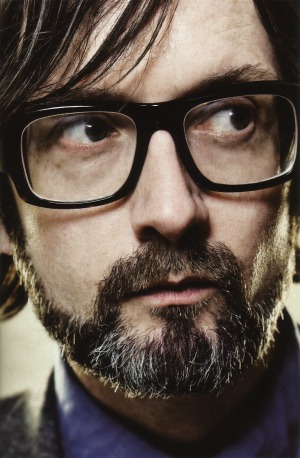 Be honest: Did you come to Paris to live out the fantasy of the anguished artist drinking absinthe?
No. I'm well aware that people still do come to Paris for that. You can read Hemingway's A Moveable Feast [the American writer's account of living in the city in the '20s] and come to Paris, sit in a cafe and drink coffee, and then try and write your novel but it doesn't work. You cannot back your subconscious, or wherever all the creative stuff happens, into a corner. I find you have to trick it. I wrote Don't Let Him Waste Your Time for Nancy Sinatra while running a bath. It's only Americans who come to Paris and think they can locate their inner artist.
Your new album contains a lot of songs about thwarted lust: Angela, I Told You Twice (Leftovers), Fuckingsong. They're about men consumed with lust for an unattainable woman.
It's something I struggle with. I think a lot of men do. It doesn't go away. There is a museum of palaeontology at the Jardin des Plantes. There is something very weird about standing there looking at these artefacts: ancient bones, the history from which we are all descended. And then a pretty girl walks past and it's like a call from the wild. Someone did say that when your libido finally calms down it's like being unchained from a gorilla.
Does it cause problems in your relationships, this honesty in songs?
It definitely used to. I used to go out with this girl in the early days of Pulp and she was quite feisty and she didn't mind giving me a slap if she was unhappy. She used to have a go at me and say, 'The only time I really know what you're thinking is when you're singing onstage.'
And now?
I think my wife would like me to be a bit more communicative in the relationship rather than channelling it all into songs, yes. I think she gets a raw deal in many ways. The Jarvis Cocker on records is a persona that would probably be nicer to have a relationship with than the real me. The real me is forgetful, occasionally lazy and a bit uncommunicative. And it's hard to have a row with someone if you think that what you say might find its way onto a new single.
Did you enjoy Britpop?
It's an unanswerable question really. I was drunk for a lot of it. But apart from that I'd like to think I tried to retain a sense of who I am. I'd been in Pulp for 15 years already, don't forget. Of course you want recognition. But also you don't want to turn into a cunt. I remember once going round to Damien Hirst's new flat in Covent Garden. There was a celebration because he'd just bought it. When I left he was looking out of the window and I did a little tap dance in the middle of the street by way of thanks. All these photographers leapt out from nowhere and started snapping. That taught me that fame means you can't be a cunt any more. Everyone wants to be able to act like a total cunt once in a while in the privacy of their own lives. I feel sorry for Pete Doherty and Amy Winehouse. Being a cunt is officially banned now by order of the paparazzi. An important privilege has gone.
This year is shaping up as the Summer of Britpop, Pt 2. Blur or Oasis?
Oh, I'm not being drawn into all that shit. I will go and see Blur at Hyde Park, I think. I'm genuinely interested to see what they sound like. As for Oasis, there's less mystery because they've never gone away. But Liam Gallagher remains a lesson in the power of charisma. He'll stand there at Wembley Stadium with his hands behind his back wearing a cagoule and people will watch. When I go onstage I feel I have to work 10 times as hard. I'll squawk and kick out my legs in a "Did you see what I just did there?" way. He's a natural. I don't think I am.
Surely Pulp are getting megabucks offers to re-form?
Well, yes. We live in an age where repetition and nostalgia are lifestyle choices. I'm prone to it, too. I go on YouTube and find things I haven't seen since I was a kid. That used to be a function of memory: you held onto these things for yourself. Now you never have to say goodbye. But I'm a contrary sod so if someone wants me to re-form a band I tend not to.
People take you quite seriously. There's even a quote from you in 20-foot high letters on the side of a building in Sheffield.
God, yes, it's this massive student accommodation block. That is sort of embarrassing but in a totally gratifying way, too. I have a love/hate relationship with student accommodation. Everywhere in Sheffield seems to be turned into student accommodation. They asked me if I wanted to write something to go on the side and I proposed something so terrible I thought, 'Well, at least I've tried and now they can turn it down. Nobody's feelings are hurt.' It says, 'Don't they teach you no brains at that school?'. It's something a milkman said to me when I sneaked a lift on his milk float once. I didn't think they'd use it but they did.
You've edited Radio 4's Today programme and been the subject of the South Bank Show. But William Shatner covered Common People and you won Stars In Their Eyes as Rolf Harris in 2002 Which means the most?
I am from a generation that took pop music very seriously. I grew up thinking that who got into the Top 40 was a matter of life or death importance. I love the idea that pop music is ephemeral but also life-changing and can be the stuff of genius. I don't think people feel that way about it now. Editing the Today programme was a great honour, but being Rolf Harris was a tremendous coup, too.
On the title track of your new album, you are an artist who has it too easy. You "need an addiction or an affliction"...
I do think there are artists out there who think they need to cultivate some pain in order to write songs. Well, the truth is we have got it easy. We weren't born in war-time. I know that people losing their jobs and their houses is tragic, but in another way I think this recession will be a good thing. People will stop shopping and consuming. I can't stand the way you go on MySpace and people's profiles are all about what they like and don't like. They are such dutiful little consumers and they willingly reduce themselves to shopping lists. I don't think saying you like banana smoothies is really establishing a deep enough connection with other human beings.
What's changed?
Well, look at this [gets out an iPhone]. This is a phone you can write music on. You could write an album on an iPhone I'm sure very soon someone will. It begs the question: why stick with bands? And why have pop stars?
And what's the answer?
I don't know. The idea that pop stars are these otherworldly creative types to be worshipped from afar, that's gone. But as for music, I still have a total belief in it. I still believe that the pop song can contain a powerful universal truth, if that doesn't sound too much like I've been sitting in too many cafés drinking strong coffee. The thing that no one else has said, in a pop song. That's the gold I'm still panning for.