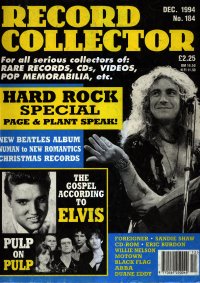 Record Collector Interview
Words: John Reed
Taken from Record Collector #184, December 1994



In 1994, Jarvis Branson Cocker became a pop star. Jarvis is the singer, lyricist and sole original member of Pulp, whose last album, "His 'n' Hers", was nominated for the Mercury Music Prize. This year, he's appeared on 'Pop Quiz' and 'Top of the Pops', and Pulp's last two singles have made the Top 40. For Jarvis Cocker and Pulp, 1994 was a very good year.

The fact that these achievements have taken Pulp well over a decade makes this taste of success even sweeter. Throughout the 1980's, the Sheffield band issued a steady stream of releases which were largely ignored. A seven-year relationship with Fire Records ended in animosity and disillusionment. The experience nearly split the band, and it wasn't until Island Records stepped in last year that Pulp were given their belated bite of the pop cherry, their 70's glam pop image helped by a post-grunge revival of interest in British pop that also boosted Blur and Suede. By chance, I spotted Jarvis Cocker at the Pop Culture Memorabilia Fair in Wembley in October. He was buying a copy of "Mr Spock Presents Music From Outer Space". Would he be willing to talk his way through the Pulp archive, I asked? No problem.

We next met in the more genteel surroundings of the Orangery in Kensington Gardens on a chilly, sunny afternoon. In the Palatial Tearooms, interrupted only by several rounds of tea and scones and my occasional questions, Jarvis unveiled Pulp's life story. An Island promo book for "His 'n' Hers" proclaims that "Pulp's songs present a very English slice of life, garnished with plenty of bathos, wit and humour" and after spending two hours in Jarvis' company, it's easy to see why. Unfortunately, the batteries to my tape recorder ran out, and so I have Pulp fan club organiser/ historian/ occasional member Mark Webber to thank for Jarvis' more recent recollections. He spun such an amusing and enlightening story that it seemed a shame to pick out merely a few quotes to be interspersed in a feature. Instead, here's the Pulp story, complete and unabridged (well, with a little editing), as told by Jarvis Cocker.

The Roots of Pulp

Pulp formed at school in Sheffield. I'd always wanted to be in a group - I used to walk around school imagining I was in one. Around 1978, we started practising in my mum's living room. Eventually it settled down to a core of people who'd come round on Friday night. We got a drum-kit from my mother's boyfriends Dad, from an old dance band, and my Mum put the name on front in Sticky Tape. It cost £10, which I suppose was quite cheap. We started off as Arabicus Pulp. Punk rock gave us the idea that anybody could do it, 'cos none of us had any ability.

A Pulp Film

The first thing we presented to the public was a Super 8, in 1979/80 in our fifth year, filed by Glen Marshall, another kid at school who decided to be our manager. It was a compilation: there was one called 'The Three Spartans', which was myself and the guitarist acting out a low-budget version of 'The 300 Spartans'! Another one was 'Spaghetti Western Meets Star Trek', 'Star-Trek' beamed down onto a planet where everybody was in a spaghetti western - I was Clint Eastwood in that. The film was silent so we did a soundtrack on cassette. When we showed it at school, it was the only time we made money out of the group, we charged people 10p to watch it at lunchtime. We made about ten quid.

Pulp's Premier Public Performance

The very first line-up was myself, Peter Dalton (guitar), the drummer Mark Swift and the bass player David Lockwood, known as 'Fungus' - but he was thrown out because he played faster than everybody else in an effort to get to the end and go and lie down. Then Philip Thompson became the bass player for our first concert at Rotherham Arts Centre, the only time we played with Mark Swift. The Sheffield label, Aardvark, released a compilation, Bouquet Of Steel, featuring local bands. We took over a tape which was pretty dodgy. They wouldn't have us on the album, but took pity and put us in the brochure - it says something like a cross between Abba and The Fall. They got us the concert at Rotherham Arts Centre. We turned up in a mobile grocer's van borrowed from a bloke who lived across the yard.

From Rotherham to Sheffield

Our first Sheffield gig was a "Bouquet of Steel" festival in August 1980, at the Leadmill. We were second-from-bottom of the bill - I turned up and everyone's saying "Where's your gear?" We thought you just plugged in. We tried a version of "Stepping Stone". By this time, we'd got a new drummer called Jimmy Sellers, but he was into drinking. When we got to the middle break, he just stopped, so it only lasted about 30 seconds. The bass player encountered feedback. It was the first time we knew it existed because we'd been playing through the record player at home, and could never play that loud because the neighbours would complain. He walked away from the amp hoping it would stop - he ran out of stage and fell into the audience, which caused a lot of hilarity.

A Local Novelty

I was into Devo, Echo & the Bunnymen and Teardrop Explodes, but their songs were too complicated - but "Stepping Stone" was alright. We could play "Leaving Here", which we'd heard on a Motorhead EP, and "Wild Thing" - actually we could only do the first bit - and "House Of The Rising Sun". In Sheffield at the time, there was Artery, I'm So Hollow, Clock DVA, Caberet Voltaire, Human League. I was interested in synths - we'd bought a Moog Prodigy, and had a Casio Tone. I liked groups with keyboards, like The Doors. Somebody said we sounded like the Velvet Underground. That made me buy a Velvet's album - they were my favourites.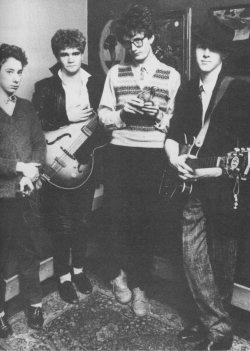 Some Demos and a 50p Vocoder
The line-up settled down. We got Wayne Furniss in as a drummer, and Jamie Pinchbeck on bass. The Naughtiest Girl Was A Monitor recommended that we did a demo with this bloke Ken Patten. He was about 55 and had a studio set up in his house - you recorded in his bedroom and he had closed circuit television to see you weren't messing around. And because his wife didn't like the noise, you had to use this Symonds kit - not a real kit, just those plastic pads. He claimed to have invented the Vocoder some time in 1950. He said, "you've heard 'Mr. Blue Sky'? How much do you think they cost?" So I said, "I dunno, about £2000." "Well, I've made one - fifty pence." He claimed to have got throat mikes used in World War II bomber planes, that worked on vibration. You could plug it into a Synth and then, if you opened your mouth you'd get the Vocader effect. The 50p was for a toilet roll leading to a mike because it was very quiet. Anyway, we did four tracks for our first demo tape.
Pulp on Peel
John Peel was doing a road show in Sheffield and I screwed up the courage to give him the demo. A couple of weeks later, I got a call from his producer saying they wanted us to do a session. That was very exciting. We had to borrow proper equipment. We did it with Dale Griffin, who was ex-drummer with Mott The Hoople. We'd borrowed this bass amp with a graphic equaliser - we didn't know what one was. Someone in Wayne's class had made a syndrum out of a calculator case and a burglar alarm pressure pad. So we're sat in this Maida Vale studio with this calculator with this rubber mat - it made a noise! I hope the session doesn't ever come out. I'd find it intensely embarrassing. I thought we were heading for stardom then. We got features in the local paper. I was the oldest and still 17, - the others were 16 and the drummer was 15. We had an article, the first we ever had, in 'Melody Maker'.
"What Do You Say"
After the Peel Session, Nigel Burnham of Statik asked for a track for a compilation, "Your Secret's Safe With Us". The album was almost ready, so he used a demo, "What Do You Say", that we'd done with Ken Patten. That was our first release - the only track on the demo that we didn't do for Peel. In July 1982, the group fell apart - Peter and Jamie wanted to go to University. I had a place at Liverpool to do English Literature but got a year out. Peter wanted to, but his dad was a headmaster - he asked his dad, who picked up his dinner and threw it at him!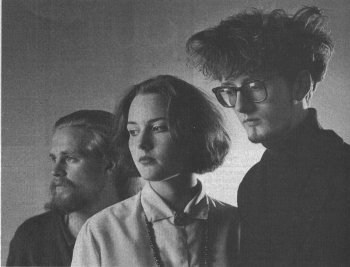 Pulp "It"

We were managed by Artery's manager, Tony Perrin. He got me and their keyboard player Simon Hinkler together - prior to his Mission Days. We wrote enough for a mini-album, "It", and recorded it in Sheffield in this broken-down studio which just had one microphone. Red Rhino in York agreed to put "It" out in April 1983. The LP was inspired by Leonard Cohen, with acoustic instruments and quiet female backing vocals.

There were loads of people on it: me and Simon, Pete Boam (bass) and Simon's younger brother David (keyboards and trombone). Wayne played guitar on one song, and Beefy Garry O, alias Artery's Gary Wilson, drummed - he was massive, like a big bear. Mister Barry Thompson was a friend's father, who'd played with the Syd Lawrence Orchestra, and played clarinet and flute. My sister Saskia and Gill Taylor (a girl who I desperately fancied at school) did backing vocals. Jon Short, who was at our school, plays cello.

When Cherry Red brought "It" out on CD, I was surprised: it's quite sophisticated. It embarrasses me - it's naïve. Like somebody on a diving board, about to jump. In fact, there's a song that we recorded, but never mixed, "Sink Or Swim", about standing on the threshold of life. They're all love songs, but from the perspective of not knowing about it. It was called "It" because 'Pulp' and 'It' made 'pulpit' - the idea of preaching to people. The album was well-received, but didn't set the world on fire. We were disappointed because Tracy Thorn and the Marine Girls were doing similar acoustic music. They got a career and we didn't.

"My Lighthouse"

"My Lighthouse", the best song on "It", came out as a single. It came from watching that film 'Deva' - there's a bloke living in a lighthouse, which looked cool. On the single, the drums and backing vocals were slightly louder because the idea on the album was to have the drums as quite as possible. We were definitely anti-rock at that point.

"Everybody's Problem"

Red Rhino put up the money for another single. That's where things got bad. Tony Perrin, in his infinite wisdom, decided that Wham were a good group, and said, "You could write commercial songs like Wham, Jarvis." "Everybody's Problem" was the result. As soon as I'd written it, I'd realised I'd made a grave error. It's got a brass section. I refused to sing properly. What's on the single is a desultory guide vocal - I messed up all the words. The b side was a very genteel song with a lot of harmonies. I wrote all the songs at that time on the guitar, but Simon Hinkler helped a lot. He was good at arranging and adding instruments. "Everybody's Problem" bombed out and the future was cancelled due to a lack of interest!

Pulp Reincarnated

Around the middle of '84, I met up with Russell Senior, who I'd first met in 1980. He came to our Leadmill concert and wrote our very first review in his fanzine 'The Bath Banker'. We decided to have a last ditch effort, so we practised with a new drummer, Magnus Doyle, and the next incarnation of Pulp was born, with a new bassist, Pete Mansell, who was a friend of Magnus', whose sister Candida Doyle joined after a few months. At first, we had Tim Allcard, who played two-finger keyboard parts and recited poetry in between songs.

Pulp 'vs' The Rugby Club

Our first concert was our most eventful ever, at Brunel University - a very sad affair towards the end of '84. We'd been booked by a friend who then called it off. We pretended we didn't know. In the interim, they booked a rugby songs band, Ivor Biggun & the Hefty Cocks or something, but they didn't turn up. But the audience were basically the rugby club. We used to start the concerts with this factory siren - we had five minutes of this flipping siren going off. We were into confronting the audience at that time, because we'd done this gentle, polite record - I thought "fuck off", let's go to the other extreme. It went from bad to worse. Tim was doing his poems and people were singing "You're a wanker." Somebody did a mooney at me, so I kicked him up the arse. The MC tried to stop the concert so I wrestled him to the ground. Then all these rugby players jumped on stage. I slid out from under them and ran into the dressing room, and we barricaded ourselves in. It ended in a riot."

"Fruits of Passion"

Russell had written this surrealist play, 'The Fruits Of Passion'. It crystallised the attitude of the group. Both Magnus and I were in it. It didn't have a proper narrative. The climatic scene was me eating a plate of dog shit at a job interview. We performed it as support to other groups around October 1984, but it caused problems - people walking out or chucking things at us.

Pulp on Fire

Any road, Tony Perrin paid for "Little Girl" and touted it around. Unfortunately, the only people interested were Fire Records. And thus began a relationship which blighted our career - very nearly ended it, really. We'll get onto the thorny subject of Fire in a while. Clive Soloman [head of Fire] talks incessantly until you eventually agree with whatever he wants. I never liked him, but it was the only offer on the table. The only thing I can say for them is they gave us money to record.

"Little Girl (With Blue Eyes)"

This was about a girl who gets pregnant. It was after seeing a picture of my mum, getting out of her wedding car, and realising she was only 20, when she got pregnant and had to get married. She was at art college but had to give it up to have me. The song got banned because of the lyrics - but not like Frankie goes to Hollwood. They just didn't play it. It got good reviews - "a Scott Walker for the 80s"! People said, "you'd like Scott Walker," but all I'd heard sounded like Tom Jones. It wasn't until 1987 when somebody gave me a tape of his proper solo albums that I understood his genius. I started buying easy listening albums from jumble sales and Oxfam shops. Burt Bacarach, Henry Mancini - I found that easier to deal with, especially as we were making such abrasive music. I needed something to calm me down. I gave up being in touch with modern music. I resented anybody who was successful. I resented the Smiths, because they were from the North and doing a fairly similar thing.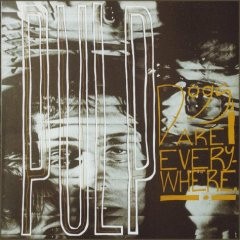 "Dogs Are Everywhere"
I started doing the sleeves - for "Little Girl" and then "Dogs Are Everywhere". Three days before "Little Girl" came out, I fell out of the window and was in hospital for two months. I'd done me hip and me ankle and me wrist. I had to use a wheelchair on stage because we'd had concerts booked. Anyway, I got my mum to bring in a keyboard and I wrote "Dogs Are Everywhere", inspired by one night after playing in Chesterfield. Magnus and Pete were always pissing about and getting stoned. Myself and Russell were puritanical and thought that was terrible. They'd have these mates hanging around, which got on my nerves. That night, they nicked bottles of beer from behind the bar, and we got into loads of trouble. That's what "Dogs Are Everywhere" is about - people who display a doggish attitude.
It's got five tracks - good value, that E.P. "Mark Of The Devil" is not a good recording but I thought that was our best song. I'd decided disco was the thing to go for, because I was sick of the over-the-top emotional business. Giorgio Moroder didn't have any emotion: it was robot music. I was intrigued with the idea of that beat and style but with something emotional over the top. The chord structure of "97 Lovers" got recycled for "O.U." years later. That was the first time I got some good lyrics out. One bit was about my auntie - in her bedroom, she had a picture of Roger Moore above the bed, with this short towel and dressing gown. I always thought, God, I bet it's weird when they're in bed having it off underneath that picture. My uncle must know she's probably thinking it's Roger whilst he's doing it to her.
"Aborigine" was so called because it sounded like aboriginal music. It's not a digereedoo, it's Russell playing low notes with a violin bow on a bass, and it's got a very primitive beat. That's about a bloke who's always kidding himself his life's about to start, and become exciting, but ends up wasting his time and becoming very fat. "Goodnight" was a concept piece that sounded like falling asleep. Then I had to spoil it by having some nightmare part at the end - that's the impetuousness of youth for you. "Dogs Are Everywhere" got 'single of the week' in 'Melody Maker'.
"Freaks"
In June '86, we started the "Freaks" album. It was recorded for £600 - in one week. The producer disowned it: he didn't want his name on it! This was the low point, emotionally, of my life. It's such a depressing album. There's some decent songs but they're badly done. "I Want You" is good, but there's a better version as a demo. The violin's miles out of tune - it's supposed to be a big ballad. "Don't You Know" came out on a 'Record Mirror' compilation "Fruit Cakes And Furry Collars" - it's the same version.
It was called "Freaks" because I'd been out of school four years and lived this marginal life with no success. I was living in a factory building, a drop in centre for all the freaks and misfits of Sheffield. We'd been doing something worthwhile and original and yet nobody seemed interested. This was the dark days of the mid-80s: "we're heading for a boom time, let's be happy". "Aye aye aye aye moosey" was in the charts. We were nowhere near the mainstream. Also, I was in the middle of the first proper relationship I'd had. I'd gone into this terrible depression of finding out what relationships were really like, but not knowing how to deal with it - you go out with somebody for six months and spend another eighteen trying to split up. All in all, I was not a happy person.
"They Suffocate At Night"
"They Suffocate At Night" came out as a single, but the group spilt up on the video set. Russell was extremely disciplinarian, I was quite puritanical, but Pete and Mag just messed around. It got to a head and everybody had a fight. It wasn't worth the aggro anymore.
A New Pulp
Russell was still in the group, Candida was out for a while. We had a keyboard player called Captain Sleep who couldn't keep awake for more than two hours, so we got rid of him because he was depressing. Nick Banks became the drummer, and Stephen Havenhand the bass player [pictured below, standing behind Candida], who'd been in another Sheffield group called Lay Of The Land. He was a good songwriter, but he was the shyest person I've ever met. He wouldn't loosen up and so, in the end, he left. Plus, you couldn't hear him play the bass - he was so gentle with the strings, like he didn't want to disturb!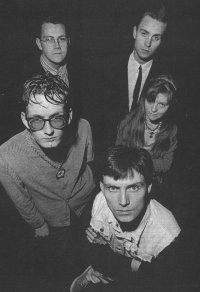 "Master Of The Universe"
Fire put out the "Master Of The Universe" single off "Freaks", which I find intensely embarrassing. My voice - I don't know what the hell I was thinking of. That was written as I was recovering from the window incident, and I got bought some 'Masters Of The Universe' shampoo. That features the only Fire track which hasn't been reissued: "Silence", from demos recorded in an old karate studio, written at that first rehearsal with Russell. Oh, it's so depressing, a two-note keyboard drone, someone playing one of those hunting horns you have on the living room wall and me alternately talking and screaming this story about a love affair that doesn't work out. I banned it from going on the Fire compilation, because it's terrible - I couldn't live with it being out.
I'd got a Serge Gainsbourg album, which had a track called "Manon". It's not the same tune but, being naïve, I thought "Manon" was a man's name. In the end, I found out it was a woman's name! Again, I spoil it by speaking in French towards the end, which is embarrassing. The version on the "Imminent 4" compilation is different - we remixed it infinitesimally. I never saw "Master Of The Universe" in a shop. I never even got sent a copy, so it was obvious the relationship between us and Fire wasn't great.
Pulp at Fon
We'd used all our songs up, and knew we didn't want to record for Fire anymore because they'd fucked us off. Instead, we got involved with Fon Records in Sheffield. We were working more strongly on our Eurodisco sound, and recorded three songs for them: "Don't You Want Me Anymore" (re-recorded for "Separations"), "Rattlesnakes" (which never came out), and "Death Comes To Town" - the "Death Goes To The Disco" 12" remix came out, but not the actual song. They were our best recordings ever, done in a proper studio with as much time as we needed and a string section. Then, Fon decided not to release them!
From Sheffield to London
The bass player we had then, Antony Genn, flipped out because he'd taken loads of acid, and become a born-again Christian. It was completely doing my head in. If I didn't get out of Sheffield sharpish, I was going to end up as a sad character who used to be in a band. So I came down to London in 1988 and went to St. Martin's College to do a film course. At that point, I thought the band wouldn't carry on. We got Steve Mackey in on bass. All I had was these Fon tapes which we shopped around for a one single deal. Us and the Membranes played at the 'Sounds' Christmas party at Dingwalls - pretty dismal. That's where the story gets convoluted, because Dave Bedford of Fire came to that. He said, "Why don't we do something?" I thought, no chance. But nobody else was interested and so, to my eternal regret, we talked to Fire again. We just wanted a one-off single but they wanted an album deal.
Back in the Fire
Unfortunately, we accepted their deal, and in the summer of 1989, started recording the "Separations" LP at Fon, on-and-off through college holidays and spare weekends. We eventually finished it at Christmas and delivered it to Fire. That was the fallow period - like if somebody says "I'll lend you £5,000 but I'll chop your little finger off." If you agree to it, you want them to chop it off there and then. You don't want to wait two years thinking about the things you could do with your finger.
"My Legendary Girlfriend"
"My Legendary Girlfriend" was the first single from the album. That was about my girlfriend that I'd had in Sheffield. See, I never liked to mix business with pleasure. I've always kept my private life separate from music. So I've always gone out with girls who aren't interested in music, and so people always asked me about my legendary girlfriend, because they'd never seen me with her. We were waiting for it to be issued, and Fire said "in a bit, in a bit". It eventually came out in September 1990, ten months after we'd finished the album, which was bad enough. And then, lo and behold, that got a reaction - 'single-of-the-week' in the 'NME' - and heralded a new era in which Pulp started getting more popular rather than less. We just built it from there. The first concert we did then was supporting World Of Twist at the Leadmill in Christmas 1990, which is ironic - they nicked loads of our ideas, like tin foil on the stage.
"Countdown"
Even then, the album didn't come out. Fire wanted another single, so we remixed "Countdown" in 1991. "Countdown" was about waiting for your life to take off, and then realising maybe the countdown's never going to stop, you'll never reach zero - and in the meantime, the rocket's getting rusty and if it got to zero, it wouldn't take off anyway.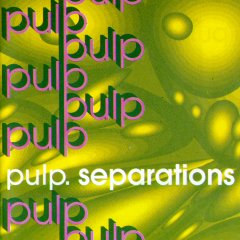 "Separations" & the Fire Reissues
After all that protracted farting about, Fire tried to release the "Separations" album on the same day as "O.U."! I had a massive argument with Fire about the "Masters Of The Universe" compilation. The thing that gets my goat is that I wrote a sleeve note, which Clive Soloman refused to print. I don't know why because it didn't say anything completely derogatory about Fire. So when it came to Fire's reissue of "It", I refused to help them.
"O.U."
We finally decided to leave Fire, and recorded "O.U." and "Space" early in 1992, with Simon Hinkler. It didn't turn out very well, so we used Ed Buller to remix it. I'd heard his production on the Spiritualised LP and he sounded able to work with keyboards, rather than concentrating on guitars. We were very impressed - he transformed the song. "O.U." became our first release on Gift Records. It was a Sheffield label, and we knew the people - they also run Warp.
"Babies"
Island records were interested, and the next single, "Babies", was recorded in the Fallout Shelter, underneath Island's Chiswick head office. "Styloroc" was taken from demos we'd done earlier for Island. I tried to sing along with it, but it sounded like Whitesnake, so I recycled some lyrics from an old song that never got recorded, "Nights Of Suburbia" and recited them over the top of this stylophone music.
"Sheffield: Sex City" was a bit off-the-cuff - the Sheffield place names at the beginning weren't planned. One of those little moments of magic! I started writing more about Sheffield once I'd moved away. There was an instrumental version on the CD, a bit of atmospheric, moody music - it'd be good to make love to, because it's quite long. It's not a good idea to make love to records with words because it seems someone's in the room, making a comment on what you're doing. I must say I've never had sex to it myself - I don't have sex to my own records. But I don't mind other people doing it, in fact I receive many letters from people who do.
"Razzmatazz"
We were still stuck in this legal wrangle with Fire but we did a third single for Gift. "Razzmatazz" was released to a tumult of critical acclaim. I had some problems with the initial mix - it sounded a little A Flock Of Seagulls-like, so we remixed it with Phil Vinall early in '93. The B-side, "Inside Susan", was a story in three songs, done under our own steam. You follow this character from early adolescence through to early thirties and married to an architect somewhere in South London. The last part, "59 Lyndhurst Grove", was inspired by a party I'd been to the weekend before. We were thrown out by an architect but I got my own back by writing a song about the event. It was a really crap 'right on' party - there were children there. You don't take your children to a party in my book. I sent a copy of the CD to 59 Lyndhurst Grove, the lady of the house, because she was in a bad situation married to this prick, but she never wrote back. A Japanese fan went there and stood outside and asked if she was Susan!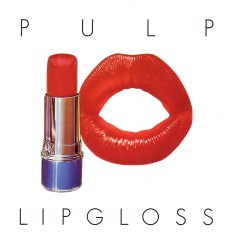 "Lipgloss"
After this attractive courtship, we finally bit the bullet, signed away most of our future earnings to Island Records, to which I will be eternally grateful. We signed to Island in September 1993 - there was champagne! In our first session for Island, we did "Lipgloss". "Have You Seen Her Lately?" and "She's A Lady" were taped for the LP, but these versions were scrapped. Then we did the B-side, "Deep Fried In Kelvin", a long, apocalyptic inner city scenario about a block of flats in Sheffield called the Kelvin Flats. And "You're A Nightmare" was taken from a John Peel session we'd done earlier in '93. "Lipgloss" narrowly missed the Top 40.
"His 'n' Hers"
"His 'n' Hers" was a protracted recording. In between various stops and starts, it took us until Valentine's day '94. There were a few strange little events during the recording, the most noteworthy of which was the "Tunes Of Evil" incident. If you listen to "His 'n' Hers", which I'd recommend anybody to do, at the start of "Acrylic Afternoons", there's some atmospheric incidental music. Originally, this consisted of a piece known as "The Tunes Of Evil", a random, unsettling noise conjured up out of this old analogue synth. As soon as we'd committed it to tape, strange things started happening in the studio. The mixing desk blew up, the multi-track for "Joyriders" disintegrated and we had to piece it back together by clever jiggerypokery. Ed Buller developed strange pains in his back and generally, the vibe went bad. So we had to destroy this music, but the engineer erased the wrong track. Obviously, "The Tunes Of Evil" didn't want to die. The piece you hear at the beginning of "Acrylic Afternoons" is different and, as far as I know, safe.
"Do You Remember The First Time?"
This was the first single off the album. One of the B-sides, "The Babysitter", features Susan again, a few years on, and "Street Lites" mentions Alena Stores, which is a deli in Soho. It's strange - I went to see 'Naked' the other day and it features quite strongly in that film, so me and Mike Leigh have got something on common. It charted at about 33. Unfortunately, we didn't go on 'Top Of The Pops' because they decided to have S*M*A*S*H on instead. That was disappointing, but still the movement was up.

"Sisters"
The "Sisters" EP, our last single, used up the three tracks that didn't go on the album, but were from the sessions, and we re-released "Babies" due to public and record company demand. It charted at No. 19. As you find us at this moment, we are just contemplating our next move. We are about to start writing some new records. We have three songs up to now, two of which are called "Common People" and "Underwear". It's been a long, strange trip but I wouldn't have missed it for the world, and I'd recommend anyone else out there to waste their life in the same manner as I have done, because it's been very very enjoyable.