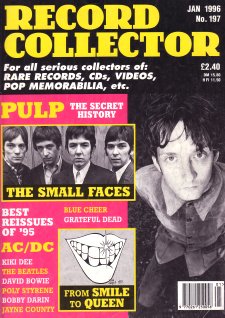 Pulp: The Secret History
Taken from Record Collector 197, January 1996



"Welcome to Sheffield", reads the sign on the dual carriageway, "home of stainless steel". After three hours of slogging up the M1, we've finally hit the southernmost limit of Britain's fifth largest city, known throughout the world for its rust-resistant cutlery and the dual footballing might of United and Wednesday.

Yet it's not the forks or the footie that have brought us 200 miles north on a sunny winter's morning. No, our brief is to delve into the long and convoluted history of the city's most recent pop sensations, Pulp, whose recent album, Different Class, may yet relegate Blur and Oasis to silver and bronze in the Britpop stakes. Certainly, 1995 has been the year that Jarvis and co. have taken their peculiar mix of indie and disco to a nationwide audience. In the last 12 months, they've headlined Glastonbury, played a sell-out U.K. tour and even got banned from the radio for the sheer cheekiness of Sorted For E's & Wizz. And if Jarvis isn't already a household name, he sure will be after BBC 2 screen a special Pulp tour film, 'No Sleep Till Sheffield', at Christmas.

But as anyone will tell you, the band's trip to the top has been a long, hard haul. "Chart sensations Pulp are the overnight success that took 15 years to happen," quips Sheffield's local newspaper,'The Star', a goldmine of Pulp information. "But while they continue to surf a tidal wave of pop greatness, they have left behind a cast of former members who didn't share Jarvis Cocker's vision." And, yes, that's why we've hit the north for the day - to go where no man or woman has gone before, and find out what has happened to the veritable army of Pulp Pete Bests that litter the band's road to fame.

Luckily, we score a bonanza hit before our quest has even started. A phone call to Pulp's management earlier in the week unearths a bona fide ex-Pulpster in the guise of Pete Mansell (left), who was bassist with the band for three years in the mid-80s, and played on 1987's "Freaks" album. Today, Pete lives in north-west London with Candida Doyle, the band's present keyboardist, who joined Pulp around the same time he did, in early 1984. As it turns out, 28-year-old Pete is a big fan of this magazine, and agrees to accompany us on a fact-finding mission to his old hometown the very next day.
One sleepless night later, we pick him up at his flat in Stoke Newington, and edge our way through the London traffic towards Finchley. After hanging a right onto the A1, we finally join the motorway, shifting up into top gear and leaving the grime of London behind us. For an hour, lorries, vans, more lorries, and travel-coaches grind past us. We zip through the Watford Gap, and Pete begins to settle down. He tells us that Pulp were instrumental in luring him away from the wrong crowd. "When I joined the band I was only 16," he says. "I was torn between music and hanging round with my mates from school. They'd see me at the bus-stop and say, 'Are you going off to practise with t'weirdos? Why don't you come with us and throw fireworks in t'park?' It was a bit odd."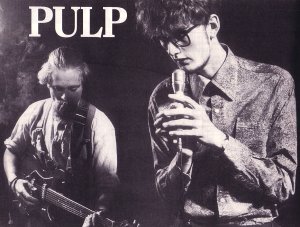 As our destination draws nearer, he elaborates on the opportunities he had when he was younger. "There are only three things you can do in Sheffield," he says, as the sky darkens, and specks of rain gather ominously on our windscreen, obscuring our view of the city's suburban fringes. "You can be a footballer, you can be a musician, or you can make knives and spoons. Actually, they don't make many knives and spoons anymore, so it's a choice between the other two." Pete turns out to be the ideal host. For a start, he's enjoying the fact that's someone's interested in what he has to say about Pulp, and regales us with scores of funny stories, seemingly without any regard for what might end up in print. Luckily, though, he has no beef with his former band mates. He's still good friends with Jarvis and, if anything, simply finds the singer's new-found status as a pop star mildly absurd. ("I mean, it's just Jarvis, isn't it? He's always been like that.")
Pulp's new album, Different Class, has transformed the band into one of Britpop's highest earners, yet Pete still has no regrets about jumping ship in 1987. "I see all the work they put in behind the scenes, and what they put up with, and I wouldn't fancy it at all. I went on tour with them for ten days last month and I was absolutely shagged out at the end, and I didn't do anything. They're still at it now." What keeps them going, I ask? "I dunno," Pete says. "Most other bands spend all their money on drugs. Pulp don't. They gamble it on who's going to win on the mega-drive. I've seen kitties of up to £500."
Gleadless
Once we arrive in Sheffield, our first stop is the house where Jarvis was brought up. Turning off the A61, we drive east along the city's southern ring road towards an area called Intake, which sits on top of one of the seven large hills that the city is built on. We pass an area on our left called Gleadless, where Russell Senior used to live, and then a sharp right brings us onto the Mansfield Road, a wide, exposed thoroughfare that stretches away as far as the eye can see.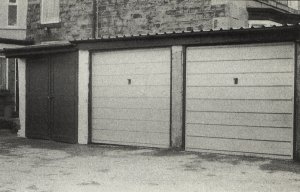 We park by a block of flats, and Pete takes us through an alleyway to a row of garages (pictured above), backing onto a clutch of small terraced houses. He points to the backdoor of one of them - the very place Jarvis Branson Cocker lived for the first 20-odd years of his life. "That's his mum's garage there," says Pete, indicating the building at the end. "That's where we used to practise. I remember it clearly. It was tiny, and full of all this shit amplification. The first time I went there was for an audition, and Jarvis was holding this little microphone against a cymbal. Russell was playing his Rosetta guitar with a bow. I thought, bloody hell! This is nothing like It. I thought I'd be playing My Lighthouse, and all those catchy songs."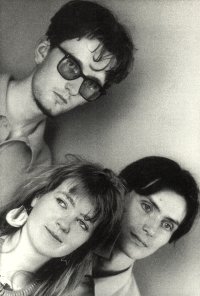 When Pete joined Pulp, Jarvis was already a veteran of several early line-ups. The first was put together in 1979 while the singer was still at school, and went by the name of 'Arabicus Pulp'. Their first project was to record a soundtrack for a film made by one of Jarvis's fellow pupils. By the time they played their first gig, at Rotherham Arts Centre in 1980, there was already one member who'd fallen by the wayside - bassist David 'Fungus' Lockwood, who was replaced by Philip Thompson. During the next 12 months, drummers Mark Swift and Jimmy Sellers also joined the list of casualties.
The band got their first break in 1981, after Jarvis had plucked up the courage to give John Peel a demo tape when the DJ did a roadshow in Sheffield. Two weeks later, Pulp were offered a prestigious Radio 1 session. By then, the line-up had stabilised around Jarvis (vocals), Peter Dalton (guitar), Jamie Pinchbeck (bass) and Wayne Furniss (drums). "It was quite a big deal in those days," Pete recalls. "The idea of a local group being on national radio. It was like they were big pop stars."
Having sat their 'A' Levels in the summer of 1982, Pulp split up. With Dalton and Pinchbeck heading off to University, Jarvis decided to continue the band on his own. The result was "It", an album of wistful pop songs issued in April 1983 by the York-based indie, Red Rhino. Pieced together with the help of keyboardist Simon Hinkler (then with Artery, and later of the Mission), it featured a bevy of local musicians, including Jarvis's sister, Saskia Cocker; Artery drummer, Gary Wilson; Simon's younger brother, David Hinkler; and former Pulp members Peter Dalton and Wayne Furniss.
Moustache
Despite several encouraging reviews, "It" failed to set the world alight. Disappointed, Jarvis considered taking up a place at Liverpool University, but fate intervened in the shape of his old friend Russell Senior, back in Sheffield after taking a management studies course at Bath University. According to Pete, Russell was desperate to join a band: "Me first time I met him was at a Pulp gig around this time. He was lingering around the bar in a red suit and a small moustache. He asked the support group, In A Bell Jar, if he could play guitar with them."
Instead, Jarvis invited him to join Pulp, in a last-ditch attempt to make it. The line-up was completed by keyboardist Tim Allcard (ex-In A Bell Jar) and drummer Magnus Doyle (ex-Midnight Choir). Pete was a good mate of Magnus, and so it was that he auditioned with the band in January 1984 in Jarvis's overcrowded garage. Our visit to the former Cocker residence over, we pop into the local Netto for some sustenance, and get back in the car. Pete then directs us towards the city centre, which by this time is choked with rush-hour traffic. Our route takes us down the lengthy City Road, which, according to our guide, cuts through one of the town's less salubrious areas. "It was a horrible walk home for Jarvis," he confides. "More so than for the rest of us, because of the way he looked. That's what 'Mis-Shapes' is about. He was writing about Sheffield, not London."
I ask if Mr. Cocker encountered much trouble. "Oh yeah!" says Pete. "But he could handle it. It never happened much, but he wouldn't back down. He'd still be performing. I never saw him get hit, though. In fact, there was a big fight at a practice before I joined. These lads came out of the pub and chased the group from the garage to Jarvis's back door. There was fisticuffs - but Pulp won! Magnus was a stocky lad, Tim Allcard could handle himself, and they sorted it. Slates were flying around. Simon Hinkler got stuck in and so did Jarvis."
Picking our way through the town, our host points out the site of the Wicker, an old factory building that housed a studio and a complex of bedsit flats. Home to Tim Allcard and Jarvis in the mid-80s, it was also the place where Pulp's 1985 EP, Little Girl (With Blue Eyes), was recorded. "It was a hang out for some strange people," remarks our host. "Real weirdos. We used to congregate there and get stoned." Did Jarvis ever take any acid, I ask? Pete laughs loudly. "If you'd give him a tab, you'd have three LPs' worth of stuff coming out the next day. Too scary."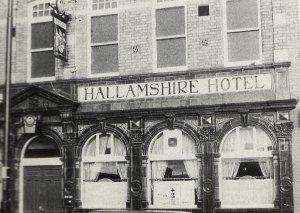 Our next destination is West Street, the epicentre of Sheffield's alternative night-life since the late 70s, when the Limit Club opened there. The venue began by putting on new wave groups like U2, the Police and Simple Minds, and later, local heroes like the Human League, Heaven 17, Artery and - you've guessed it - Pulp. Demolished in 1990, all that's left now is a few scattered bricks, already fallen foul of weeds and nettles. Driving up the road towards two other early Pulp landmarks, the Hallamshire Hotel (where Pulp once played a cover of "Hurry Up Harry") and the B-Hive, both respected indie venues, our car is flagged down by a bored-looking motorway copper in full leather gear and handle-bar moustache. Did we know why he'd pulled us over? Ex-Pulp member in the car, we venture? No, apparently you can't drive up West Street anymore. Buses and trams only. Damn! He apologetically dishes out a £20 fine and, after failing to restart the car, we head off to our billet for the evening. The Hallamshire and B-Hive have to wait till later.
On the way out of town, Pete recalls his first ever Pulp gig. "It was on 7th February 1984, at Brunel University. I was only 16. We went down there and a load of rugby kids turned out to see this band called Johnny & the Nobs, or something. (Jarvis remembers it as Ivor Biggun & the Hefty Cocks) We turned up and played all these depressing songs off Freaks, and Tim Allcard recited some poetry. Our set started with an airraid siren, which blew all the fuses in the place. There was a full-scale riot. I remember Jarvis wrestling with the organiser on the stage. Someone threw a fifty-pence piece at my bass and took a huge chunk out of it. It was the only money I ever made from the group."
The band's next appearance was at a brothel in Leeds, during which several gangster-types in the audience coolly made gun-shapes with their hands and pretended to shoot them. ("It was really scary," says Pete.) After three more gigs, Tim Allcard left, and Magnus's older sister, Candida, took over on keyboards. After a year of sporadic gigging, Pulp recorded a demo of Little Girl (With Blue Eyes) at the Wicker, which got them a deal with the London-based Fire label. The track came out as a single in December 1985 but disaster struck soon after, when Jarvis damaged his hip, ankle and wrist after falling out of a window at a party.
"There's so many versions of what happened," says Pete. "Some people say he jumped out of the eighth floor, some the fourth floor. Some say he was lovesick. I know for a fact it was the first floor, because it was Russell's flat. He was trying to impress a girl. He performed in a wheelchair after that." Back at our digs, RC leafs through a pile of Sheffield 'Star' newspapers, trying to find any mention of former Pulp members. We stumble across a feature which informs us that drummer Wayne Furniss is now a dental technician living in nearby Hackenthorpe. He is quoted as saying: "I was jealous when I saw Pulp on 'Top Of The Pops'. I would have liked to have done that. I am very happy for them, they deserve what they got. Pulp has always been Jarvis's baby, but he was never like a dictator."
Pete gives a different account of life in Pulp. "If he [Jarvis] was in a shit mood, practices were bad. It was like being at school, being told what to do in that little garage. Then I got a bit older, and it was, like, fuck off yourself, Jarv! Him and Russell used to always stick together. He once ran at me on stage with a pair of sticks because I got the bass-line wrong."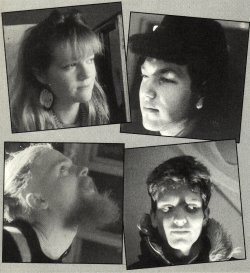 Above: Clockwise from Candida: Magnus Doyle, Pete Mansell and Tim Allcard
Mission
It's now early evening, and we still have much to do before our mission is complete. Before we drop Pete off at his brother's, he gives us the address of Tim Allcard. As night falls, we wind our way across the western suburbs of Sheffield, to one of the city's artier districts. Driving past the imposing Botanical Gardens, we descend into a maze of quaint terraces, before climbing up a leafy avenue of large Victorian villas, mostly converted into flats. Parking on a narrow road nearby, we stride up to Tim's house and rap on the door. After a minute or two, he comes down and opens it. "I guessed this would happen at some point," he smiles. Tim tells us that he's pleased for Pulp's success, but would rather not talk about his time with the group. Go on, Tim, we say. "No," he replies.


Chastened, we head off into town again to West Street, to cheek out the Hallamshire Hotel and the B-Hive. Both are identikit indieboozers, enjoying a new lease of life after the Britpop explosion. We ask a group of students what they think of Pulp. "What, wood pulp? Ha, ha, ha!" Oh dear. In the trendy Forum bar, we meet up with a local jazz pianist, 26 year-old Alex Hutton. He takes us to what he describes as Sheffield's very own 'Golden Mile'- the Ecclesall Road, which is lined on each side by more pubs than any civilised drinker could hope to visit in a single session.
Alex tells us about the fate of another former Pulp member, well-known in and around the city for his eccentric behaviour. Antony Genn played bass in Pulp for several months in 1987, but has now become famous for streaking on stage during Elastica's Glastonbury set last summer. As we write, he's currently playing keyboards with Justine and co. on their American tour! Some people will do anything to get in a band. Or even just anything generally. "There's a rumour that he fell off a bridge in town last year," says Alex. "Luckily, he landed in a lane that was closed off by some traffic cones. Otherwise he'd be dead."
Slug & Fiddle
By the time we've supped at the Pomona and the Slug & Fiddle, apparently run by an ex-Van Morrison bassist, it's time to head off to our last appointment of the day - at the Music Factory, one of the north's top nightspots. It's here that we've arranged to talk to Gary Wilson, alias 'Beefy Gary O', who drummed on the ill-fated It album, and now manages this club. An all-round decent bloke, he entertains us with hilarious tales of the goings-on in his establishment. More importantly, perhaps, he reveals that he drummed on "It" as a favour to Tony Perrin, the manager whom Artery and Pulp shared in the early 80s. He also recalls how one of the tracks was recorded at Southern Studios in London, which was owned by anarchic post-punkers, Crass.
We show him our list of former Pulp members, and ask him if he knows what they're doing now. "Erm... no," he says, closely scanning our sheet of paper. "Oh, yeah, David Hinkler works for the Yorkshire Electricity Board. Antony Genn, he became a born-again Christian. He streaked on stage with... oh, you know that?" What do you think about Pulp getting famous, we ask? "People say, big popstars, brilliant band. I think, what are they saying? It's just Jarvis, isn't it?" It's nearing 12 o'clock, so we decide to wrap up the interview. It's been a long day. As we're putting the tape-recorder away, Gary leans over conspiratorially. "I shouldn't tell you this," he whispers. "But Jarvis once jumped out of a third-floor window. He was lovesick." Hmmm. Time to go to bed.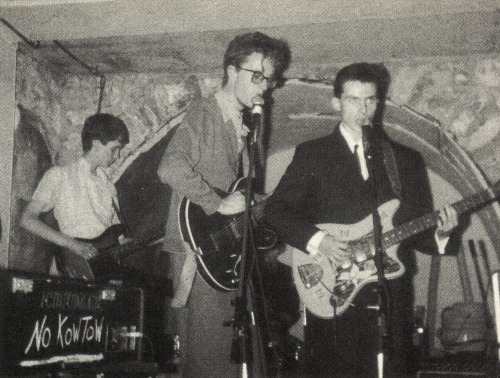 Above: Pete Mansell, Jarvis Cocker and Russell Senior, Bath Moles Club, 1986
The following morning, the sun's shining brightly, a fresh breeze is blowing, and we're up with the larks. There are things to do, photos to take, information to digest. We take one last look at the town centre, then pick up Pete from his brother's house. Pete laughs at Tim's reticence to speak, and attributes it to the fact he still might feel stitched up, as Pulp allegedly never paid him for driving the band's van in the early days.
Back on the motorway heading south, Pete tells us about the recording of the Freaks album, Pulp's second LP which came out in May 1987. Apparently, the band were only given a budget of £600, and the tracks were taped in a cheap eight-track studio in the town centre. "It was horrible, and the LP did no justice to the songs. The power they had live was totally lost." The material on the album had been recorded the previous autumn, by which time the mood in the group was souring. Last year, Jarvis told us that the track Dogs Are Everywhere was written about Pete and Magnus's impish behaviour. The singer related how, at a gig in Chesterfield, the pair had jumped over the bar and pinched some bottles of beer, getting the whole band in trouble.
Pete pulls a funny face when I tell him this story. "The song was written before that," he says, "so he can stuff himself there, the git. But I never got anything out of Pulp, not even a free beer, so Mag and I started nicking things and getting out of it. We were young, we were into having a laugh. The atmosphere by then had become dark and gloomy. Jarvis just wasn't very happy."
Kitchen
Matters came to a head in January 1987. "We were sat around in Jarvis's mum's kitchen, having a cup of tea," he recalls. "We all had our own mugs. Candida's was a Wonder Woman one. Mag said, should we split up? I was taken aback. He was ready to go off travelling in Portugal. So we did. I had a couple of practices with a new drummer, Nick Banks, but I left soon after. Stephen Havenhand was drafted in as my replacement," he continues. "I went to see them in Derby a few weeks later and only about eight people were there. I was glad to be out of it, to tell the truth."
Within a few months, Havenhand had left, and natural-born stripper Antony Genn had joined up. He also stayed for a couple of gigs. By then, Jarvis had got a place studying Film at St. Martin's Art College in London. It was there that he met bassist Steve Mackey, who completed the Pulp line-up we all know and love. Finally, in 1993, after five more years of soul-searching and another dismal album on Fire, Separations, the band signed to Island and hit the charts with Lipgloss and Do You Remember The First Time?. The rest, as they say, is history. "Moving to London changed Jarvis," concludes Pete, as we near his front door. "If he'd have stayed in Sheffield it would have killed him. He realised there was more to life than West Street. Going to St. Martin's did him the world of good. It made him happier. He even smiles these days."