Pulp at Leeds Duchess Of York, 8 November 1993
Select Magazine review:
Jarvis Cocker casts his eye around the distressed squalor of the Duchess Of York dressing room with grim resignation. "There isn't a single bit of this wall that doesn't have something vile written on it," he says morosely. "I was just eating some sandwiches and I had to close my eyes so I didn't throw it all up."
"Mmm," nods Russell Senior primly, "there's the most disgusting poem I've ever read in my life on that wall over there." Hunched over his takeaway pizza, Pulp's guitar and violin maestro refuses to be drawn on details - "Not while I'm eating."
Between the magic-markered gynaecological literal rhymes and attendant diagrams, the room bears the monickers of every unfortunate shower of halfwits ever to have passed through the venue: Northside, Sham 69, Fretblanket... and, above the door, a spectacular row of capital letters confirms, for those still wondering, that ST JOHNNY MAY BE TOSSERS, BUT AT LEAST THEY ADMIT IT.
Russell will not be adding Pulp's name to the ad hoc decor: "It seems to be the mark of failure. Doesn't it?" Indeed. And the days are gone when you could have justifiably expected to find Pulp's name daubed across the ceiling in a lurid five-foot script dwarfing all other comers. No longer the most infamous plucky losers in pop, Pulp have finally arrived.
Fresh from a series of dates in France, tonight is the start of a national tour for the new, improved, major-label Pulp. It should see them bringing their uniquely-coutured combination of chintz glamour and stylophone soap opera to a whole new audience. A world softened by the wanton, limp-wristed rock god posturings of Suede and the sarcastic kitsch of Saint Etienne is now ready for something a bit more barbed. Mr Cocker? The country will see you now.
But first they've got to get ready.
Their transformation - from overcoated huddle into manicured man-made fibre hussies straight from a party scene in The Likely Lads - requires recourse to various vinyl suitcases scattered around the room, bulging with alarming cargoes of wildly-patterned polyester and bri-nylon. All except Nick, who, as the drummer, can wear what he likes - in this case, a T-shirt and jeans.
As Jarvis tries to locate the right flimsy shirt and Candida disappears to find somewhere in which to apply her velvet hot-pants, Russell (already a slightly-impaired vision in sky-blue leather jacket and crimplene flares) forages in his own case. Methodically emptying it on to the floor, he reveals it to hold nothing but sunglasses. Huge, rectangular yellow ones, oval electric pink ones, vast, round transparent ones, he tries them all on, searching for the ideal match. In the end, he can't decide. "Oh. I don't think I'll bother."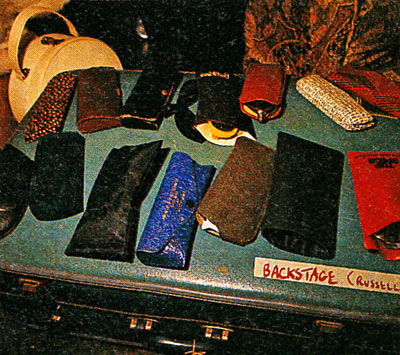 And then they're on. They're great.
Jarvis is fantastic - every inch the stadium star in waiting, delivering with unstinting conviction all the preposterous moves that even Brian Eno and divisions of backstage drones and stylists couldn't bring to Bono's sorry Fly persona. And anyone who expects his incarnation of preening cadaverousness to come out like Brett Anderson with a northern accent has got him all wrong. Whirling his arm crazily over his head and then leaping three feet into the air to land perfectly on the monitors, his finger jabbing sharply out into the audience, he looks like Alvin Stardust in shock therapy.
"Ooh, Jarvis, you sexy bastard," comes a witheringly droll West Yorkshire voice between numbers.
"Yes," deadpans Cocker slowly into the mike, "I am, aren't I?"
The rest of the band are largely impassive while Jarvis flings himself around in anorexic mime, stopping to form increasingly arcane shapes in the air with his hands, punctuating the pauses in the otherwise cheaply sumptuous non-stop Mecca beat with strangely crooked finger movements and alien semaphore.
The set is entirely new material plus the Gift stuff on 'Intro', kicking off with the new single 'Lipgloss', and keeping up a hammering pace punctuated by Jarvis' explanatory comments.
"This is a song," he says before 'Pink Glove', "about one of those situations where you have to wear something to keep someone else happy... it's a trade-off between what you want for yourself, and what you're prepared to do to keep them happy, and... why they liked you in the first place. Don't ask me. I've never been in a situation like that. I just write about it."
'O.U.', 'Razzmatazz', 'Babies' - it's the kind of pop music of the future envisioned in 1974. Far from the Chad Valley drums and novelty door-chime keyboards you might fear, it's big and loud - Candida's organ filling out the space behind Jarvis' flat-toned tales of wan eroticism and, for some reason, joyriders.
By the encore, the Pulp sound has become enormous - a quivering epic of orgiastic suburban disco operetta. 'She's A Lady' begins with a build-up of creepy tremolo sound effects and BBC Radiophonic Workshop stylophone runs. You begin to believe that at any moment one of those monsters fashioned by Matt Irvine from two shagpile carpets and a Habitat lampshade is going to come shambling out of the eerie red glow around the stage - and perpetrate some bizarre sexual act on Jarvis.
Upstairs afterwards, Jarvis takes one more disgusted look around the dressing room.
"I wish I had some paint with me. If I had I'd repaint it. No, I would. And I hate decorating." He pauses. "I'm not into that rock 'n' roll stuff."
Famous last words.
Adam Higginbotham