Pulp setlist for Leeds Heineken Festival, 22 July 1995:

Pink Glove
Monday Morning
Razzmatazz
Disco 2000
Live Bed Show (Debut)
Joyriders
Mis-Shapes
Sorted For E's and Wizz
Babies
Acrylic Afternoons
Do You Remember The First Time?
Common People
Underwear
O.U. (Gone, Gone)



Click to view the review from the New Musical Express, 29 July 1995: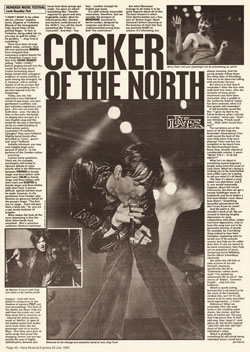 Paul Lester review in the Melody Maker, 29 July 1995:
Pulp are the non-surprise hit of this festival, four weeks after being the surprise hit of Glastonbury. Pulp are reaching critical mass right now. There are times during their set when they induce the sort of communal awe I have only experienced this decade in Glasgow (Kraftwerk), Mile End (Blur), Sheffield (Oasis), Manchester (Public Enemy) and Munich ("Zooropa").
What can I say? Jarvis's intersong banter confirms what we already suspected - that he will one day be hosting his own chat show (he is the Jonathan Ross of Britpop, only in cheaper suits) - while Pulp's music, including new songs "Monday Morning" and "Live Bed Show" (unveiled for the first time here), is Futura Pop 2000, Steve, Russell, Candida and Nick demonstrating just how much we need their electronic glamrock sound - nobody is doing what Pulp are doing today. Even "Sorted For E's & Wizz", for which Jarvis straps on an acoustic guitar, is more unearthly than "Unplugged", a spacey kind of oddity that, if released at the right time, could feasibly be this year's Christmas Number One. The moment when the audience chant Jarvis' name and he almost weeps, the bit where 70,000 people sing every last syllable and sub-clause of "Common People" (up there with "Girls & Boys" and "Live Forever" as the Britpop anthem), new song "Disco 2000"... Marvellous.
Wonderful songs and a wonderful performance from Mr Cocker, coming over all caberet in his shiny black shirt and collapsing to his knees à la Tom Jones during "Babies", kickboxing and jackknifing during "Razzmatazz" like Bruce Lee meets Bruce Forsyth, telling all and sundry about losing his cherry in a park as a prelude to "Do You Remember The First Time?" like we're all sitting on the edge of his bed. Like I say, marvellous.
The sheer goodwill extended to Pulp (who behaved impeccably backstage all day, by the way, like Seventh-Day Adventists, especially Jarvis, who didn't talk to a single female under the age of 35 and whose initials are wholly appropriate to his immaculately Christlike lifestyle, all abstention and adherence to the 10 Commandments) by the industry and the public is almost palpable in 1995. They are "our" U2, playing with electronics, playing with video, playing with humour, playing with time. I think Pulp deserve their success. And I think we deserve Pulp. But I'll say thank you, anyway.
Photo by Hayley Madden: