Pulp setlist for Palacio de los Deportes, Mexico City, 23 April 2012:

Do You Remember The First Time?
Joyriders
Razzmatazz
Pencil Skirt
Something Changed
Disco 2000
Sorted For E's & Wizz
F.E.E.L.I.N.G.C.A.L.L.E.D.L.O.V.E
I Spy
Dishes
Like A Friend
Babies
Underwear
This Is Hardcore
Sunrise
Bar Italia
Common People
- - - - -
O.U. (Gone, Gone)
Help The Aged
Mis-Shapes
- - - - -
Party Hard
Little Girl (With Blue Eyes)
- - - - -
Live Bed Show
Monday Morning


Pulp were joined by Jean Cook who played violin on Pencil Skirt, Sorted and Common People.

The set included the entirety of the Different Class LP and is the longest concert performed by Pulp with a total of 24 songs played across almost two and a half hours. The third encore appeared to have been unplanned with the band only deciding what to play after they'd finished Little Girl (With Blue Eyes).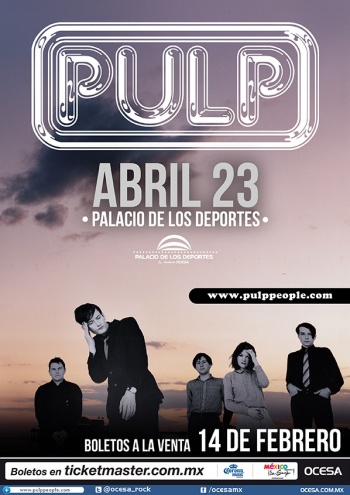 Setlist image from Twitter user @almaitalia: