Pulp setlist for Birmingham Academy, 31 October 2001:

Weeds
Weeds II (The Origin Of The Species) (Debut)
The Fear
The Birds In Your Garden
Wickerman
The Trees
Minnie Timperley
I Love Life
This Is Hardcore
Roadkill (Full line-up Debut)
Sunrise
- - - - -
Party Hard
Common People (Reworked)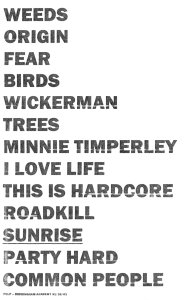 The performance was part of BBC Radio 1's One Live in Birmingham event. All songs except for Roadkill, Party Hard and Common People were broadcast live on the John Peel Show.

There is a review with photos of the concert on the Live Shows Page.