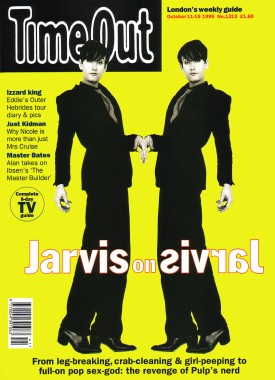 Top Of The Fops
Words: Peter Paphides, Photographer: Rankin
Taken from Time Out, 11-18 October 1995



Captain's log, chartdate 1995: Pulp, Britpop's most militant misfits, are set to trounce rivals with a new zeitgeist-friendly album of caustic lyrics, hum-me tunes and tabloid-teasing titles. Can Jarvis Cocker save the world from townies, crab genitalia and Wet Wet Wet?

Iggy Pop, Keith Moon, Jim Morrison. Just some of the pop stars who have arsed around on the ledges of tall buildings and walked straight back upstairs to carry on drinking. And then there's Jarvis Cocker who, 'trying to impress a girl', jumped 50 feet on to a Sheffield pavement and shattered his right leg and pelvis.

So we're sitting in a secluded corner of a bar in Newcastle University, ten years later, discussing just how weird it is that Jarvis is famous. The premise being, you see, that pop stars are made of Styrofoam. That's why they can jump off third floor ledges, dust themselves down and bed a pretty girl within minutes.

"Well, I certainly ended up in bed, all right," comes the laconic rejoinder. "I was in hospital for six weeks and in a wheelchair for ages after that. In fact, when they took the plaster off me legs, the doctor said, 'You do realise, don't you, that the bones in your foot are very fragile? We've tried to put them back in place, but it's impossible to do properly, so you'll always have pain there. And in the end you'll be in so much pain that we'll have to fuse your foot to your ankle. Then you'll never be able to move your foot again.' But also the thing is, it's not true..." Jarvis raises said foot on to the table and waggles it in front of me. It looks ace. "Occasionally I get a twinge, nothing else. So there. I've confounded medical science!"

Back in those days, Pulp had been going for five years. Guitarist Russell Senior and keyboard player Candida Doyle had both joined the band, but their records vaguely sinister sexually frustrated attempts at social commentary - were incomprehensible even to most indie kids, who opted instead for the most dramatic song structures of The Smiths and New Order. And the lanky, libidinous eccentricity for which Jarvis is rightly adored was the kind of thing that would, then, have got you beaten up. 'Townies', as Jarvis calls them, were the enemy - "the kind of people who would thump you for looking a bit different. They'd usually be wearing a white shirt and a moustache."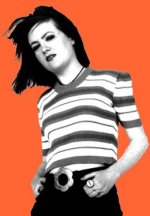 It's fitting, then, that 'Mis-Shapes' (which along with the tabloid teasing 'Sorted For E's And Wizz', comprises Pulp's current double A-sided single) is a splenetic, stuttering, demolition of all the people who made Jarvis's life a misery before fate knocked on the wrong door and made him a sex symbol. It goes: 'Mis-shapes, mistakes, misfits/ We'd like to go to town but we can't risk it.' And then it ascends again and again into an utterly bilious statement of defiance: 'We won't use guns/ We won't use bombs/ We'll use the things that we've got more of/ And that's our minds.'
"I've been wondering," muses Jarvis, "what the audiences are going to be like on this tour. I obviously don't write for townies. But then, I don't write for teenage girls either, though they buy Pulp records too. Ultimately, it's probably a good thing to get the attention of people you weren't consciously writing for, because it gives you a chance to say things to them, when you otherwise wouldn't have got one."
The forthcoming album 'Different Class', certainly conveys a sense of that: the utilitarian, millennial stomp of 'Disco 2000', 'Common People' and 'Sorted For E's And Wizz' all know they have an audience waiting for them. That certainly makes a change from last year's 'His n Hers', which consisted largely of voyeuristic, occasionally pervy tales from the suburban peripheries.
"I was very aware," begins Jarvis, somewhere behind a cloud of Silk Cut, "that people would listen to these new songs. And, you know, it would be terrible to hang around for all these years trying to grab people's attention and forget what it was you wanted to say in the first place. Not that I've any profound message for mankind, but two-thirds of 'Different Class' was written when 'Common People' was still in the charts, and I think it shows."
Dating back to an incident at Central Saint Martins College (where Jarvis embarked on a film course in 1988), 'Common People' tells the tale of a posh girl from Greece for whom dirty bedsits and 'common people' like Jarvis seemed to signify a perversely exotic new world. It's the song that turned Jarvis Cocker into something of a modern folk-singer - ambassador for the misunderstood working-classes, bubble burster to rich bohemians everywhere.
In 1990, Pulp released a single called 'Countdown' - an amazing song, bursting with the terror-drunk disco twistedness which characterises their best work. At the time, Jarvis said it was about how everyone's life counts down towards a single defining moment, after which things never get any better. Watching 100,000 people sing along to 'Common People' at Glastonbury this year, you couldn't help but wonder if this might be his 'Countdown'.
A squint into the middle distance. Another fag. A pause: "It's only possible to say with hindsight. But you might be right," comes the response. "Because it did seem fated in certain ways. We weren't playing any festivals this year, and then The Stone Roses pulled out. Plus we'd written 'Sorted For E's And Wizz' just in time for the show, after I went to Spike Island to see The Stone Roses' big moment. There was this dealer going round, just shouting that phrase again and again."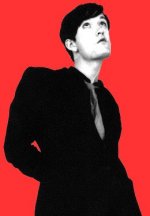 The Daily Mirror, on discovering that the CD booklet of 'Sorted' features extensive diagrams showing you how to make a drugs wrap, ran a cover story saying 'BAN THIS SICK STUNT'. Are you sick in the head, Jarvis?
"Well... evidently! It was the day after my birthday (his 33rd). When those kind of people take an interest in you, it's quite bad. They're very immoral. They rang up a bloke whose son had died at a rave a few weeks earlier and they're not offering sympathy, they just want a quote. Obviously he's going to say it's terrible because anything that reminds him of the way his son died is going to upset him. It was a horror story to be brought into the tabloid world. But it sold us loads of records. The single was originally going to be sold in a wrap, but that proved too costly, so we thought we'd stick to origami. I don't agree with putting severed babies' heads on records. That's too easy. But this seemed appropriate, because it's a record about drugs."
While other Sheffield pop acolytes of his generation, like The Human League and ABC, were enjoying their 'Countdowns', Jarvis's dreams of stardom were scuppered the day his mum got him a job in a fish market. "It's really not the kind of job you want as a sixteen year old who's desperate for a shag," admits Jarvis, "because even after you've gone home and had a bath, you still smell of fish."
It's hard to imagine arguably Britain's sexiest pop stars scrubbing crabs for a living... "Aye. Scrubbing crabs was a big part of my job. They'd come from Grimsby and Hull, in boxes packed with ice to keep them alive. I had to put them in a sink of hot water to scrub all the mud and crap off, and shove them in a boiler. They were usually dead by the time they got to the boiling stage. I must be the Pol Pot of the crab world. Still, it's a bit of a talent. I can dress a crab for you, if you want."
Thanks for the offer. I'll remember that.
"I know the bits to avoid. Dead man's fingers, they're called. They're those crescent-shaped grey bits beneath the gills. I know the difference between a male and a female too. The female's got a wider flap with what kind of looks like pubic hair around it, and the male's got a thinner flap which covers its sexual organs." Realising that he's mentioned crabs' sexual organs more than is strictly necessary, Jarvis changes tack: "I was quite good at that job actually. I used to say things like: 'Fancy a bit of tail end, love?' That's your tail end of cod, you see. Then people used to come in and say, 'Got any crabs on you, cock?'"
That's a bit rude. "Yeah, and that was the old women. They were the worst."
As the '80s gathered pace, Jarvis supplemented Pulp's Grand Plan with long stretches on the dole and a stint in an under-five's' special-needs centre. In his own eloquent words: "I had to help do this playgroup for kids with bits wrong with them. Like, they were quite a few that were deaf. They kept losing their hearing aids in the ball pool, so I had to dive into all these thousands of coloured balls and find them."
Soon after, in 1983, Pulp made their first album. Entitled 'It' (Pulp: 'It' - geddit? Like in church), it was an endearing collection of hugely idealised love songs like 'My Lighthouse' and 'Wishful Thinking' - wistful, timorous ramblings from a kitten-like, 20 year old Cocker. "I was just a kid really, so quite a bit of it was written while I was still as school. I mean, I was a virgin for a start."
But if 'It' was cute by its naivety, 'Freaks' in 1986 would have given anyone with a layman's knowledge of psychology cause for extreme concern. 'Dogs Are Everywhere' was a piece of disturbed paranoia which exceeded even Julian Cope's most acid-fried crises. The sleevenotes ran: 'Recent evidence shows that man is a direct descendent of the dog, rather than the ape, as has previously been believed. Some are closer to their roots than others.' By the end of the song, Jarvis, all but possessed, could be heard rasping: 'They whine and beg around your feet/ Just like a dog for something sweet/ Sometimes I have to wonder ABOUT THE DOG IN ME...' Then there was 'Master Of The Universe', a worryingly Nietzschean attempt to seize control over something, anything. It's the kind of record Hitler might have made after being rejected from art college.
"I definitely felt that I had taken the wrong turn at that point," concurs Jarvis. "And that album, 'Freaks', was all about that feeling. I was living in this weird place above an old silk factory, and all the strange characters of Sheffield used to come round. Which was a laugh at first, but it just seemed that we were all becoming freaks, that we weren't legitimate members of society, and I hated that. I didn't want it to happen."
So what were the people like?
"Well, I had one mate - it was sad, really, what happened to him. One night he was in this nightclub in Sheffield and he got glassed by this bloke who'd been just let out of prison that day. He used to like dressing up, 'Clockwork Orange' style. He was wearing this white boiler suit and this townie just took exception to it. My mate just went really weird after that. First of all, he developed a military fixation. He used to do landscape painting, but he started adding things to these paintings he'd done, like aeroplanes with people jumping out of them in parachutes."
Presumably you were one of the more normal ones, Jarvis?
"I suppose so. There was another bloke who was going to build a helicopter. He reckoned if he gathered enough bits from army-surplus stores, it would be possible. There was also the bloke with the monk's outfit and a pet rat that used to shit everywhere. He died of a heroin overdose."
These days, similar characters pop up in Pulp songs, but the decision to move to London a few years ago and 'make a go of things' ("I started experimenting with... contact lenses") enabled him to put some distance between his new life and the one he'd left behind. "Sheffield is like any other town," he announces, lifting the Michael Caine specs to rub his weary eyes. "You see people who used to be in bands walking around. And they have a very haunted look. It's very hard to go back to working in a bread shop when you've had that life. The move to London was when Pulp really began in earnest. Because that was when I realised I didn't want to be like those characters. I want to be more popular and.... attractive."
That he's succeeded is beyond doubt. So much so, in fact, that the art-student subject of 'Common People' probably has Pulp posters all over her wall. Later on, too, at tonight's gig, it's impossible to hear 'Babies' and 'Common People' for the sound of the rugby club 'interpreting' them. Clearly they no longer want to beat Jarvis up. But the really big difference between now and then is all too apparent when you listen to the new album, Jarvis now knows he's a sex symbol. The album's second best track, 'Feeling Called Love' (let's face it, it would be unreasonable to expect anyone, let alone the band who wrote it, to deliver a greater song than 'Common People' for a good few years) distils The Moment You Fell For Her with chilling accuracy. "I get obsessed with girls very easily," admits Jarvis. "It only ever lasts a couple of days, mind. But I just love the fact that you can't predict it. It never stops feeling dangerous."
Barry White might say something to American's about their sex lives, but ours exist in an altogether more fascinating limbo - between the lofty idyll and the constant residual embarrassment of being British: Jarvis is, perhaps, the first straight pop star to frame this realisation effectively. The fact that Pulp jumped into the Top Ten last week, five places above Wet Wet Wet - you may remember that Marti Pellow cockily dismissed Pulp as indie nobodies after Jarvis pinned an 'I hate Wet Wet Wet' sign to the inside of his jacket on 'Top Of The Pops' - suggests Common People know who they'd rather shag.
And Jarvis? How does Jarvis Cocker feel about being Britain's most fanciable thirtysomething? "Well, you know... I don't have to throw myself out of third floor windows any more. That can't be bad, can it?"