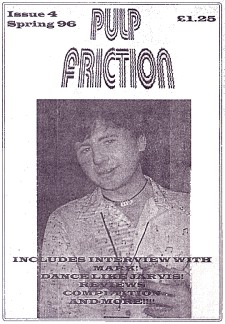 Making A Mark On Us
Words & Picture: Donna Nicoll
Taken from Pulp Friction fanzine, Spring 1996



We interviewed Mark Webber, newest member of Pulp, at Le Bataclan in Paris whilst Cast had their drum soundcheck (why do they go on for so long?!)

When did you first get involved with the band?

I first went to see them in January 1986, when I did an interview with them before the concert. I'd only heard Little Girl before. Jarvis wasn't there at the interview but I met all the others and they were the weirdest bunch of people I'd ever met. I was just 15-16 years old at the time. I was living in a small town in Derbyshire. I liked the Velvet Underground but I never thought anything similar would be happening quite so close to my house. And so I crossed over to Sheffield and started hanging around with them a lot. When I went to Sheffield to buy records I used to go to Russell's house. He'd make a different type of tea every time. He'd make us guess what kind of tea it was, then pretend it was something really horrible. And he used to have a frieze on his wall of industry in Eastern Bloc countries, and a collage of cigarette packets from Russia. And so I just started hanging around with them and making stage sets and stuff. I used to help with projecting slides and Super8 film - setting the stage up and things like that. When they started getting more popular I started being tour manager.

What were you doing at the time?

Officially I was unemployed... no, I was at school. First concert I organised was Chesterfield Conservative Club, May 1987, just before I did my O-levels - would that be right [thinks to himself]? Yeah, so I was going to school, and then I left school, cos I didn't want to stay on and do A-levels. I was on the dole... but I was doing fanzines at the time, and starting a club called Groovy Fish Town at a place called Take Two in Attercliffe. Take Two doesn't exist anymore. But I was just bumming around music, not making any money, but trying not to lose any.

What do you do in your spare time?

Watch films, read books, listen to records, buy records, buy books, thinking about making films.

What books are you into?

I just read biographies, 'cos I don't know any good fiction authors. So I read biographies about musicians, film-makers and things like that.

How did your involvement in the song writing come about?

Dunno - it was kind of, er... always ... um. The last two years before they asked me to join the group, it was always quite a grey area what my involvement was. I was playing on the songs on concerts and TV, but wasn't like 'part of the business'. I did write part of Do You Remember The First Time? caused a bit of trouble for a while, I think, so I shut up about it. It was all a bit complicated, I wasn't really sure if I wanted to be more involved or not.

So what made them suddenly decide to make you a member?

Because it just happened, the way we went to the rehearsal room to start writing the album, I was there and contributing nearly all of the time. We kind of wrote the album in two halves. The second part I was there all the time. The first half of the songs were already there, but when we got to the studio I started playing on all the tracks. And so they decided that the time had come for them to decide what to do with me.

We noticed that there are a few more guitar solos on Different Class, e.g., Something Changed, Mis-Shapes. Are they yours?

Something Changed is the first guitar solo I've sat and written, but I didn't let anyone else know about it until we went into the studio and did it. Pencil Skirt, Jarvis had done it and given it to me to play at concerts. Mis-Shapes - Jarvis did it but in a different way.

Did you ever really think this day would happen? Pulp being famous?

Well the His 'n' Hers thing was quite a low-key fame, but there came a point where it became inevitable, when Common People was released that Pulp were gonna be very famous. It did just become like a momentum thing, that every record you release, whether it's better than the last one or not, it's just gonna sell more records. Like Sorted sold more than Common People, but you wouldn't really think so. But it's just nowhere near as good a song.

What's your fave songs?

I haven't listened to the older ones for quite a long time. Fave ones at the moment are Mis-Shapes, Pencil Skirt and Bar Italia. Bar Italia is really good, 'cos it was never meant to be on the album. We'd started to do it in the studio for a few weeks. We'd recorded some stuff, then ran out of songs, and we didn't have anything to do. So they started running through some songs that weren't up to standard, thinking: 'we should have recorded a b-side for Common People, rather than just throw Underwear away.' We started recording Bar Italia, and it turned out really well, so we just kept it for the album.

Why wasn't Mile End on the album, 'cos it would have fitted well?

I really wanted it on, I didn't want Sorted on the album. I think it's a rubbish song. Just because it didn't work out the way some of the group and the producer didn't really like it that much, and it had a few lyrics that everyone was worried about, like "the Pearly King of the Isle Of Dogs" seems to be libellous... "feels up children in the bogs".

Eh?

There is a Pearly King of the Isle of Dogs and he may want us to prove that he's done this. And it didn't get finished after all when the rest of the album was finished 'cos nobody was really that bothered about it. But it's on the film Trainspotting.

Have you seen anything of that?

Yeah, we watched it last night, it was really really good. It's like a Scottish Pulp Fiction - funny, violent and full of drugs. Very funny. I didn't say what my fave old songs were.

What are your fave old songs then!?

I'm not sure... [thinks] I really like My Legendary Girlfriend, not so much the song, as it was always quite reggae when the played it at concerts. But the recording of it is really good 'cos it doesn't sound like anything else.

I had a friend who suggested it sounds like Joy Division

People say that just because Jarv used to write miserable lyrics. People used to compare Spacemen3 to Joy Division.

Who are your fave bands?

Velvet Underground are the best band ever.

Not the Beatles?

The Beatles is kinda a funny one 'cos they kind of exist outside everything else. Well they don't anymore unfortunately, but they used to. They only had those 14 albums, then everything was perfect until they brought out that Anthology/BBC thing.

You don't approve of it then?

It's just bollocks 'cos the Beatles catalogue was perfect and now they're shown to be fallible like everyone else. Spoilt it for everyone. Beach Boys are very very good. I also like Lamont Young and Terry Riley - minimalist composers, kinda classical/modern classical/contemporary. Suicide, Spacemen3, they're about my faves.

Anything weird happened on tour that you can tell us about?

Nothing out of the ordinary has happened for quite a long time.

Been a bit dull has it?

It has really 'cos things are so finely organised now. There isn't much chance for exciting things to happen out of the blue anymore.

How did Smash Hits go?

Bit of a nightmare 'cos they weren't very well equipped to look after us, and Jarvis had been up until 8am getting drunk that morning and he was in a total state. At the end it was quite exciting doing it, quite an air of anticipation as we were waiting to go on stage. But it's just a nightmare doing those things, particularly when TV's involved.

Where do you think Pulp can go from here?

Down.

You reckon that's the top?

Well it has to be doesn't it? Like February when we do the arena concerts.

What was the choosing behind those venues?

Our agent suggested it. We all though it was a bit too adventurous, bit too risky for us, as we didn't think we'd be able to sell that many tickets.

We don't see how it can work, 'cos Pulp have always been a very intimate live band. How can Jarvis interact with people he can't see? The fans can't see Jarvis either!

Well you'll have to wait and find out, we'll have a few surprises! But we can either do 10 concerts that hold 4,000-12,000 people, or we could be on tour for a month playing to 2,000 people a night - it's not practical. When we did that tour in October, we did 20 dates and lost an incredible amount of money. It's the only way we can make concerts cost-effective. We can't help it if so many people want to see us! We've just got to try and accommodate them, but still make it good.