London Highbury Garage: 22 August 2000
---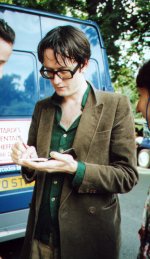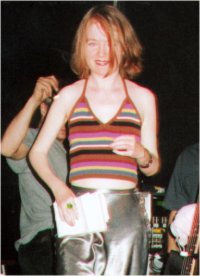 Sunday 13 August
It's that bit in The Germans episode of Fawlty Towers where Basil is just about to attempt to extinguish the fire in the hotel kitchen. The moose still isn't up, all the guests are waiting outside, Manuel is on fire and Basil to about to hospitalise himself by setting off the fire extinguisher in his eyes. It is simply brilliant stuff and were it not for the fact that the BBC have repeated Fawlty Towers a million times, you'd be pissing yourself laughing at it.
It was precisely at this time that the phone went with the news that there was to be a Pulp fanclub gig a week on Tuesday at the Highbury Garage! So astounded I was by this news that I ended up pissing myself anyway. Pulp, who hadn't played live for a year, would perform their new material, exclusively to fan club members, at a venue barely touching 500. Does it get much better than this?
Tuesday 22 August 3:30pm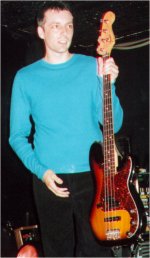 So it's straight out the tube station to meet the hardcore Pulp-People who are already waiting by the dustbins around the back entrance to the venue on a bit of pavement that reeks of dog piss. (There'll be no more piss from now on ' promise). Jarvis, Candida & Nick have already showed up and this was to be the first time I'd ever met Jarvis - he eventually came out the venue so he could be driven off to go for a shave (?!). On meeting Jarvis for the first time, you experience one of those nervous moments where you go to say something and your mouth opens, but you're buggered if you try to say anything cause you just can't speak. So you stand there and realise afterwards that you just made a complete arse of yourself.
Twenty minutes later - during which Richard Banks, Roger Middlecoate, Colin Lish and numerous others in the Pulp entourage do much pre sound-check flapping about - Jarvis is back, and he's looking much better ' and smoother ' for the shave. Everyone seems to be tight-lipped about the show tonight. It's only by chance that I catch a glimpse of the setlist, but I'm told it's likely to change anyway.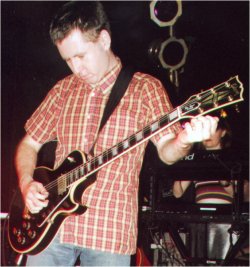 7:40pm
A group of us finally get in and occupy the front of the stage. There are no barriers, just a few monitors and then the edge of stage, just half a metre away. It's so small it's a wonder all the equipment could fit. Stage left was Mark with keyboard and guitars ' behind him Candida with two keyboards (no Farfisa) ' then Nick ' then Richard Hawley with Steve just in front of him. Any available floor space was taken up by cables, effects pedals, guitar stands, amps and monitors. It was very very tiny!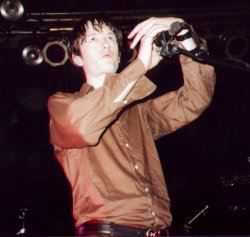 9:30pm
Lights dimmed ' lush Synthesiser drones ' stage door opens ' on come Pulp. This moment seemed so special that I felt I was experiencing something more important to me than my birth ' it was painfully exciting. Jarvis immediately started a narrative over the drones ' it took a short while to realise it - but they were playing a new, futuristic version of Common People ' only slightly related to the original. They'd refurbished it so much that it was virtually another tune. Thank God too. I didn't really want to hear Common People or Babies tonight ' so overplayed that these tunes are - so to get an extensively renovated version of Common People was a joy. It worked really well. The sound, tempo, vocal and atmosphere were different and somehow more distant, scary and paranoid. If Common People had been recorded in the Hardcore LP sessions, it would probably sound a bit like this.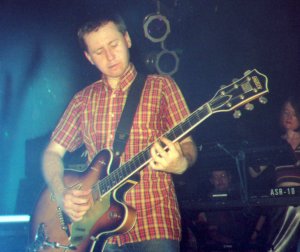 I'm sure I wasn't the only one thankful to get Common People out of the way early on in the set, and it seemed that the band felt the same way. Opinion on this new version was divided, but it's surely better to change Common People rather than trash it in the same embarrassing way that Blur now play their "britpop" anthems like Parklife and Girls & Boys. To trash Common People like Graham Coxon cremates Country House would be sacrilege. It seems to me that Pulp respectfully want this song to move on and speak for the way their sound has evolved. Even though I really liked the new Common People ' and towards the end it did revert to the more... let's say 90's... version, I still wouldn't care if they dropped it from the set a little more often.
After Common People, Jarvis welcomed us all to the Garage (said with a long 'a' like G-raarge). "Is it Garage or G-raarge?" he asks. "Cabbage or C-barge?", "Massage or M-saarge". His point was well made and he had pretty much settled the argument for anyone southern enough to call it the G-raarge.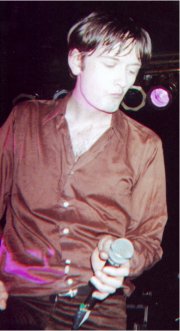 Then Jarvis told us they were going to play a new song and seemed visibly surprised by the rapturous reception from the audience. He had brought an egg shaped object with him to illustrate the title... Birds In Your Garden. Everyone seemed to know the words which made for a fantastic atmosphere. It sounded much more commercial and upbeat that the version they played at Edinburgh last year. It was, dare I say, sounding like a potential single, but don't let that put you off because it had obviously had a lot of work done on it over the past year and was really worth waiting for.
Next song is Weeds which Jarvis introduces by contrasting the image of a 'weedy' person to the reality of garden-weeds, which are strong enough to get into cracks in concrete and "all sorts of places" (yes, it's back to the nature theme!). So, people weeds might be weak and feeble, but plant-weeds can positively thrive by being so strong and dominant. From what I can remember, Weeds is a superb Vocoder-pop tune. His vocal isn't as obvious as in something like Party Hard ' but certainly similar to the synthetic feel of his voice in Live Bed Show. Of all the new material, this song is the one I'm most looking forward to hearing ' I just hope and prey that Chris Thomas doesn't bugger it up in the studio by suppressing it's wonderful sound.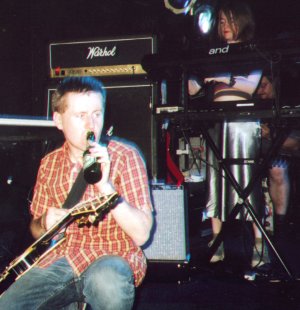 Out of all the Hardcore singles they played, I was most surprised to hear A Little Soul and even more surprised to see that Richard, not Mark, seems to play the prominent guitar parts. Jarvis initially forgot the two "you look like me" hand-claps until he saw everyone on the front row doing it for him. It seems that Pulp's setlists are as much a product of the few back-catalogue songs they can actually remember how to play as well as songs that they wish to play, and it wouldn't surprise me if A Little Soul fell into the former category.
No-one who was at the concert could possibly deny the spine-chilling brilliance of The Fear, especially Jarvis' acoustic guitar pieces which gave the song an edge of panic and despair. So spectacular did this sound that it almost did for me what the opening bars of Anne Dudley's I Spy on Jools Holland does every damn time you listen to it. Mark played his guitar parts slightly differently to usual ' he seemed to be innovating and expanding his part by subtly tinkering about in the background like Russell used to. Live performances of The Fear get continually better and it makes you wonder how much further they'll be able to take it towards it's suffocatingly desperate conclusion. It is, in my opinion, beginning to eclipse This Is Hardcore as their best dark-edged epic yet.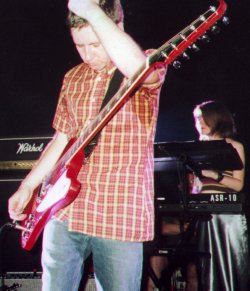 Incidentally, Gareth Dickinson was in the crowd that night (Stars In Their Eyes Jarvis impersonator and stage double on the '98 tour) and was looking every inch the pop star ' although he's now a physics teacher! He told us some great stories of his time on the road with Pulp. On the look-out for touts, he was trying to flog a spare ticket he had... "are there any scousers about?" he asks!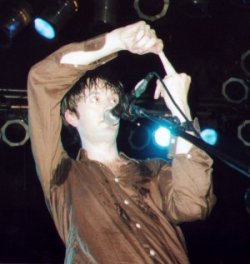 Help The Aged, as ever, is always better and much more anthemic when played live. I can't help but experience a euphoric feeling during this ' it's almost as if I'm there on the plinth with Pulp as they ascend to the heavens (see the video to get what I mean). Listening to the song took me back exactly four years ago to the week when it was performed ' rather shakily ' for the second time at the V96 festival in Chelmsford.
Jarvis explains that he'd hurt his first finger on his left hand earlier in the day (he didn't say how). He lifts up the finger and apologises if his guitar doesn't sound right (poor excuse Jarvis ' dogs & homework). Anyway, he then holds up two fingers in the shape of a 'v'-sign and explains that it's rude in America, but not used much over here. He then holds up his middle finger in a 'fuck-you' fashion, which, he correctly observes is very rude. But what, Jarvis asks, does the 3rd finger signify, before offering his thought that it could mean 'fuck-off' for a dyslexic person. His great ocean of humour won't be drying up this side of the next millennium.