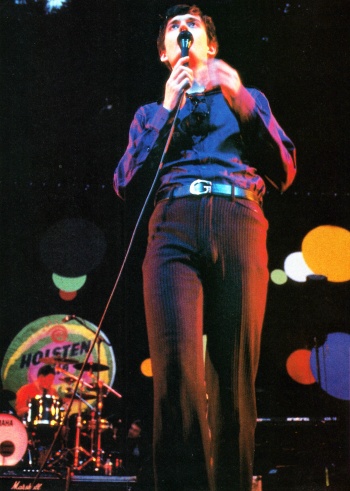 This was a private concert organised by Holsten Pils to celebrate the relaunch of their beer. Half the 1,000 guests were UK competition winners. The other half were a mix of celebrities, media reps, Holsten invitees and the band's friends and family.
The concert is noteworthy for Pulp performing a cover of Thin Lizzy's 'Whiskey In The Jar' and it being Russell Senior's last concert before he formally departed Pulp in January 1997. Commenting in 2009 Russell said: "The last concert I did with Pulp was a corporate gig for a lager company in Barcelona. We were put up in a fantastic hotel, there were supermodels hanging around, but we were playing for bored executives. I felt myself backing away."
An article about this concert appeared in the October 1996 edition of Blah Blah Blah magazine - read it here.
The Melody Maker also reviewed the concert in their 7 September 1996 edition - click on the thumbnail below: