23.10.99 Jarvis speaks about progress on the new album:
[Melody Maker] Pulp are currently writing and demoing "very badly recorded songs on cassette", according to Jarvis. There are no plans for any concerts or releases in the near future. Jarvis said: "We're just going to record some songs and see what they sound like. If we think they are fit for human consumption, then we'll release them. Otherwise I'll just listen to them in bedroom. I quite like them. They are quite gentle." "This Is Hardcore was like the end of one particular road. It was the type of thing where there was no-where to go. Like we said on the last album -'What do you do for an encore?' The only thing would be to go a bit more basic, and I think it is a bit more basic."

"There's a song called 'The Birds In Your Garden'. All the songs we played in Edinburgh I really like. I don't write words until the last minute so there's not many titles. There is one called 'Darren' - that's quite good. "I'm not sure what it's about yet, I've not written all the words. But I know it's called 'Darren'. 'The Birds In Your Garden' is about somebody who is wondering if he's going to sleep with a girl or not. So he goes into her garden and all the birds are singing these obscene songs and saying 'Get in there!'"

But Jarvis refused to say whether the character in the song gets to sleep with the girl. "I don't want to spoil the surprise", he explained. There is no album or single pencilled in for next year, but Jarvis admitted that there "ought to be". He was also clear that Pulp still have a future and remain a close-knit group. "We are close, yeah, but you can't tell what's going to happen. It's been about two years without Russell now. I think the first rule is that you have to get on with people in a group. It's like being in a family. You don't always get on with your mother. You accept it." The only real question for Pulp is what exactly Jarvis will be trying to say to his fans this time around? "I'm trying to work that out at the moment, I suppose, because I don't want to make a big proclamation. Songs are about small things rather than a big massive thing. It will just be a little secret about things that happen to people, not a big momentous event. Real life is not like that. I think little things are important. Sometimes it seems to make sense, other times it does not."

Finally, might Pulp be in the running to play Glastonbury 2000? "It depends on how things go writing the songs. I don't want to go and play a load of old songs, so it depends on how the writing goes."

---
24.05.99 Born To Cry
The soundtrack album for the film 'Notting Hill' is released in the UK today and includes Pulp's 'Born To Cry'. The 5 and a half minute song, although not featured in the film, sounds excellent and was recorded at the Axis studios in Sheffield. The song was written by Pulp and Richard Hawley, produced by Simon Dawson and mixed by Spike Stent.

---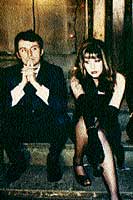 24.05.99 Russell News...
Russell's new band, Venini, will be playing at Sheffield Boardwalk on June 10 and at the Glastonbuy Festival on June 26. Their debut double A side single "Mon Camion", backed by "St. Tropez", will be released on June 14 through their own Bikini label. Russell told the NME: "Through bizarre coincidences, people just ended up being in the band. It was all fortuitous. I didn't know whether they were any good or not so we've just learned as we've gone along. But they're all a lot younger than me, they've just taken the idea and given it a life of its own. I didn't leave Pulp to go and make a new Britpop explosion. I didn't want to be in pop band again and I certainly wasn't looking for it, but it started happening. I was bored, very much so, but this is fresh and nice. I saw Candida on Saturday after we played a gig and all she said was it was 'a nice short set'. I knew she'd hate it, because every time we put French music on the (Pulp) tourbus, she'd put her hands over her ears and scream."

---
26.04.99 A Little Soul nominated for an Ivor Novello Award
[nme.com]"A little Soul" has been nominated for an Ivor Novello in the "Best Song Musically & Lyrically" category. It is competing against Cher's "Believe" and B*Witched's "C'est La Vie" in the prestigious award ceremony to be held in London on May 27th.

---
08.03.99 Band Split Claim Is Pulp Fiction
[sheffweb.co.uk] Sheffield pop stars Pulp today denied rumors the band is about to split because flamboyant frontman Jarvis Cocker reckons he is too old. Nick Banks, drummer with the million selling group, told fans there was nothing to worry about and the band would begin writing for their next album later this year. He poured cold water on a story carried by one Sunday tabliod claiming lanky singer Cocker was quitting the pop industry, "I don't know where they have got that one from, it's got no legs. He has always said when he feels irrelevant he will pack it in, but there's absolutely no truth to the story," said Nick. The Sunday People claimed 35 year old Cocker had told the band members he felt "increasingly uncomfortable" performing on stage. And they quoted a band source as saying: "He knows his time in pop is up and doesn't want to be another Mick Jagger. The prospect of going on singing forever has been playing on his mind for months." Cocker, who now lives in London, has been fronting a Channel Four documentary looking at the world's outsider artists, fuelling speculation he is to concentrate on making TV programmes and films. But Nick added: "He has been doing the TV programme for a long time and will be taking a holiday. Then we will be getting back together again and writing some new songs."

---
02.02.99 Different Class: Essential Album Of The 90's
Different Class is one of Radio 1's essential albums of the 90's, and will be the subject of a thirty minute programme to be broadcast between 8pm to midnight next Monday on Radio 1. Jarvis, Noel Gallagher, Chris Thomas and John Peel will all contribute to the programme.

---
27.01.99 Jarvis performs on 'Top Of The Pops'
[NME.com] Jarvis will perform with the All Seeing I for their chart hit 'Walk Like A Panther' on TOTP this Friday. Jarvis provided the lyrics for the song and will step in to either mime or sing the vocals which were originally provided by Tony Christie. See the 28/10/98 news entry for further details about the collaboration.

---
25.01.99 Jarvis' Outsider Art series starts February
The long awaited 'Outsider Arts' series that Jarvis has been working on for the past few months starts in the UK on Channel 4 on February 16th. Amongst the artists featured are Ferdinand Cheval, the French postman whose work featured in Pulp's tour video F.E.E.L.I.N.G.C.A.L.L.E.D.L.I.V.E

---
See the archived news from: