19.11.02 Jarvis: Caught Moonlighting?
A curious limited edition 7" vinyl has been released on Rough Trade (RTRADES073) which appears to contain three tracks performed at the 'Jarvis & Friends' set at London's Royal Festival Hall in September. Backed by Richard Hawley and Ross & Jason from the Fat Truckers, Jarvis performed a six song set, and three of those tracks, 'The Heavy', 'Rod of Iron' & 'Branded!' appear here. The outfit go by the name Relaxed Muscle. Rough Trade remain coy about the performers, only saying that it's a "Debut single from Doncaster's Relaxed Muscle. They present three scuzzed up slabs of hardcore electro beats that hark back to the days of Cabaret Voltaire, Suicide and the Normal. A brittle, dynamic and limited 7" - released 14/11/2002". You can now waste your hard earned cash on The Heavy E.P. (which has a home-made cover displaying handwriting suspiciously similar to Jarvis') by going to the Rough Trade website. If you didn't make it to the Royal Festival Hall Show, then you'll be guaranteed a real shock (musically and lyrically) when you hear this!
---
18.11.02 Fire re-issue 'It' CD
Fire re-issued the 'It' LP on CD (SFIRE004CD) last Monday with a wrap-round card slipcase. This 8-track re-issue has the same tracklisting as the widely available 1994 Fire re-issue (REFIRE CD15).

---
05.11.02 Au Revoir Monsieur Cocker. Come Back Soon.
There's a fabulous 5-page interview with Jarvis in the December issue of Marie Claire (UK editions, £2.90). There's pictures of Jarv sporting his new wedding ring and he talks about all number of things including Camille: "She bought me a coconut the other day. She doesn't like coconut but she bought it because she knows I do", Rolf Harris: "Lionel Ritchie was in the running for a while... I considered singing Hello...", Carrier bags: "I think being organised is putting everything into a carrier bag", and his best wedding present: "The one that we use most is an old Sheffield knife given to us by a friend... it has chopped quite a few things in our house."

---
21.10.02 Jarvis: Emigrating to France!
The current issue of Snug Magazine features a six-page interview with Jarvis in which he reveals that he's moving to Paris at the end of the year with his wife Camille. Meanwhile Candida is off on a round-the-world jaunt (English speaking countries only)! Jarvis: "It's gonna be next September before we can get back together so we'll see how we feel then - see what everybody feels like." He also talks about the recent show at the Royal Festival Hall supporting Lee Hazlewood, the BT Broadband advert, reality TV, his wedding and turning 40. Oh yes, it's another classic Jarvis Cocker interview!

---
08.10.02 Grandfather's Nursery
Blimey - surprises don't come much more unexpected than this. The online retailer Amazon has managed to get hold of an unreleased Pulp demo and have made it available to download from their website, www.amazon.com. The track, titled Grandfather's Nursery, is a beautiful four and a half minute song lifted from a set of 6 tracks recorded for a demo around 1999/00. Nick Banks told Pulp Online: "It was a track written at the Monnow Valley sessions yonks ago, when some writing was done for We Love Life. It began with a guitar 'refrain' from Richard Hawley and was developed into a song by the rest. It was demoed at Wessex Studios (incidentally the last ever recording session at this old studio where "Never Mind The Bollocks" and "London Calling " were recorded way back in the days of Ye Olde Punke) along with most of We Love Life and other tracks. It's probably this version out there."

---
07.10.02 Jarv & Camille To Have A Baby!
Dominic Mohan's 'Bizarre' article in The Sun newspaper continues to be obsessed with Jarvis' extra-curricular activities. Following news of his Rolf Harris impersonation and appearance in the recent BT Broadband advertising campaign, he now announces that Jarvis and Camille are to have a baby! Here's an abridged version of the article, which hopefully leaves out all the made-up bits:

"Jarvis Cocker is going to be a father. But the scruffy Pulp frontman has made sure there won't be any common people at the birth after booking his society wife Camille Bidault-Waddington into the ultra-snooty private Portland Hospital. Jarvis, 39, shunned the NHS and smuggled Camille into the Portland six weeks ago for an early scan which got the thumbs up from top docs. The singer is over the moon about becoming a dad and wants to ensure everything goes smoothly with the birth. He told me last night: 'I'm delighted - really, really pleased. Camille had a bit of morning sickness for a while but she's fine now. I can't wait.'"

---
07.10.02 Pulp: Hits - Details Announced
Pulp's greatest hits album will be released through Island on 18 November. The tracklisting (which bizarrely omits Mis-Shapes yet includes Underwear) is a near complete and chronological blast through the Island-owned back catalogue and includes one of the two new tracks the band recently recorded, 'The Last Day Of The Miner's Strike. The full tracklisting is:
Babies, Razzmatazz, Lipgloss, Do You Remember The First Time?, Common People, Underwear, Sorted For E's & Wizz, Disco 2000, Something Changed, Help The Aged, This Is Hardcore, A Little Soul, Party Hard, The Trees, Bad Cover Version, Sunrise, The Last Day Of The Miner's Strike

---
20.09.02 Jarv Goes Broadband...
No, I couldn't believe it either! Here's what The Sun newspaper said yesterday about the new British Telecom advert which Jarvis appears in... "The Pulp frontman may have had his band's bid for a new contract turned down by Island Records but, in other areas, his career is hitting new heights. Pity he's scared of them! After his winning performance as Rolf Harris on Celebrity Stars In Their Eyes, Jarvis is now starring in a wacky new telly ad for BT's broadband service. A pal of Jarvis's said: "Jarvis plays a character who escapes from a broadband pipe after it has exploded. The engineer is trying to capture Jarvis so he can put him back in. He eventually finds him hanging from a broken post which has sparks flying out of it. The funny thing is, Jarvis is terrified of heights. They needed a few takes to film this one scene — and he was secretly terrified."

---
13.09.02 Magna Lineup Announced
[nme.com] Pulp have announced the full line-up for their 'Auto' festival at the Magna Science Adventure Centre between their native Sheffield and Rotherham. The band will play the special show on December 14. The event will feature four stages and a lengthy list of bands and DJs, hand picked by the band. Artists on the bill include Röyksopp, Lemon Jelly, LFO, Four Tet, The Bees, The Kills and Warp Films and DJs. The full bill runs:

Auto One: Bjorn Torske, Röyksopp, Annie & Timo, Pulp, John Peel, The Bees, Desperate Sound System, Baxter Dury, James Yorkston.

Auto Two (Warp and Eat Your Own Ears Stage): James Lidell, Mark Bell (LFO) DJ, Four Tet, Capitol K & Leafcutter John, Warp DJs, Warp films, Quixote visuals.

Auto Three: Lemon Jelly, SchneiderTM, I-Monster DJ, The Kills, Optimo DJ, Zongamin, Trevor Jackson DJ, Erland Oye (Kings of Convenience).

Auto Four: Chris Coco (Radio One Blue Room) DJ, Tony Morley (Leaf), Piano Magic DJ, Asleep At The Wheel DJs.

Pulp's Steve Mackey has organised the event, and intends the festival to be in a similar spirit to the Sonar festival in Barcelona. The event will run from 7pm - 2am. Tickets will go on sale next week, priced £30. There are also plans to have cinema tie-in with the Showroom Cinema in Sheffield, with programmes being planned by Warp and Jarvis Cocker.

---
13.09.02 Reading Footage
Highlights from Pulp's set at this year's Reading Festival were shown on 'ITV At The Festivals' in the early hours of this morning. Thankfully, these programmes often get repeated, so if you missed it this time round, then keep an eye out for it next time. Babies, Live Bed Show and Common People were played along with 60 seconds worth of I Love Life right at the end of the programme.
---
03.09.02 John Peel
Highlights of Pulp's set at the Reading Festival were broadcast on the John Peel show (Radio 1) on Wednesday 28 August. The songs played were: Sorted For E's & Wizz, The Trees, Weeds, Common People, I Love Life & Sunrise. You can also vote for your favourite Peel Session to be rebroadcast during September. Pulp are up against 48 other bands, but there's still time to vote for Pulp by clicking here which will take you straight to the voting page.
---
28.08.02 Magna Christmas Concert
[nme.com] Pulp are to play a show at the Magna Science Adventure Centre between their native Sheffield and Rotherham. The band will play the special show on December 14. The event will feature four stages and a lengthy list of bands and DJs, hand picked by the band. Full details of the event will be revealed in September. The event has been announced early because the date coincides with Oasis' forthcoming show at the Sheffield Arena. Pulp, who played triumphant sets at the Reading/Leeds Carling Weekend last week (August 23-25), are expected to release a greatest hits compilation in November.
---
25.08.02 4Scott Concert
Footage from the 4Scott tribute concert will now be shown at 00:10 on Tuesday 27 August (monday night) on Channel 4. The 1 hour show will hopefully include a couple of live Pulp tracks which were recorded last April. The 4 Scott LP will be released tomorrow on V2 Records (Cat #: VVR1020542) and contains live versions of Babies and Sunrise.
---
12.08.02 What A Sport!
Jarvis makes his long awaited 'Rolf Harris' appearance on 'Celebrity Stars In Their Eyes' this Saturday (17th) at 8:30pm on ITV1. Before and after pictures are below, and if you want to see the full-on Rolf effect, then click here! (Stylophone spotters will also be delighted to see that he's carrying one of the black models in his pocket!)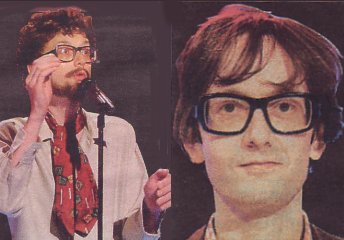 ---
10.08.02 Jarvis to appear at Lee Hazelwood show
Pulp frontman Jarvis Cocker is to make a guest appearance at cult singer Lee Hazelwood's forthcoming London show. The star will open the evening's entertainment at the Royal Festival Hall on September 22. Cocker, a long time fan of Hazlewood, featured on the recent Hazlewood tribute album 'Total Lee!: The Songs Of Lee Hazlewood', covering 'The Cheat' with Richard Hawley. Hazlewood is best known for his work with Nancy Sinatra, such as 'These Boots Were Made For Walking' and 'Some Velvet Morning', recently covered by Primal Scream on their 'Evil Heat' album.
---
06.08.02 Pulp contribute to 4Scott LP
nme.com have announced that a 4Scott tribute LP will be released on 26 August containing live recordings from the 4Scott tribute gig at the London Scala last April (see news item below). Pulp played a 5-song set and their contribution to the LP is Babies. Apparently, at least £2.30 from each 4Scott CD purchase will be donated to Marie Curie Cancer Care. Channel 4 will also be screening an hour-long film of the 4Scott concert on Saturday August 24, so let's hope we get to see a bit more of Pulp's set!
---
18.07.02 Fire Reissue Freaks LP
It seems Fire re-issued the Freaks LP during June on CD format (SFIRE013CD). As with the Separations re-issue, it comes with a nice card slipcase but only includes the same tracks as the original CD.
---
14.07.02 Eden Project Show
Well, it seems that all the disruption and intruding cameras were worth it in the end because BBC Choice put together a fantastic programme of the concert. As well as a Jarvis interview, they showed Trees, A Little Soul, The Birds In Your Garden, Live Bed Show, F.E.E.L.I.N.G.C.A.L.L.E.D.L.O.V.E, I Love Life, Sunrise, Underwear, Babies and Common People. For anyone who missed it, the show will be repeated next Saturday (July 20) at 8pm. Click here to read the review and see some photos. I'll also get some screen stills put up on the TV page shortly. If anyone out there at Island is listening... a DVD of the entire show would make a brilliant Christmas present...

---
13.07.02 Feeling Called Love
Well, according to Jarvis, today is the big day as he finally gets married to the lovely Camille. Let's just hope they'll both be very happy together cause I'm sure we'd all want our Jarv to be happy, whether he's single or not. You never know, in a couple of years time we could be celebrating the arrival of a mini-Jarvis - imagine that! Anyway, there's ample reward for those of us mortals without an invite to the Wedding Of The Year as BBC Choice are screening their 1-hour Eden Project programme tomorrow night which includes a Jarvis interview and lots of class footage from the stunning Eden concert.
---
25.06.02 Pulp on TV?
I'd wait for pulponline to confirm this, but according to nme.com, Pulp's performance at the Eden Project on 5 July is to be recorded for a 1-hour BBC television documentary due to be aired by BBC Choice at 7pm on 14 July.
---
12.06.02 Lee Hazlewood Tribute LP Released
"Total Lee", the Lee Hazlewood tribute LP will be released next Monday (17th) on City Slang Records on both CD (812 464-2) and vinyl (812 464-1) formats. The LP features a version of 'A Cheat' (which I think originally dates from 1956) which was recorded by Jarvis and Richard Hawley last year.

---
18.05.02 Barca Set...
Pulp played a 1hr 20m show last night at Barcelona´s Primavera Festival. The setlist was: F.E.E.L.I.N.G.C.A.L.L.E.D.L.O.V.E (Reworked), Trees, Sorted For E's & Wizz, Laughing Boy, Live Bed Show (Extended outro), Bad Cover Version, Weeds, Help The Aged, The Fear, This Is Hardcore, Joyriders, Babies, Something Changed, Sunrise. Review & pictures here!

---
02.05.02 Wedding Gossip...
[nme.com] Pulp singer Jarvis Cocker is getting married, and has told nme.com that he turned down an offer to have the event covered by a celebrity magazine. The singer will tie the knot with his stylist girlfriend Camille Bidault-Waddington in a private ceremony in July, after Pulp complete a UK tour of forest venues in June. The singer claimed that word has got out of his planned nuptials, and he received an offer from OK! for pictures, which he turned down.

He said: "I'm getting married in July so that's the major event in my life. There's quite a lot of organisation involved. Is it going to be a big celebrity wedding? No way. I did get, I think it was OK! magazine were trying to offer me some money to cover it. I can't imagine anything worse. I really can't." A spokesperson for the magazine could not confirm or deny an approach had been made. But the offer could have been as much as £50,000 - depending on the guest list. An OK! source told nme.com: "For a magazine like OK!, Jarvis himself is a bit boring. If there was a fashion crowd there because of the bride and it was a who's who of British fashion, you could be talking about £30,000 to £50,000. Kate Moss would be interesting, because she's pregnant, and Stella McCartney is very hot. But if it was Jarvis and a few mates, he'd be lucky to get a deal."

Jarvis said that despite his wedding, he doesn't have any plans to put Pulp on hiatus, and the group have 20 new songs which remain unreleased. "I haven't listened to them for ages so I don't know if they'd be worth inflicting on people", he said.

---
01.05.02 Fire Reissue Separations LP
Fire have recently reissued the Separations album on CD (Cat No. SFIRE025CD). Unfortunately, the reissue doesn't contain anything more than the original nine tracks, although the album does come with a wrap-around cardboard sleeve which the CD case slides into. A sticker on the card sleeve states: "Delve into Pulp's voluminous back catalogue and the fact swiftly emerges that they were actually just as good when nobody liked them... and maybe even better. Separations was probably their first consistently brilliant album".

---
29.04.02 Pulp To Play Reading / Leeds Festivals!
It's just been announced that Pulp are co-headlining the main stages of the Reading & Leeds Festivals. They play at Reading on Friday 23 August and at Leeds on Saturday 24 August. As the bill currently stands, they're second in place to The Strokes, although it's probable they'll still play a 75 minute set. More info available from the Festival websites.

---
29.04.02 Garden of Eden
Tickets are now on sale for Pulp's headline concert at the Eden Project at St. Austell in Cornwall. They play on 5 July and tickets are priced at £23 which includes admission into the Eden Project. Click here for ticket details. Apparently, the Eden Sessions are a not-for-profit venture, with funds raised going to the Eden Trust, to support artists from developing countries. All the performers have discounted heavily from their normal performance fees to maximise revenue for the Eden Trust.

---
29.04.02 Richard Hawley...
... will not now be supporting Pulp on the Forest Tour. His management people sent out an email saying "...one piece of bad news is that the support slot on Pulp's forest tour that Richard was hopefully going to do is now not happening". Richard played at the Manchester Hop & Grape on Saturday night and told everyone that he recently broke his glasses whilst pissed, and said how great it was that you could see the repair-job on Top Of The Pops, "cause it was just like getting Jack Duckworth on!" Images from the performance will be up on the site later in May.

---
23.04.02 TOTP
Pulp will appear on Top Of The Pops this Friday (26th) alongside Oasis, Doves and Holly Valance. Pulponline have also announced that Jarvis will be imitating the one and only stylophone-king Rolf Harris on Celebrity Stars In Their Eyes (see story below...)

---
18.04.02 Hawley for the Forest
The latest advert for the June UK Forest Tour has appeared in this week's NME with Richard Hawley named as support. Pulp also feature in the NME's '50 Greatest Artists Of All Time' poll, which celebrates the 50th anniversary of the publication. Pulp come in at a respectable 44, just ahead of Michael Jackson (45) and The Charlatans (46), but behind Marvin Gaye (43) and Madonna (42). The Smiths top the poll, with The Beatles, Stone Roses, Bowie and the Sex Pistols all making the top 5.


---
15.04.02 Tonight Matthew...
Pulp appeared on the Channel 4 youth programme 'T4' yesterday to perform Bad Cover Version (live vocal only - the playing was mimed!) On the show, Jarvis announced that he's agreed to appear on 'Celebrity Stars In Their Eyes' where celebs are daft enough to dress up like their favourite stars and perform a song. Apparently, Stars In Their Eyes helped Pulp find the look-a-likes for the Bad Cover Version video and Jarvis agreed to appear on the show as a return favour. He kept pretty tight-lipped about who he would imitate, only saying it was someone who had greatly influenced him (Bowie?? Walker??) Meanwhile, new single Bad Cover Version is released today and is gently hitting the bottom shelves of most good record shops around the country.

---
07.04.02 Jarvis & Camille to marry in July!
Well it seems the rumours really were true - our Jarvis will be tying the knot to Camille Bidault-Waddington in mid-July! How fantastic is that??!! Follow this link to the Evening Standard site and you'll be able to read an article with Camille from last Friday where she talks all about Jarvis and the upcoming wedding.

---
06.03.02 4Scott charity event confirmed:
[nme.com] Pulp (or possibly just Jarvis) are the latest band to be added to a charity benefit show at London's Scala on April 18. They join Sterephonics, Embrace and Placebo, who are already confirmed for the 700-capacity fundraiser for the Marie Curie Cancer Care. Each band will play a 20-minute set. The show is in memory of the late Scott Piering, a legendary radio and TV 'plugger' who worked all the bands on the bills before his premature death from cancer in 2000. For more info visit www.4scott.co.uk.

---
12.02.02 BCV Video Stills:
The video for Bad Cover Version has finally been finished and here are a few stills:





---
02.02.02 Disco 2002?
[nme.com] Pulp have recruited Nick Cave to record the B-side to their new single 'Bad Cover Version'. Cave has recorded a cover of Pulp's classic 'Disco 2000' single as one of the additional tracks on the release, scheduled to hit stores on March 11. The song, likely to be renamed 'Disco 2002', is said to take the idea of a 'bad cover version', with Cave performing a waltz version of the track.

---
13.01.02 Bad Cover Version
Earlier this week, pulponline announced that Bad Cover Version would be the next single, due for release in February. A number of potential songs could back the release including 'Yesterday', 'Forever In My Dreams' and the Jarvis & Richard track 'Happy New Year Baby'.

---
See the archived news from: